According to Rocket Lawyer, a payment agreement is a detailed outline containing the important terms and conditions of a debt or a loan. Whether you are borrowing or lending money, the payment agreement serves as a contract, documented in writing, that is legitimately bound by law. It also contains interest rates of the loan, payment periods, and amount of the debt or loan. You can also check out this page for Sample Agreements for free.
Monthly Payment Agreement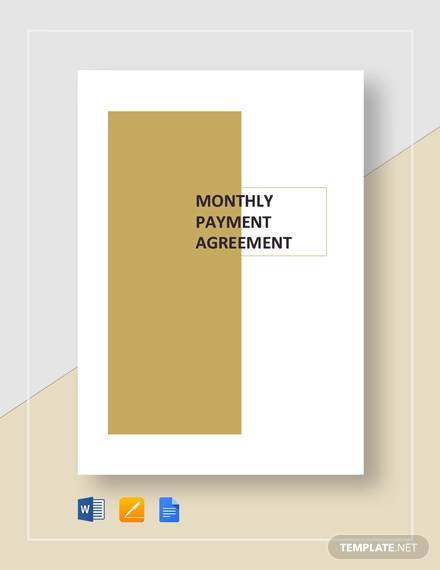 Installment Payment Agreement Sample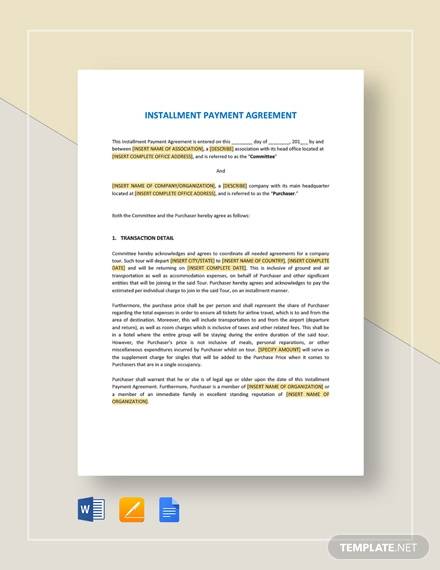 Vehicle Payment Agreement Example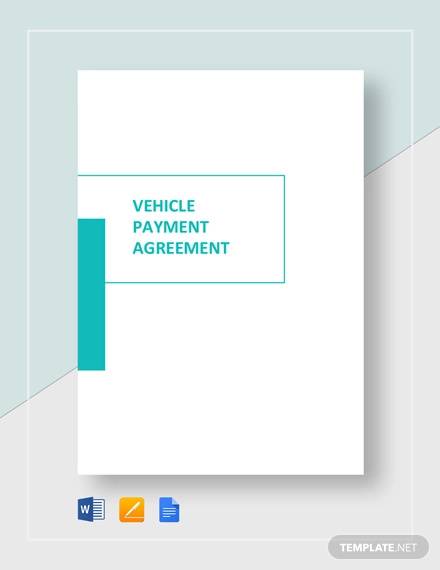 Other names for payment agreement includes installment agreement, promissory note, loan payment agreement, and payment plan agreement which can be useful and helpful for you in terms of having something for reference and the like.
Sample Restaurant Payment Agreement Template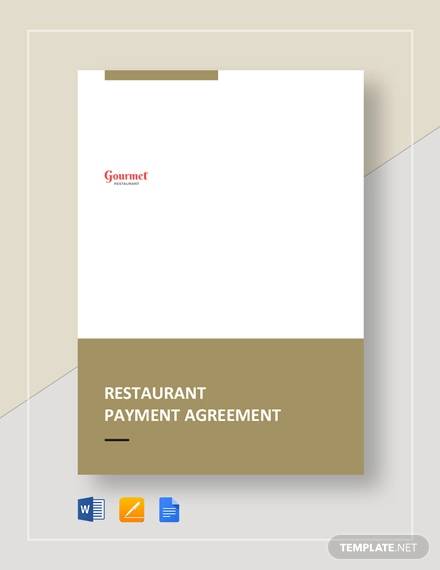 Installment Payment Agreement
Rent Payment Agreement
Sample Enforceable Payment Agreement
Electronic Payment Agreement in PDF
Fee Payment Agreement
Equal Payment Agreement in PDF
Whether you are planning to borrow some money or someone you know needs to borrow some cash from you, a payment agreement is actually essential before either doing both borrowing and lending transactions.
Payment agreements would usually contain the transaction details: terms and conditions of the debt or loan, interest amount, actual amount of the money that was being loaned or borrowed, the parties involved, and most importantly, the exact date of the loan or debt payment.
Having both parties involved to concur to an agreement would ensure each other's security and credibility in the transaction, and in case if any problem arises, the payment agreement would serve as your receipt of the transaction. Here are also some sample agreements that can be useful and can serve as your reference for free: Generic Lease Agreements and Personal Loan Agreements.
In case you might be wondering if you can draft your very own payment agreement, yes, you definitely can. You may use these following steps and tips below:
You can begin making and formatting your payment agreement by opening any office software a blank word processing document that can be used for creating documents.
Pre-Authorized Payment Agreement
Payment Extension Agreement
Attendance Fee Payment Agreement Example
Third Party Payment Agreement
Payment Plan Agreement
After that, you can have your agreement titled "Payment Agreement" or "Debt or Loan Agreement." Usually the title should be in a bold format and all letters capitalized and commonly placed in the center of the document so that it will stand out.
Considerations. According to WikiHow, you can write "In consideration of the Lender loaning money (the 'Loan') to Borrower, and Borrower repaying the Loan to Lender, both parties agree as follows."
After the considerations, you should be able to identify the exact amount of money that was being loaned (the loan) and its interest. Researching on how interest rates and taxes in your country is a big help, especially when you want to charge interest.
For example: "Lender promises to loan US$25 000 to Borrower. Borrower promises to pay back the exact amount to Lender, with interest payable on the unpaid principal at a rate of 5% per annum, calculated yearly not in advance."
Have the payment schedule exactly specified. This part is important and highly crucial to include for the most obvious reasons. Also, specify the details that the full payment of the loan will be repaid that exact date.
Sample Service Agreements can also be found on this page for further details and information.