Payments can be a pain the neck, especially if they amount to something large. However, it is a good thing that a lot of companies like those who cater medical services, legal services, and car retailers offer financial assistance, especially for purchases and payments that amount to a large sum.
If you are looking for payment plan agreement samples, you are on the right page! We offer nine Sample Agreements that are downloadable at absolutely no cost! Each of these has been drafted to have high quality. Do not hesitate to scroll down and check out all of the samples that are available for you.
Agreement to Extend Debt Payment Template to Edit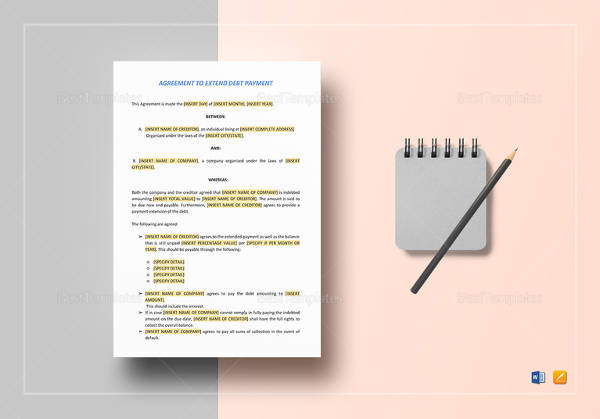 Medical Payment Plan Agreement
Payment Plan Settlement Agreement
Installment Payment Plan Agreement
Car Payment Plan Agreement Sample
What Are We Offering?
We have a wide variety of sample Payment Agreement Forms in store for you. Each one is designated for a specific purpose and will definitely help you out during times when there is a need for you to make your own payment plan agreements.
Medical Payment Plan Agreement
"Prevention is better than cure," as they say. But there are also times when getting sick is just inevitable and could even incur an intense amount of hospital bills. The hospital is sure to give you a list of the medical care that was given to the patient and can help you make arrangement on how you can pay off your bill. The payment plan form will state the frequency of payments and what the mode of payment will be (primary and secondary).
Car Payment Plan Agreement
Buying cars can be quite expensive, especially if it's a brand new one as they can be extremely pricey. To help out with the payment of the car, the car company or retailer will give suggestions as to how the car can be fully paid off. This payment plan form will list down the deposit that was made for the acquisition of the automobile, as well as the remaining balance and when it should be fully paid.
You may also want to take a look at formats and samples of Land Purchase Agreements should you have plans of buying a piece of land.
Payment Plan Agreement Contract
Dental Payment Plan Agreement
Blank Payment Plan Agreement
Rental Payment Plan Agreement in PDF
Commercial Payment Plan Agreement
Service Payment Plan Agreement Example
How Is a Payment Plan Agreement Formatted?
Name of payer and other identifying information (address, birthday, SSN, driver's license/student number, etc.)
The estimated charges incurred due to the purchase of item/service.
Payment options, which will include the mode of payment preferred (cash, check, money order, credit/debit card, financial insurance, etc.), the frequency of payments, and the due date of full payment.
Terms and conditions that will state what the following actions will be should full payment not be made, the interest that will be incurred for payments made beyond schedules set, late fees, etc.
The statement of agreement that will mention that the payer agrees to the payment plan set out by the company/organization.
The agreement statement will be followed by spaces dedicated to collecting signatures (payer's signature, parent/guardian's signature (if still a minor), and a representative/officer-in-charge from the company/organization).
Why Make Use of the Payment Plan Agreement Samples?
Payment plan agreements can be used for a variety of situations that involve the purchase of pricey items/services like assets (see Asset Purchase Agreement Samples). The main purpose of using the samples presented in this article is to make it easier for companies and individuals to draft their very own payment plan agreements easier and a lesser hassle. Another great thing about these samples is the fact that they are high in quality yet are offered for FREE! All the more reason for you to start clicking on that DOWNLOAD button now!