Whether you are starting a business or expanding to accommodate more clients, you will need a large amount of money to fund your plans. For this, you will need to get a business loan application. The type of loan you will get should be according to where you will be using the money. If you plan to upgrade your business equipment, then you should get an equipment loan agreement. In this article, you will learn about how an equipment loan agreement works and how it is different from the other loan arrangement. There are also downloadable samples below that you can use as a reference.
FREE 9+ Equipment Loan Agreement Samples
1. Equipment Loan Agreement Template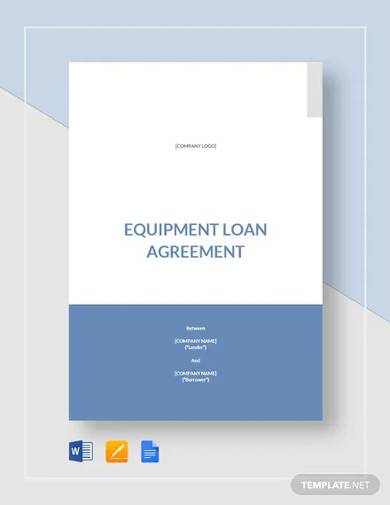 2. Sample Equipment Loan Agreement
3. Simple Equipment Loan Agreement
4. IT Equipment Loan Agreement
5. Acquisition Equipment Loan Agreement
6. Software Loan Agreement Sample
7. Technology/Equipment Loan Agreement
8. Printable Equipment Loan Agreement
9. Basic Equipment Loan Agreement
10. Equipment Loan Agreement Format
What Is an Equipment Loan Agreement?
Most companies get loan applications to help them in business financing. For loans specific to buying, renting, or borrowing equipment, you use an equipment loan agreement format. The agreement takes place between a borrower and a lender. The borrower here could be a business, while the lender is usually a bank or a lending institution. Some individuals who wish to purchase specific equipment may go for a >personal loan or a technology equipment loan agreement. The equipment loan agreement form provides details related to the transaction, which includes the interest rate, the duties, and responsibilities of both parties, loan repayment or payment schedule, etc. It serves as documentation or proof of the business transaction. That is because it records the agreed terms and conditions, and holds the signatures of the two parties.
An equipment finance agreement is a variation of an equipment loan agreement. It is slightly different from the usual loan agreement because it is considered a combination of a loan and an equipment lease. The purpose of this agreement is to avoid lessor liabilities. When leased equipment becomes the cause of an accident or a death, then the owner gets sued for the incident. With the generic loan agreement, the only thing that is lent and borrowed is money.
How To Make an Equipment Loan Agreement
An equipment loan agreement is a comprehensive and detailed agreement, just like generic agreements. To make an agreement, one must have in-depth knowledge of the transaction and the laws surrounding it. But thanks to online agreement samples and templates, making an agreement is now easier. So whether you are making an agreement or about to sign one, it's important to know what to look for in the document. Here are some tips that will help you.
1. Know the Type of Equipment Loan
There are several types of equipment loans, and your agreement should provide the details according to your preference. Verify if the documents say that you are leasing or financing the equipment, or a mix of both. Become familiar with the terminologies and the equipment use agreement. Also, determine who will legally own the equipment during and after the agreement ends. The same thing goes for a technology equipment loan agreement.
2. Check the Loan Amount and Interest
You will see the loan amount and interest in the borrowing agreement sample. It should be the exact amount and percentage that you agreed with the lender. Do not sign the agreement if the discussion is not what's on the document. You should also look carefully at other details to see if they were changed.
3. Determine the Repayment Term Length and Schedule
Verify the length of your loan repayment in the agreement. Again, it must be the same with what you have agreed with the lender. If you want a lower payment amount, then you should opt for longer payment terms. But this also means that you have to pay for bigger interest rates. If you want as little interest rates as possible, then you should go for a shorter term.  With that, you should prepare for frequent payment schedules and a larger repayment amount.
4. Look for Penalty Details
Not that you're planning to skip payments, but a lot of things can happen, and it's best to have sufficient preparations. Learn about the fees included in the agreement and ask questions if you need to. You can use this information to your advantage in the future.
FAQs
What is included in an equipment loan agreement?
A complete equipment loan agreement includes the following information:
Type of equipment loan
Ownership of the equipment
Total loan amount
Loan repayment term
Loan repayment schedule
The interest rate of the loan
Total cost
Penalty fees (late payment, multiple payment transactions, etc.)
Cost of equipment maintenance
Alterations or improvements to the agreement
Equipment insurance
Applicable clauses for the loan
Miscellaneous fees
Why is an equipment loan agreement important?
An equipment loan agreement template is important because it provides a documented proof of the loan transaction a borrower had with a lender. It also legally binds both parties to the duties and responsibilities in the agreement. This way, they can't deny or run away from their obligations. Since it's a legally binding document, it is also enforceable in the court of law. Which means you'll be tried in court and go to jail if something goes wrong.
If you want to become familiar with the layout or format of an equipment loan agreement, then you're better off using templates as your reference. And if you feel that something is missing with your agreement, then it's high time to consult a lawyer. It's always a good decision to trust the experts when it comes to legal matters.