Identity theft, loss of funds, blackmail are some of the common scenarios we read about in regards to the breach of personal data. It is important for companies to adhere to data protection laws when handling sensitive information and it is paramount when processing criminal record checks that a strict code of confidentiality is practiced. This is particularly relevant when handling customer information, which contains a lot of sensitive information. How do companies obtain data from their customers? By conducting surveys, and market research of course. There is nothing wrong with collecting data but as long as you are able to ask permission from these individuals and ensure that their data are properly protected. In most cases, it is important that a company prepares a customer confidentiality agreement in the event that they need to secure sensitive information from its clients. Read more about this below and if you need to prepare a confidentiality agreement for your business, check out our free customer confidentiality agreement samples that are available for download on this page.
10+ Customer Confidentiality Agreement Samples
1. Customer Confidentiality Agreement Template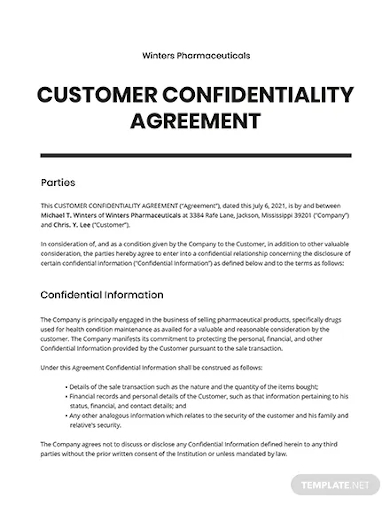 2. Customer Seed Confidentiality Agreement
3. Customer Information Confidentiality Agreement
4. Customer Confidentiality Agreement
5. Utility Customer Confidentiality Agreement
6. Customer Confidentiality and Non-Disclosure Agreement
7. Sample Customer Confidentiality Agreement
8. Standard Customer Confidentiality Agreement
9. Company Customer Confidentiality Agreement
10. Mutual Customer Confidentiality Agreement
11. Customer Data Confidentiality Agrrement
What Is a Customer Confidentiality Agreement?
Taking valuable information from your clients such as their names, addresses, contact details, or even passwords and other important details would mean securing their permission and also assuring them that all these data are protected. Failure to protect and secure confidential information may not only lead to the loss of business or clients, but it also unlocks the danger of confidential information being misused to commit illegal activity such as fraud. One of the best ways to retain your customers and attract new ones relies on the ability of how well enough is your company able to secure all this confidential information. With a customer confidentiality agreement, your company will be able to reassure your clients that their data is well secured. This document is a contract between a provider or a company with its client where it binds legally the parties in promising that certain information shared by them not be disclosed to any party outside the agreement without authorization from the other.
How To Create a Customer Confidentiality Agreement?
As technology advances so do the threat to cyber security, as more and more data are preferably and conveniently stored online. Therefore it has become very vital that customer data is protected amid all the technological inventions and data breach risks. So it is the responsibility of the companies who collect customer information to find ways to enhance security.
The information treated as confidential is personal information of the parties such as financial records, or information relevant to the business practices of the parties involved such as trade secrets, formulas, or any proprietary information about the company. An agreement prevents unnecessary disclosure and makes parties become legally liable in case one performs a breach of the agreement and can be held liable for damages. Confidentiality agreements can be customized depending on the particulars of the situation but the following information below must be included in the contract.
I. Parties Involved
Like all agreements, the details of the parties involved must be written in the agreement such as the client and company's name and addresses.
II. Confidential Information
Give an overview or explanation of what is defined as confidential information.
III.  Items Subject to Non-Disclosure
Describe the list of items or information that are subject to non-disclosure. These include, but are not limited to, proprietary information, trade secrets, and any other details which may include personal information or events.
IV. Termination
Indicate the terms and conditions in case the agreement should be terminated.
V. Duration of the Agreement
The duration of the agreement must be included in the contract such as the starting date and end date.
VI. Obligations of Both Parties
The obligations of each party involved in the agreement must be clearly specified. For example, the client has the right to withdraw information they have previously given to the company, or the company itself is morally obliged and responsible to protect all sensitive information that the client has given.
VII. Modification Agreement
Any modification or alternation made in the agreement must be mutually agreed upon.
VIII. Signatures
The agreement must be signed by the parties involved to show authorization of a contract.
FAQs
What Is a Trade Secret?
A trade secret is a process or confidential information that is exclusive to certain individuals in a company and is not generally not known outside of the company.
What Is the Difference Between a Non-Disclosure and Confidential Agreement?
A non-disclosure is mainly used when the obligation is one-way or unilateral. Whereas a confidential agreement is used when a higher degree of secrecy is required.
What Is a Disclosing Party?
This is the party disclosing confidential information to another party.
It would be quite a catastrophe if a company losses its client due to a breach of a client's private information. This creates a chain effect of bad reputation and lack of trust from other clients. To give your client peace of mind make sure to create a client confidentiality agreement not only to protect your clients but your business as well.