Confidentiality agreements, commonly called nondisclosure or secrecy agreements or simply NDA, are documents between two or more parties wherein a written promise is signed about any information passed on or obtained from a company or business are not to be divulged to the public. Our Sample Agreements for confidentiality documents are designed for the general nature of the agreement.
Sample Basic Confidentiality Agreement Template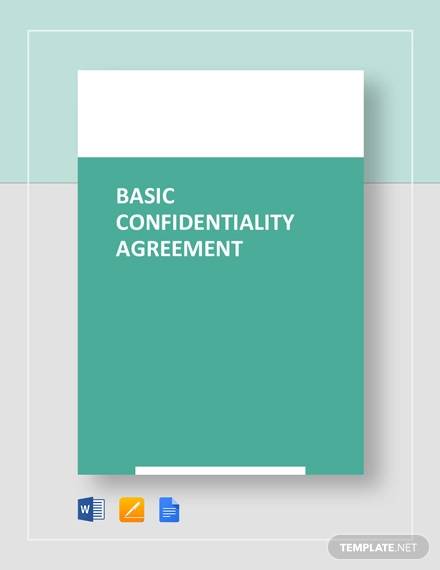 Employee Confidentiality Agreement Sample
These can either be mutual or unilateral agreements covering both parties or limited to the receiving parties. These are intended as samples only and should not be used on individual agreements but are intended for reference purposes only.
Simple Confidentiality Agreement Form
HIPAA Confidentiality Agreement Sample
Sample Business Confidentiality Agreement
Mutual confidentiality agreements are when both parties agree to keep confidential any information passed on by one party, whereas unilateral confidentiality agreements are designed for certain kinds of information being created by one of the parties that should remain confidential by the receiving party. These agreements are often used when a company or individual possesses certain kinds of information, product, or software that may be relevant for a future venture. They would want such information to be kept a secret and want a written contract of nondisclosure from all of the individuals privy to such information. Such agreements are legally binding with signatories facing legal consequences in the event any of the information goes out to other parties.
Most confidentiality agreements are usually used for employees of a company or even government officials who may be privy to some specific forthcoming events or products that can be used for military purposes. In companies, such agreements are often an antecedent to a product or software for evaluation before a comprehensive licensing agreement or patent can be applied.
Confidentiality agreements are drawn up to define what can or cannot be used. These can be used by businesses on anything from confidential data to software tools, systems and specifications, all the way to engineering drawings and prototypes. Any breach of contract may result to businesses subjecting receiving parties to legal complications such as injunction processes and monetary damages.
Our Employee Confidentiality Agreements can be applied by users as reference to making their own as they see fit. These are all free to download and can be modified or edited according to the user's own specifics of the agreement.
Basic Confidentiality Agreement Sample
Contractor Confidentiality Agreement Example
Consultant Confidentiality Agreement in PDF
Confidentiality agreements are not lasting and such agreements must therefore have a definite period on its effectivity. A Starting date must be set and determined by which time the product, idea, or software is on its testing process to the point that these are already out in the market.
Besides all the things being mentioned above, parties should also be aware that there should be a clause limiting any responsibility if any of the information leaks out through no fault of any signatory. This is important to prevent legal complications from unknowing parties who may suddenly find themselves on the receiving end of legal matters where any information that come out is beyond their control.
Besides the samples being presented here, please check on the link for other kinds of agreements like Contractor Confidentiality Agreements. These can be downloaded and edited according to user specifications.