A nondisclosure agreement, or an NDA, is also known as a confidentiality agreement, a propriety information agreement, or a secrecy agreement. This is a legal contract between two or more parties who wish to disclose information, knowledge, or access to a material with each other but want to restrict access by a third party. See here for Sample Agreements.
These are commonly signed when two organizations are considering working together and need to understand the workings of the other company. Some companies may also require that their employees sign an NDA or an NDA-like agreement. In fact, some employee contracts include a clause that restricts employees from the use and dissemination of confidential and company-owned materials and information.
Sample Non Disclosure Agreement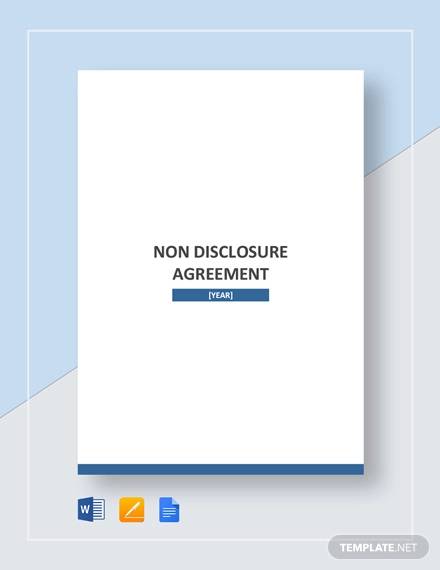 Sample Non Disclosure Agreement for Employee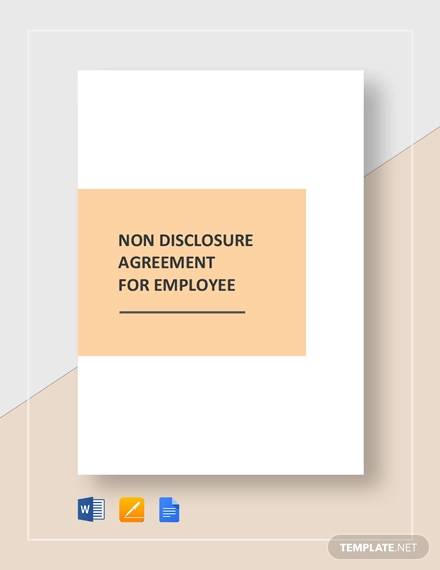 Sample Non-Disclosure Agreement Beta Tester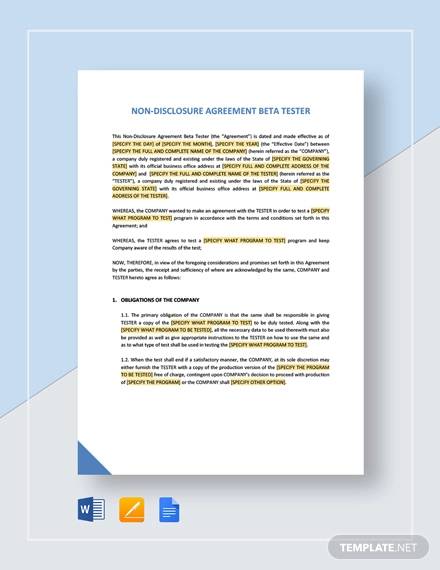 Prospective Licensee Non-Disclosure Agreement Template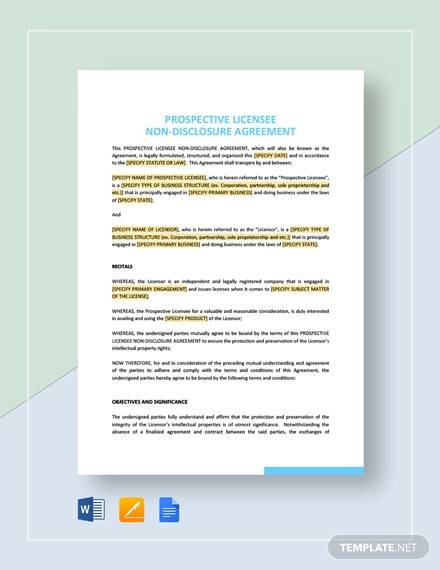 Small Business Non-Disclosure Agreement
Business Plan Non-Disclosure Agreement
Business Non-Disclosure Agreement Sample
Business Sale Agent Non-Disclosure Agreement
Nondisclosure Agreements
In business, you'd come across a time or two when you'd want to share a piece of information with another company. Some of these information, like the contents of a Business Development Agreement, must be kept confidential as it could be a threat to the company or an advantage to its competitors.
When Should You Have a Nondisclosure Agreement?
Nondisclosure agreements are particularly useful when valuable ideas or information about a business is to be disclosed but you want to be sure that the other side will not steal or use our idea without your permission. Seriously consider having an NDA drafted in situations similar to the following:
When an idea is being presented to a potential business partner or an investor.
When sensitive information critical to your business is being shared like financial and marketing information.
When a new product, technology, or a breakthrough is being presented to a potential buyer or licensee
When you are receiving services from someone where they need access to confidential information. These are signed between client and a doctor, lawyer, and a banker, among others.
When you are giving access to an employee to confidential files in the duration of their work with you.
Business Sample Mutual Non-Disclosure Agreement
Business Broker Non-Disclosure Agreement
Business Partnership Non-Disclosure Agreement
Business Concept Non-Disclosure Agreement
Key Elements of a Nondisclosure Agreement
NDAs don't have to include a lot of legal jargon. Here are the key elements of a nondisclosure agreement:
Name the persons involved. As with all legal contracts, be specific of who are involved. Make sure you have the complete legal names in.
Explicit definitions. Again, an NDA is a legal contract and legal contracts have to be specific. Define what is deemed confidential.
Scope of the confidentiality. Describe to what extent the contract covers. Is it just limited to disclosure of information or does it extend to non-use?
Exclusions. Exclusions are for when keeping the information confidential is too burdensome such as

when the information is already known before it was disclosed,
when it is already public information (but was not wrongfully released by the recipient),
when it was independently developed by the recipient, and
when information was disclosed to the recipient by some other party with no duty of confidentiality.
Keep sensitive information like Business Partnership Agreements secure by making sure you have your NDAs signed. Download the NDA samples we have available and consult a lawyer should you have concerns.