If your company sells goods or services to other people or companies, you'll need a sales agreement. By detailing the terms of the sale, a professional sales agreement will help keep things clear and understandable for both parties. You'll want to make sure you have a written agreement to ensure that everything goes smoothly until the money and goods are exchanged, and both you and the other party will want to know what to do if problems arise. This contract can be used for a variety of goods sales, from small purchases to large contracts.
10+ Retail Sales Agreement Samples
If you're providing a service, have a solid contract in place with the individual to protect yourself and the company. If your business is transporting goods from one location to another, you'll need to make sure everything runs smoothly. A retail service agreement contract can assist with this. This free contract template can be assigned in minutes by simply following the simple step-by-step instructions, whether you're the provider or the recipient. Make a retail service contract that will give you true peace of mind when you're on the road.
1. Retail Sales Agreement Template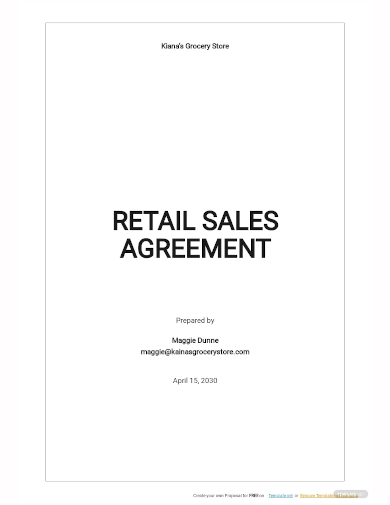 2. Retail Sales Agreement
3. Retail Sales Agent Agreement
4. Retail Installment Sales Agreement
5. Sample Retail Sales Agreement
6. Retail Customer Sales Agreement
7. Retail Business Sales Agreement
8. Dealer Retail Purchase and Sales Agreement
9. Retail System Sales Agreement
10. Restricted Use Retail Sales Agreement
11. Sales and Marketing Retail Agreement
What Should Be Included in a Retail Sales Agreement?
Sales agreements and contracts are often dense with fine print and legal jargon, but the majority of them boil down to a few key points. Look for the following elements when drafting an agreement or studying an existing one:
A detailed description of the for sale goods or services
You might want to include a separate list or schedule in the contract that addresses this.
– The total amount due, as well as the date and method of payment
Describe the installment plan if the buyer intends to pay in installments.
The person or company responsible for delivering the goods, as well as the date and time of delivery
Who is liable if goods are misplaced or damaged during delivery?
Information on the goods' warranty or guarantee
How much time does the buyer have to inspect or evaluate the goods before they become legally his or hers?
How each party must deliver agreement-related changes or notices
The state under whose laws the agreement will be governed
A clause stating that the agreement is the only legal document covering the sale and that no other written or oral agreements are legally binding.
A clause stating that any changes or additions to the agreement must be approved in writing by both parties.
You risk not understanding your contractual rights and obligations, the economic consequences of risks, and the legal remedies and protections available to you at law if you don't have a Sales Agreement. This agreement establishes a solid foundation and framework for all steps in an otherwise complex process, as well as how to address and remedy problems if they arise.
A successful individual or business relies on the ability to maximize profits by anticipating peak sales periods and calculating the amount of inventory required to meet demand. You or your company may not be able to sell or secure inventory at the best prices without a sales agreement, resulting in a loss of profit.
FAQs
What are the retail contract terms?
A retail contract will include information about the buyer and seller, such as their addresses, a detailed description of the goods being sold, and how and when the goods will be delivered, in addition to the basic contract terms. A retail contract will also specify the terms and method of payment, as well as how the buyer and seller will settle any disagreements if one arises.
What are retail installment contracts?
If the buyer is unable or unwilling to pay the full purchase price at the time the goods are to be delivered, the parties may use a retail installment contract, in which the parties must also consider when installment payments will be due, the interest rate to be used, the duration of the agreement, the number of periodic payments, how late fees will be assessed, how the parties will handle cancellation of the agreement, and whether a parity clause will be used.
If you want to see more samples and formats, check out some retail sales agreement samples and templates provided in the article for your reference.