Whether you are a construction company or an individual, you would need to have some signed real estate development agreement contract that is bounded by law. You can also try checking out some Sample Agreements that you may find helpful and useful in dealing with real estate development contracts as a guide or as a reference in the future.
Source Code Trust Agreement Development Template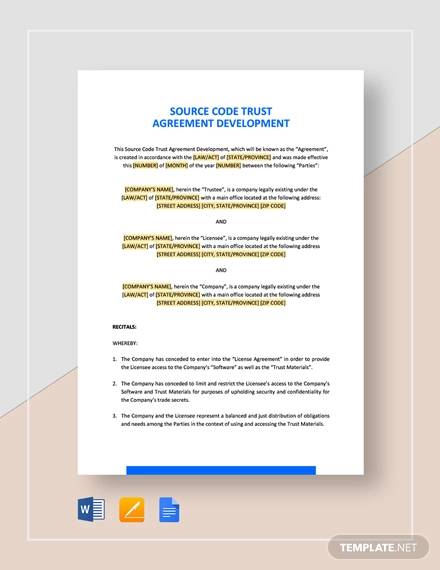 Web Site Development Agreement Sample
Project Development Agreement Sample
Development agreement, as being defined by the United States Legal definitions, is an agreement between a construction company or a city or a builder and a certain individual to develop a portion of land for the individuals' commercial or residential or personal use.
Website Design Agreement Contract in PDF
Other than that, you can also check out this page's Sample Contract Agreements as well as examples of Subcontractor Agreements that may be of some use. Aside from that, it is also important as well as it is essential to gather some relevant information and data that you can use a a reference in the future. Here are some types of development agreement contracts and its definition to help you find which type of development agreement will suit and fit your needs.
Stand-Alone Development Agreement – this type of development agreement is where a particular individual who owns a land deals and has a contract with a certain developer to carry out a development project either at the cost or expense of the landowner or of the developer, according to Morton Fraser.
Development Agreement for Lease – according to Morton Fraser, this type of agreement is where a tenant would contract to take on the property for a lease when the development of the property has been completed.
Forward Funding Agreement – this type of development agreement is where the buyer of the land property would provide the necessary costs or finances as a cover for the development of the land property that he or she bought so that the project will be able to move forward as planned.
Forward Purchase Agreement – this type of developer agreement is where the developer of the land would agree to sell the completed and developed land properties to a buyer. Most often than not, a particular institutional investor would purchase the land property through a pension fund, which, in most cases, it would be in a place of a pre-let agreement between a potential tenant and the developer of the land property.
Artist Development Agreement Sample
Software Development Agreement Sample
Product Development Agreement Example
Sample Software Development Agreement Contract
Furthermore, you can also consider checking out some examples of Contractor Confidentiality Agreements that you might find similarly interesting. It can definitely be helpful for you either as a reference or as a guide provided with suffice data, information, and relevant details. You can also feel free to download it as well as improvising and modifying it into whichever would suit and fit your contract needs.
Development agreement between the developer of the land and the individual as well as the tenant is often necessary to protect the rights and those parties involved through legalities or legal actions and higher authority regulations.