It is unacceptable to hold a business meeting without first developing an agenda. You are wasting your time and the team if you walk into a meeting without a plan for what you want to talk about, how much time you want to spend on each topic, what the business goals are, and what the action items should be. Effective meeting agendas for business define expectations for what needs to be done before and during the meeting and what action items must be taken following the meeting.
10+ Business Meeting Agenda Samples
1. Small Business Meeting Agenda Template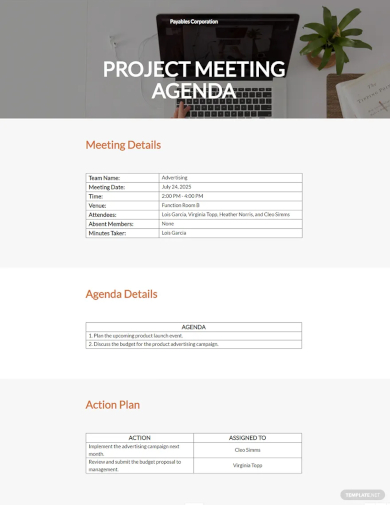 2. Business Meeting Agenda Template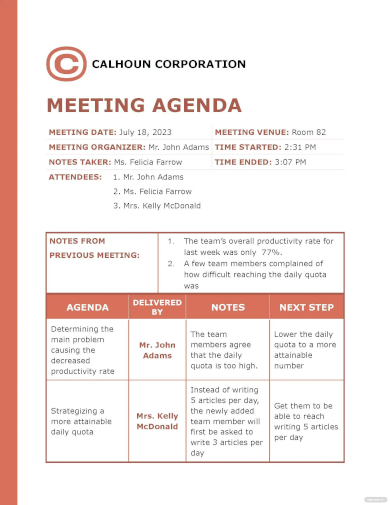 3. Business Board Meeting Agenda
4. School Business Meeting Agenda
5. Business Operations Meeting Agenda
6. Agenda for Business Meeting
7. Club Business Meeting Agenda
5. Sample Business Meeting Agenda
6. Commission Business Meeting Agenda
7. Business Services Meeting Agenda
8. Business Conference Meeting Agenda
9. Annual Business Meeting Agenda
10. Business Meeting Action Agenda
11. Standard Business Meeting Agenda
What Is Business Meeting?
A business meeting agenda is a list of items in the business that are subjects of conversation. A typical agenda for any client meeting will include essential information such as the gathering's date, time, workplace report, and attendees. After this, the discussion points will be presented, describing the task lists that need to be completed after this meeting. An agenda for a business meeting can also provide an idea of the order in which issues will be discussed and any form of a timeline chart you and your colleagues could decide to follow.
How To Make a Business Meeting Agenda?
Since there is no universally accepted structure for meeting agendas, it is up to you and your team to experiment with various meeting outlines and formats until you find satisfactory templates to use in your gatherings. The reason for the review agenda and other meeting formats and the people who will be there will determine the agenda for the gathering that you will utilize.
1. Meeting Information
Even though it would appear to be stating the obvious, a surprising number of people forget to include the fundamental particulars of a business meeting. Be sure to include the information of the meeting, such as the people who will be there, the date, the time, the conference links for those who will be attending the meeting remotely, and any additional paperwork.
2. Discussion Ideas
After that, you need to double-check that you have a complete and accurate outline of the issues that will be discussed. When you have narrowed down a few key themes that you know you want to cover, the subjects of conversation that arise from those points will become the agenda items for the meeting. It would help if you thought about approaching each item on the agenda in the most productive manner possible.
3. Notes Section
In the agenda for your next business meeting, be sure to include a space for either meeting minutes or meeting notes. This establishes the standard that attendees ought to be taking notes during the course of the meeting. Your team will have more organized thoughts when they refer to their notes later on, which is beneficial for when they are taking notes. Your notes section can be taken beneath each conversation topic.
4. Action Items
Make sure that your agenda for the business meeting includes a space for action items. It is essential that this section be kept distinct from both the actual agenda for the meeting and the section in which you take notes. This ensures that there is a single location that all attendees can consult in order to determine which action items have been delegated to them as well as the amount of time they have to complete their assignments.
What does it mean to have an agenda for a business meeting?
It is the responsibility of the agenda to ensure that a meeting remains on course and that all attendees are aware of what is taking place and what will take place next.
What is an agenda, and why do we use it at meetings?
You and your coworkers will be able to better prepare for a meeting by using a meeting agenda and more efficiently navigating the topics that need to be discussed.
Who is responsible for writing the agenda for the meeting?
The facilitator of a meeting, who is typically the chairman, is the person responsible for drafting and distributing the meeting's agenda.
You must be well organized and prepared for these meetings in light of the fact that you meet with your team frequently, probably more so than anyone else. Enhancing your team meetings with even a few simple changes could significantly and positively affect your organization's productivity and efficiency. An excellent method for working towards the improvement of the business meeting agenda template for your team.