Are you a recruiter who is constantly looking for ways to screen job applicants with great efficiency and celerity? Well, it is time that you use job application forms while recruiting. This recruiter's best friend will make you save time and energy without compromising the quality of the job candidates you are going to hire. If you are not a recruiter, then perhaps you are a wide-eyed job seeker who is perplexed at the thought of having to compete with other ravenous applicants? Worry not, for you can boost your eligibility by crafting a dazzling cover letter and practicing beforehand how to fill out application forms with our samples of mock application forms.
With both the recruiter and job seeker's needs in mind, we have collated a wide array of job application forms, Application Letters, and mock forms for you to choose from. You may download these and edit accordingly.
Sample Target Job Application
Bank Job Application Example
Cover Letter for Job Application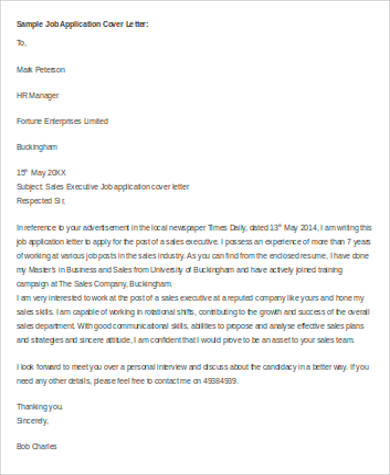 Mock Job Application Example
Blank Job Application Sample
What We Offer
Various Generic Job Application Forms
Like all forms, there is always a go-to standard format from that all variations must be based on. A standard application form asks the job candidates to give out the following basic information:
name,
age/birth date,
address,
spouse's or family's information,
job applicant's contact information (telephone number, mobile number, e-mail address),
educational history (name of schools, addresses, academic awards if any),
work/employment history (name of company, supervisor, address of company, position held, salary history, etc.),
name and contact information of references,
confirmation that all the information listed are true to the applicant's knowledge, and
signature.
While this format can be used in any type of job position, it will, however, cease to become an efficient recruitment strategy if it fails to address the specific information (qualifications, background history) that are needed in the job description.
Want more Generic Job Application Samples? You may browse our collection of Blank Job Applications by clicking on the link provided.
Cover Letter for Job Application
A cover letter for job application is the letter stating the applicant's intent to apply for a specific job position in a specific company. It is usually sent to the recruiter or the hiring department of the company together with the applicant's
resume/curriculum vitae,
recommendation letter or letter of reference from previous employers or previous professors, and
other pertinent documents that the job posting asks the applicant to bring.
Teaching Job Application
Job Request Application
Job Transfer Application
Job Vacancy Application
Generic Job Application
Mock Job Application Example
Job candidates can practice filling out job application forms by downloading our mock job application form samples. Here are some basic information that most people tend to forget, hence you must try to remember them before filling out the actual forms:
your social security number
the specific years/dates you began and ended your employment in all your previous companies,
the specific year you graduated, and
your complete address (include the house number, unit number if any).
Indeed, practicing can increase a job applicant's chances of getting hired.
Job Transfer Application
A job transfer application is a document passed by an employee to his supervisor or employer with the intent of applying for another job position within the company. Before a prospective transfer employee could send this form, the following considerations must be accomplished:
regularization or have worked at least 6 months in the company,
possesses the necessary skills for the applied position, and
underwent a direct or indirect training regarding the tasks and responsibilities of the applied position.
Looking for more sample forms? We also have Sample Target Job Applications that may suit your recruitment needs. Simply click on the link provided.