Trusting someone to take care of significant matters on your behalf is hard. However, there are unavoidable circumstances that will compel you to ask someone's assistance. The power of attorney form will help you find an agent legally bound to fulfill your duties and responsibilities as your representative. This makes it easier for you to straighten your affairs and ensure that nothing's left unattended, even without your presence. Learn more about this form below.
FREE 13+ Printable Power Of Attorney Form Samples
1. Unlimited Power of Attorney Template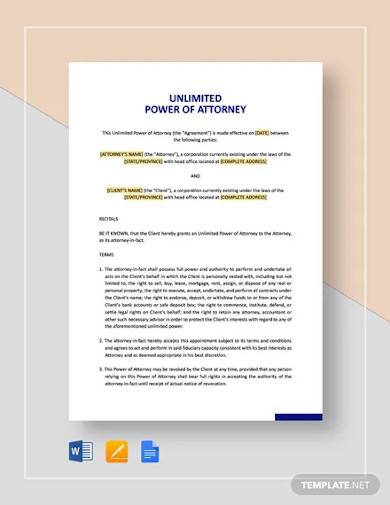 2. Limited Power of Attorney Template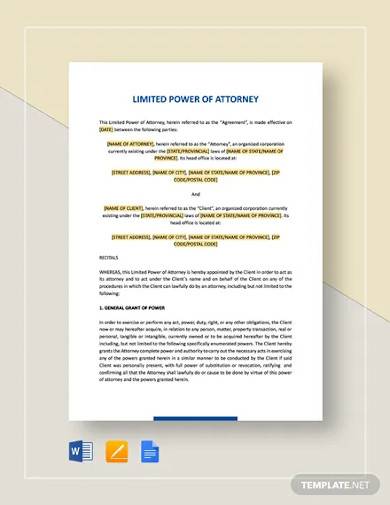 3. Revocation of Power of Attorney Template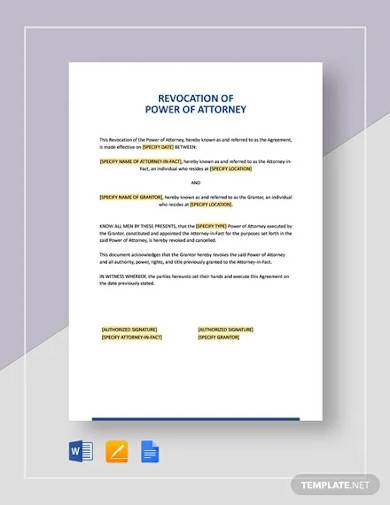 4. Subscription Form and Power of Attorney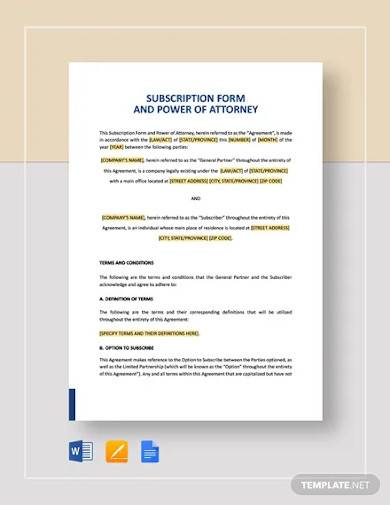 5. Power of Attorney For Health Care
6. Revocation of General Power of Attorney Form
7. Durable Power of Attorney Form
8. Medical Power of Attorney Form
9. Limited Power of Attorney for Child Care Form
10. Health Care Power of Attorney Form
11. Printable Revocation of Power of Attorney
12. Power of Attorney Revocation Form Template
13. Printable General Power of Attorney Form
14. Sample Medical Durable Power of Attorney
What Is a Power of Attorney Form?
A power of attorney (POA) form is a form that gives the right for another person called the Agent or the Attorney-In-Fact to carry out financial, medical, and other legal matters for someone's behalf. The person delegating duties to the agent is the Principal. The PAO form is often used in case of illness, disability, or absence of the Principal to be present in significant affairs or sign legal letters or documents.
Different Types of Power of Attorney Forms
Among the most common sickness of the elderly population includes chronic conditions and cognitive health. Chronic conditions include heart diseases, stroke, and cancer. On the other hand, cognitive issues affect their ability to think, such as dementia. According to the World Health Organization (WHO), 50 million people have dementia worldwide, and 70% of the cases come in the form of Alzheimer's disease. This is just one of the reasons why a POA is important. While illness and disability might be among the apparent causes of unavailability, there are other matters where you will need the help of an agent to represent you.
To help you know more about POAs forms, here are its different variety that you should know about:
1. Limited Power of Attorney. A limited power of attorney assigns a minimal task to an agent, often for only a specific amount of time or purpose. An example would be signing a paper during a discussion.
2. General Power of Attorney. A general power of attorney provides all the authority as much as the Principal has over their own affairs. It's comprehensive and usually ends at the Principal's incapacitation or death.
3. Durable Power of Attorney. A durable power of attorney can either be general or limited, but this remains effective even after the Principal's death.
4. Springing Power of Attorney. The springing power of attorney takes effect after the Principal's incapacitation.
How to Make a Power of Attorney Form
The following steps will help you make a power of attorney form:
1. Think About Your Purpose
Before you begin to write your POA form, make sure you've already figured out its purpose. Knowing the goal of the document makes it easier to draft its content. Determine your needs and what responsibilities to your agent on your behalf. Will your agent take care of your banking transactions for you? Is it for medical purposes? Do you want to authorize them to do your business deals? The POA form can cater to your wide variety of needs. Refer to the types of POA forms above and determine which serves your purpose the best.
2. Know What Content to Include
Now that you know which direction to go, the only thing left is to pave the way for it to happen. Accomplish this by knowing what content you should include in your blank POA form. Depending on the number of things you're handing over to your agent as the Principal, your POA form can either be brief or lengthy. It should include the appointed agent's name, the effective date the agent's management should start, compensation, restrictions, and other pertinent matters.
3. Specify The Agent's Scope of Responsibilities
This should be the highlight of your form as this will put into thorough details about what the Principal has entrusted the agent to do. State the scope of the agent's responsibilities in a detailed and comprehensive manner. This is important because this will help the agent understand their roles and how they will carry the duties as the Principal's representative. To make the form easily comprehensible, divide the tasks into different categories. For example, if the Principal assigns real estate leasing duties to the agent, instead of putting them together all in one list, breaking them into banking transactions, property maintenance, lease dealings, and others should make the document easier to skim and interpret.
4. Specify the Conditions for Termination
Dealings are almost always not perpetual. There might be a specific timeline or circumstances that can terminate the agent from their duties. Your POA form should specify this point. You must state whether the agent's authority ends on the Principal's death unless the latter decides to revoke their ties to the agent. You should also put in details which actions could cost the agent their termination from the agreement. 
FAQs
Can you have more than one agent or attorney-in-fact?
Yes, you can have multiple agents as long as you specify if they're going to coordinate or take care of different matters.
Who can become your agent?
Any legal adult that's capable of being in a contract can be your agent.
Which authority are you not allowed to assign to your agent?
The following are the authorities you're not allowed to assign to your agent:
Marriage and divorce
Court representative (unless the agent is a lawyer)
Creating, amending, and revoking a last will and testament
Amending and revoking living trusts
Retirement benefits
Bankruptcy
There's no need to worry about your business and legal affairs when you have a POA ready for you. This helps you find a trusted person where you can assign significant matters for you in your absence. Go through our collection of printable power of attorney form templates and choose which can serve your purpose. Make the best selection and download now!