Service-based businesses are the types of business that only provide specific services to people who needs them. Most of these business owners are experts in a particular field and they offer services related to the field they are practicing in. Most of them rely on regular payments from clients for their services so they need to constantly provide these services as long as their client needs them. For every transaction, these businesses should provide receipts as proof of transaction of the client obtaining services from the business. A receipt is an important document even though they are small and easy to create. To help you get started making a service receipt, read the article to know how to write one.
10+ Service Receipt Samples
1. Service Receipt Template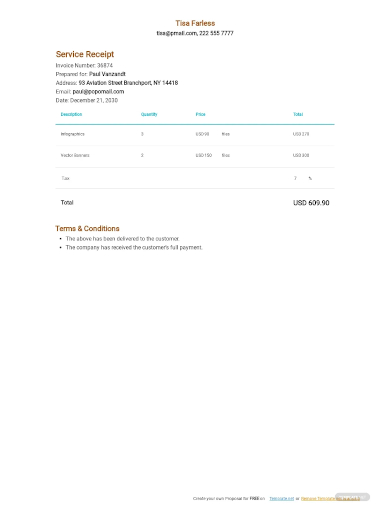 2. Freelance Services Receipt Template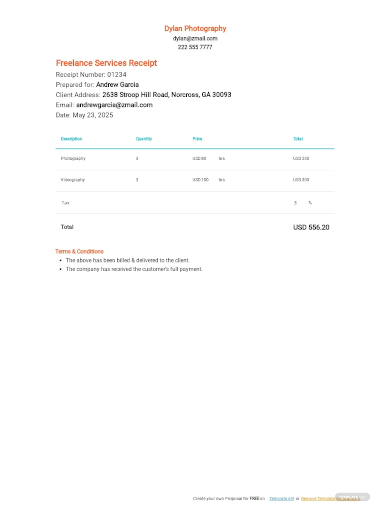 3. IT Service Receipt Template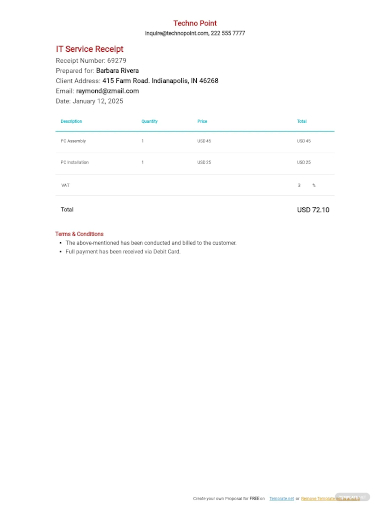 4. Clinical Service Receipt
5. International Travel Service Receipt
6. Service Provider Receipt Form
7. Daycare Receipt for Services
8. Delivery Receipt for Vended Satellite Meal Service
9. Summer Food Service Program Site Delivery Receipt
10. Affidavit of Receipt of Service
11. Specialized Instruction Service Receipt
What is a Service Receipt?
A service receipt is an accounting document that a service-based business provides to its clients as proof of obtaining service and paying for it. It includes details such as the amount owing on the invoice, the amount paid by the client, and the detailed list of the services provided.
How to Create Service Receipt
1. Create a Template
You should develop a template for your receipt that is appropriate for your business. You will be using this in every transaction your business makes. It should feature your business's brand, common fonts, and color palettes, if necessary. Also, ensure that it looks professional and has details necessary to have in a receipt. You can create your receipt template or download some sample templates (you can refer to our templates above) for you to use.
2. List Your Business Details
In the header of your receipt, put your business logo and list your business name, your business's address, your email address, and your phone number, so clients can easily contact you with any questions regarding the receipt details.
3. Include Your Client's Details
The next important details to include in your service receipt is your client's name and contact details, such as their contact name, business address, phone number, and, if applicable, email address. Ensure they have the correct spelling. Have the client double-check these details.
4. List All Services Rendered
A service receipt should include a detailed itemized list that explains all the services you provided for the client during the whole transaction. When listing the services in the receipt you should include the following details:
The service with a brief description of the work completed
The hours worked or the quantity provided besides each service
The rate of pay for each service provided
The subtotal for each of the services listed
5. Include the Total Amount Due
The service receipt should include the total amount owed to the client for the services you provided. This information should be prominent, by having it in a large, bold font that pops from the rest of your invoice. This is the amount that the client is obligated to pay.  If it's compulsory in your jurisdiction, include applicable taxes for your services. The tax change will depend on where your business is located and how it is set up. Ask your local government how much tax should you include in your services if you're not sure about this information.
FAQs
What are examples of businesses that mainly provide businesses?
A service-based business provides professional services to clients for payment. Examples of these industries are:
Lawyers
Business consultants
IT professionals
Writers
Landscapers
Is it a legal requirement to give a receipt?
A business must provide proof of transaction to their customers or clients when they purchase goods or services especially when the customer or client asks for one. For transactions with only having a small total amount, a receipt may not be necessary, but if it's a big purchase, a receipt should be issued.
Before you issue the receipt, determine with the client first what payment methods you'll accept. This can include checks, credit cards, cash, online payments, and direct bank deposits. It's preferable to offer as many payment method options to give your clients some flexibility on how they can pay you. Ensure the details you've input are accurate, especially the total amount due. To help you get started making the receipt, download our free sample templates above to use as your guide!