Self-debating about whether or not you should or should not leave your job can be quite a challenge. Everything has to be thoroughly planned and backup plan templates should definitely be ready. Before making a final decision, you have to make sure that you have weighed all the pros and cons of leaving your current job and is it really worth quitting.
When a decision is already final, it is now time for you start writing a simple resignation letter that is equipped with the right words that will properly relay to your employer that you are planning to leave the company on your proposed date. With this in mind, it is important to take note that you have to carefully pick the words that you will be incorporating in your letter as well as ensure that the formatting is done in a professional manner.
Letter of Resignation Template Sample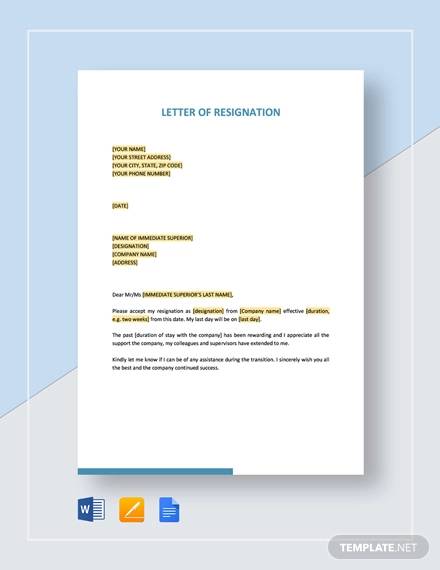 Resignation Letter Going Back to School Sample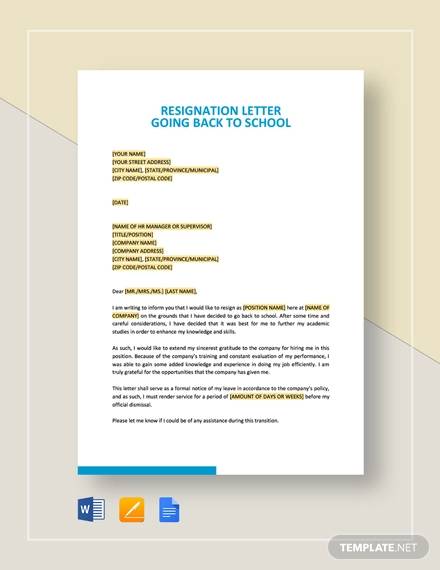 Of course, coming up with a good and well-written standard resignation letter comes with a few challenges. So to make things a little bit easier for you, we would like to share a few tips and guidelines that will definitely help you out. Plus, we have resignation letter pdf that will definitely be great references for writing your very own resignation letter. To learn more about resignation letters, you should definitely keep reading!
Company Resignation Letter
Immediate Resignation Letter
E-mail Resignation Letter
Resignation Letter with Notice Period
Official Resignation Letter
Two-Week Notice Resignation Letter
Why Submit Resignation Letters?
It is important to submit a resignation letter to your employer as this can actually help to pave the way to a good departure from the company. It helps to maintain a positive relationship with the employer you will soon be leaving. It also serves as a formal letter documentation of your resignation from the company. It is considered to be polite as well as part of good resignation etiquette.
Coming Up with Your Resignation Letter
Before writing a resignation letter, there are a few things you need to remember when writing a resignation letter to make sure that your resignation goes as smooth as possible. You want to remember that even though you are leaving the company, you still want to keep a positive relationship with your employer especially since you might be needing a recommendation letter from them. It will be easier for them to oblige with a recommendation letter request if you do leave in good terms. So keep that in mind.
Give Notice
One of the first things that you need to do when you are planning to leave is to actually give your employer notice of your plans to leave your job. The best way to do this is to personally talk to your employer. Set a meeting with him/her. However, if you are feeling a bit anxious about explaining yourself to your employer, you can prepare a resignation letter with notice period and hand it out to your employer during your meeting.
Direct and Straight to the Point
When you do start writing your resignation letter, remember that there is no need for you to adorn your letter with flowery words. Be straightforward about what your plans are and your reasons. There is no need for you to sugarcoat anything as this is not the place for sugarcoating. Directly stating in the first few sample statements of your resignation letter that you are quitting your job is advised.
Be Thankful
Expressing how much you appreciate the chance of being able to share your technical skills and experience with them is important in keeping great relationships with your employer. Even if your reason for leaving the company is considered to be a negative one, remember that your employer hired you because they believed that you can be a good addition to the company's workforce. So it is just right that you thank them for giving you that opportunity.
Offer Help
Let them know that you are willing to offer some help during the transition should they need help. One more thing that can actually help make the transition plan period a whole lot smoother for your employer is by finishing all the tasks you have before you leave the company. If your employment end date is arriving soon and you have yet to finish some task analysis, make sure you make it easy for the person who will be replacing you by making the files easy to look for or by leaving a few notes with easy-to-follow instructions. However, you should also make sure that you do not make any promises that you will not be able to fulfill.
Keep Your Letter Short
Your sample letter should not be more than one page long. If you have already talked to your boss about your reasons for leaving, there is no need for you to make your letter long. Basically, your letter is composed of the following:
Establish in your first statement that you are leaving and when your proposed end date is.
Give a brief description as to why you are going to leave the company.
Express your thanks to your employer.
Review Company Policies
If you signed a sample contract, you have to make sure that you are not violating any terms and conditions or else you might face charges.
Choose Your Language Carefully
Make sure that you make use of formal yet simple language. Avoid any jargon, slang, or shortened words to ensure that everything will be easy to understand. Keep your tone professional as well.
Avoid Negativity
Never mention anything negative about the company, your colleagues, your boss, or your job. This is not the avenue for you to vent out your hatred toward the company. Keep any negative feelings about the company and anything related to it to yourself. Remember to always make your resignation letters polite.
Tender Resignation Letter
Employment Resignation Letter
Simple Job Resignation Letter
Resignation Letter to Manager
Legal Resignation Letter
Two-Week Resignation Letter Sample
Typical Resignation Letter Format
An employment resignation letter is considered to be a formal document that will be placed in your employee file. You have to ensure that you choose a resignation letter format that is easy on the eyes and will make your letter look polished. What we have on this part is a description about what you will be seeing on a typical resignation letter.
Indicate the date when you wrote the letter. You will find this in the upper left most part of the page.
Write down the details of the person you will be sending the letter to. This will include name, job title, and the name of the company. This is typically found about two spaces after the date.
Another two spaces after the recipient details, the cover letter salutation will be found. If you have a close relationship with the recipient, you can use his/her first name. However, it best to use his/her last name for formality's sake (i.e., Dear Ms. Dean). Make sure that you also spell the name properly.
Body of the Letter

First paragraph – Make sure you are able to establish that you are leaving. Include the date you plan to leave the company. Make sure your proposed date is about two weeks away from the date you submit your letter.
Second paragraph (optional) – A detailed explanation is not necessary. It is up to your discretion if you want to share all the details or otherwise. However, you can give a vague statement about the reason why you are leaving.
Last paragraph – Thank your employer and let them know if you are willing to help out with the transition period.

Close your letter with the appropriate closing statement.
Do not forget to sign your letter. Your signature is usually found above your typed name.
Proper Etiquette
Remove all of your belongings from your desk, lockers, and pantry if there are any.
Delete any of your personal files from the office computer and reset the mobile phone of you have been issued a company phone.
Never leave a resignation letter template on the table of your supervisor. Make sure you communicate with them properly.
Stay productive even on your last few days in the company. You do not want to be remembered as the lazy office mate. Finish everything that you can.
Keep in touch with your colleagues.
Never brag about a new job opportunity.
Have all the necessary details about how you can get your last pay, what will happen to your unused leaves, and if your health benefits will still continue for a certain amount of time.