You should use the sample resignation letters for getting the idea of how exactly you should write a resignation letter. These samples are all prepared by the experts who know the best ways of letter writing and can make any letter work the best with the best use of form, words, great sentence formation, and expressions. Hence, a formal letter may even work wonders when you try to take inspiration from the resignation letter format examples here.
Letter of Resignation Template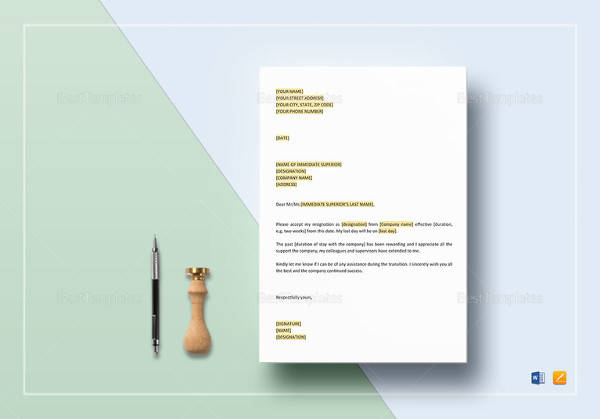 Acceptance of Resignation Letter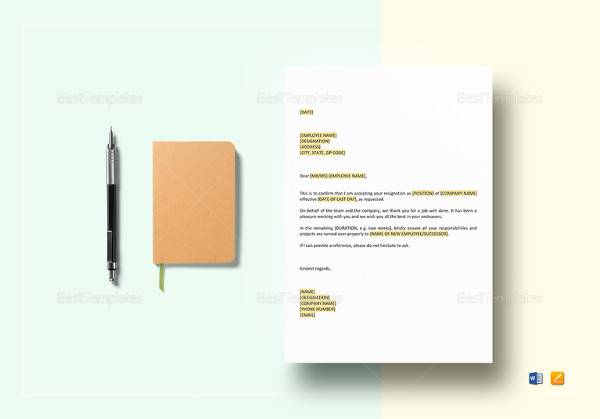 Resignation Letter Going Back to School Template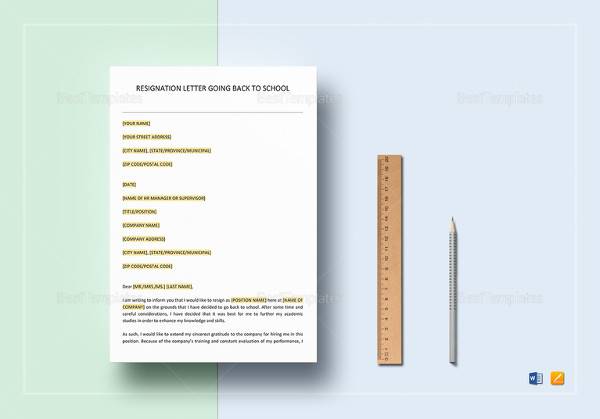 How to write a Letter of Resignation
A letter of resignation is actually written tactfully so that you don't hurt the sentiments of your employer. You are leaving the job, and it's already a loss for the employer if you were an able employee. Hence, your letter has to be polite, official, and contain only official facts with a standard professional format. You will definitely have to mention the reason for resigning, like a new job, inability to work due to personal reasons, physical disability, mental problems, or something else. You must mention the amount of time you want to serve as in notice period.You may also see resignation letters short notice
Free Resignation Letter Format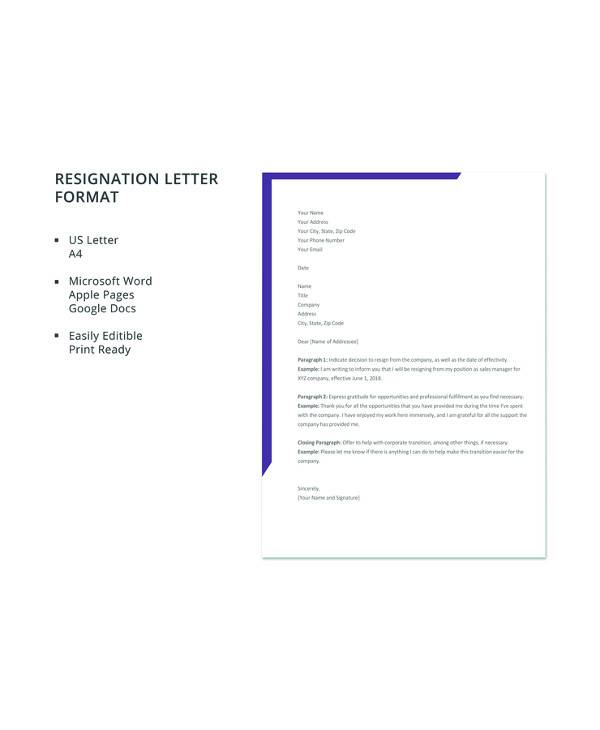 Professional Resignation Letter Template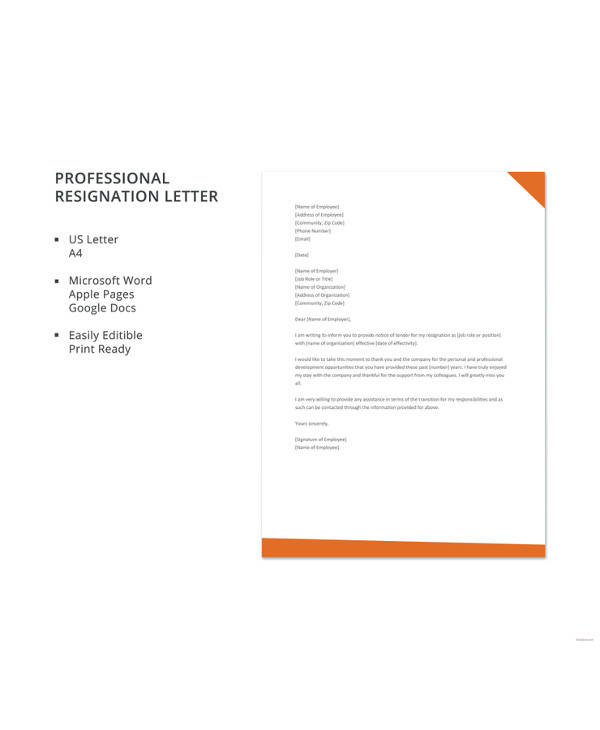 Free Simple Resignation Letter Template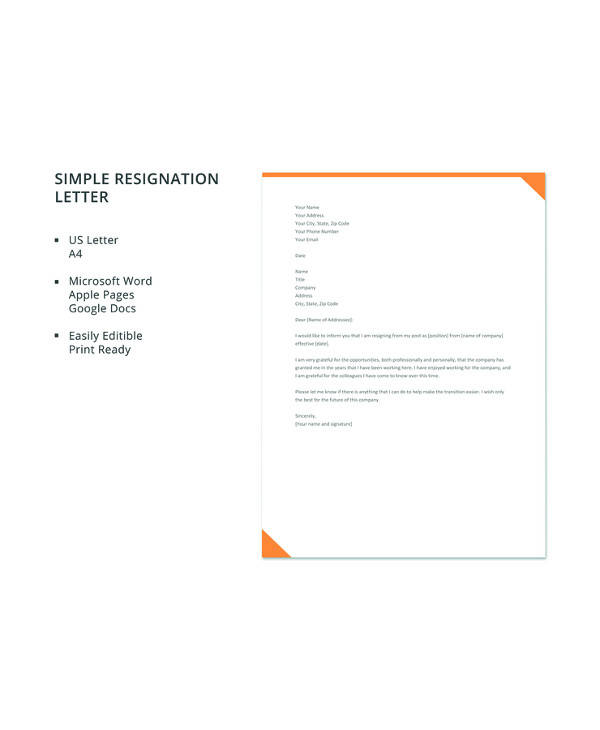 Free Sample Resignation Letter Template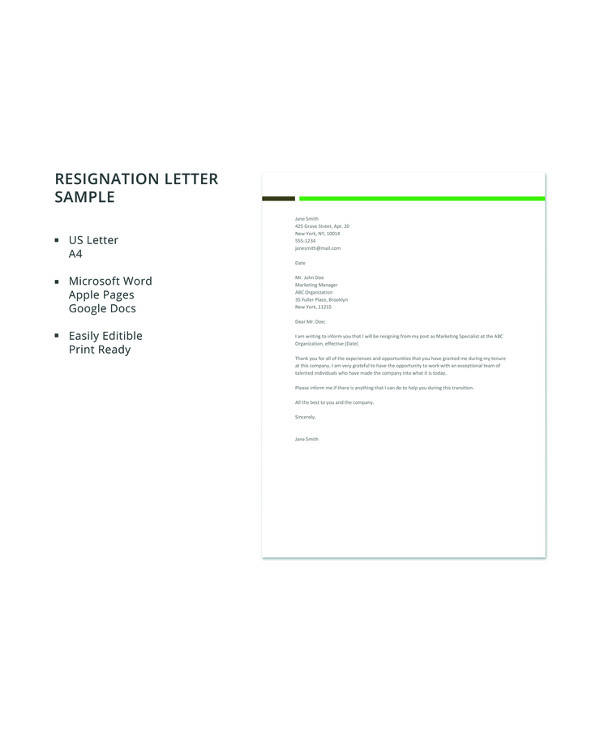 Job Resignation Letter Template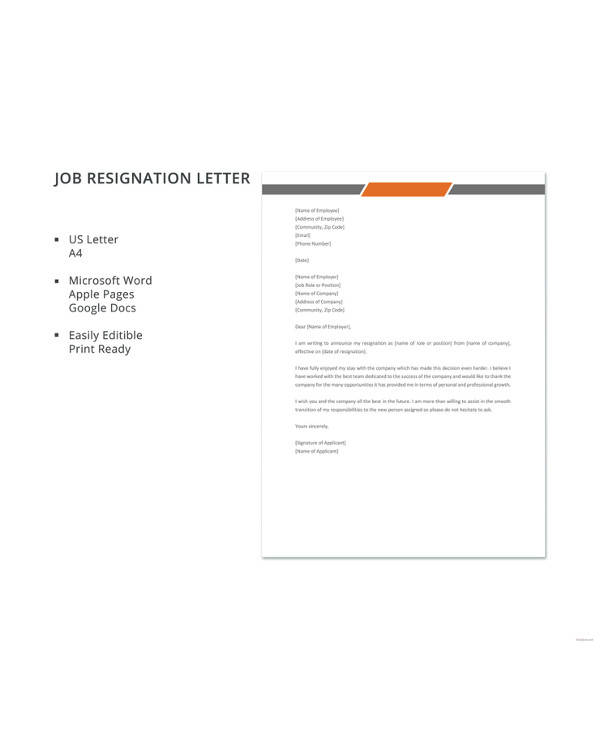 Professional Letter of Resignation
The professional letter of resignation is the appropriate professional format you would love to use when you need the perfect official presentation style.You may also see one-day resignation letters
Formal Letter of Resignation
The letter of resignation Formatis a typical standard format, which you should use to fulfill the requirements for the utterly formal style. This is one such format, which is widely accepted across various organization due to its formal structure.You may also see informal resignation letters.
Sample Letter of Resignation Email
The letter of resignation email is all about sending the resignation letter trough email and it contains a standard mailing format. You should use this when you are planning to send your resignation by email.You may also see letter of resignation examples
Sample Letter of Employment Resignation
The letter of employment resignation is what you can use when to want to request your employer for recommending you to another employer at the same time when you request for the resignation.You may also see company resignation letters
Sample Letter of Resignation For New Job
When you have to immediately join a new job, and you want to simply resign as you got another new job, in such a scenario you will find this example the apt for you.You may also see rude resignation letters.
Letter of Resignation With Notice Period
Letter of Recruitment Resignation Sample
Sample Letter of Resignation
Why you need the Letter of Resignation Samples?
The letter of resignation is actually an official letter, which is also a strong official document to be used legally in case of any dispute that may arise. Hence, the letter has to be written in the best format, so that it looks professional, and contains all important facts to be mentioned in the series of priority. If you are not sure about the format, then you will have to refer to the samples and examples. Thankfully, they are available in ample when you surf the template banks. Any confusion regarding resignation letter writing can, therefore, be fought with these examples.
Whether you look for the basic resignation letter samples, or some sample retirement resignation letters, or sample notice period resignation letters, they are available online from the rich resources of the templates and examples for your help, and you will always find a way with the most appropriate format.
If you have any DMCA issues on this post, please contact us!