Every professional needs to switch companies for growth in professional career regarding better opportunities and better salary. Keeping Free Sample Letters of resignation comes very handy in such circumstances because sometimes resignation does not come as per plan. For people in higher authority, a simple and brief resignation letter would be an embarrassment because, for them, the resignation letter has to be inspiring and set an example for the employees. The following letters of resignation help one to get all the ideas and formats to write a beautiful letter.
Letter of Resignation Sample
This is a very short and brief resignation letter without beating around the bushes. It contains two paragraphs with 2 to 3 sentences declaring the resignation decision and thanking the employer for the opportunity and all the help one received in his/her working career in the organization.
Letter of Resignation Example
This is an elaborate letter of resignation. It is meant for the people in higher authorities who want to make their resignation memorable and leave a strong message to the employees and staff working under him. It is a 4-page resignation sample.
Usage of Resignation Letters
Everyone needs to write a letter of resignation at some point or the other to move on to a new company with a better prospect for future. Writing Sample Resignation Letter requires certain format and guidelines to follow so that your resignation letter looks professional and helps you to get reference and recommendation from your employer in future. The above-listed resignation samples will provide all the guidelines, sample statements, brief and elaborate letters according to the need and the position you are leaving from.
Letter of Resignation 2 Weeks Notice Example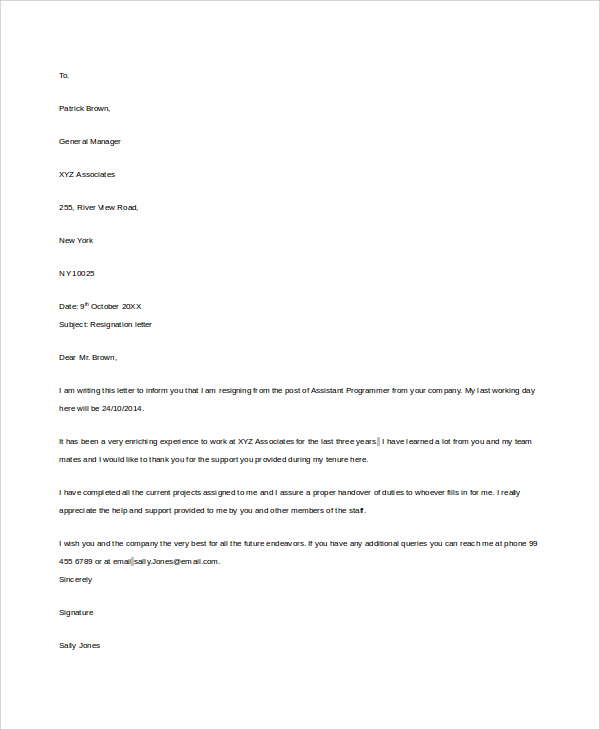 This is a professional letter of resignation with two weeks notice. It is a perfect letter, and it shows you how to write in a proper format and how to compile all the required points in a letter in minimum words possible.
Job Resignation Letter Sample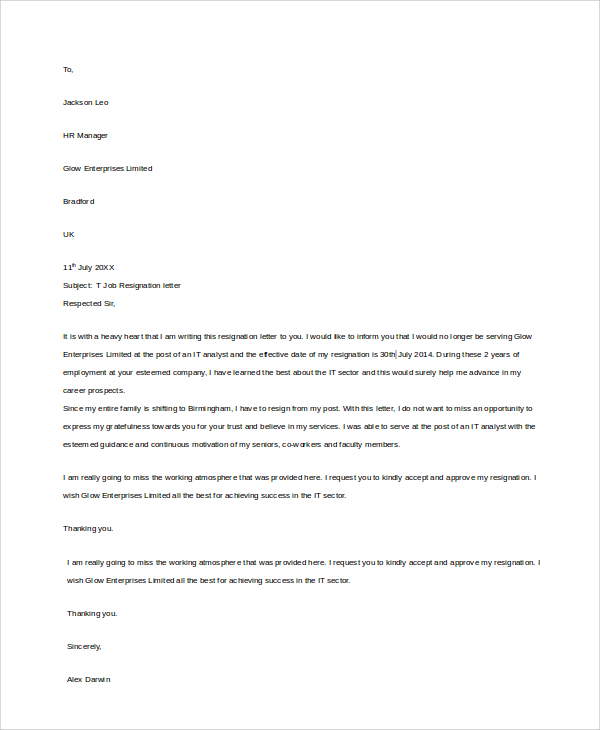 This is a Formal Resignation Letter containing three paragraphs. The first paragraph mentions the resignation news with effect date. The next two paragraphs are more about flattering and thanking so that you can get a reference and recommendation letter in future.
Sample Resignation Letter Personal Reasons
Targeted Audience For Resignation Letters
The targeted audiences for sample letter of resignation are all the professionals working in companies or organizations. It is meant for all the employees, teachers or any working professional. People in the higher position in a company requires writing elaborate resignation letter that inspires the employees and helps them have respect for the departing personnel. All the different types of Basic Resignation Letters listed above will satisfy all your needs at once.
Sample Letter of Resignation For Teachers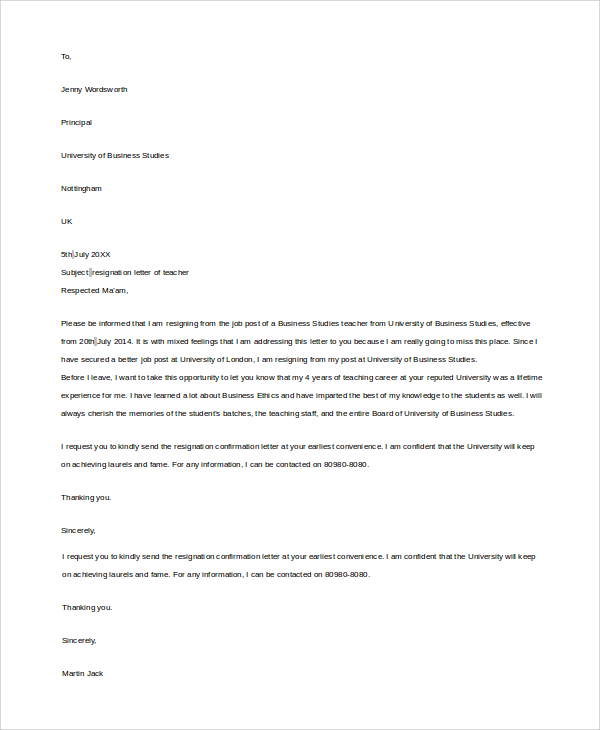 Sample Resignation Acceptance Letter
The above-listed Letters of Resignation Samples are the best samples to write simple, brief as well as elaborate resignation letters that will get you all the praise and help you to maintain a good relationship once you are gone from the company. Such letters will also assist you to get reference and recommendations letters from employers with ease.
If you have any DMCA issues on this post, please contact us.