Invoicing is essential when doing business, whether you are doing freelance work or running a company. An invoice PO number or a purchase order number is generated when a buyer sends a list of products and goods for purchase. The purpose of a PO number in invoices is to be able to track several transactions.
Every invoice should contain a unique PO number to be able to easily track it should the buyer pay for the purchases. A transaction can only be made after a purchase order number is generated. If you want to know the uses of invoice, you can read about it below.
Legal Invoice Template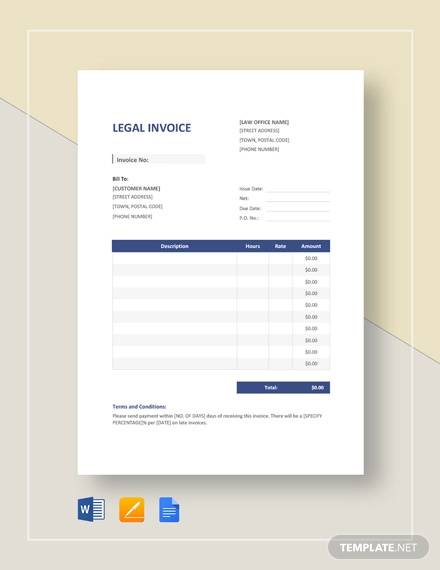 Legal Tax Invoice Template
Legal Service Invoice
Legal Aid Invoice
Legal Billing Invoice
What Is a Legal Invoice?
Legal invoices are written or printed documents necessary in every business. An invoice contains a list of goods and services previously purchased by a client. Businesses provide invoices to their customers to request for payment and to confirm the purchases.
An invoice can only be a legal document if both parties have agreed to it and a seller can provide a signed copy of the invoice or receipt. A legal invoice contains the payment terms and policies of the business. It can also have legal implications should one party violate it or fail to pay the amount due.
What Are the Uses of a Legal Invoice?
The main purpose of sales invoice template or legal invoices is to basically list a client or customer's incurred debt. Through a legal invoice, businesses can track the status of their transactions. Businesses need to send out an invoice in order to confirm purchases made. A legal invoice is also useful in legal cases.
For example, if a client fails to pay for the purchases, a legal invoice can be used as evidence to prove that the client has purchased that particular set of products and goods. This is also important in doing a financial reports.
Legal Invoice Form
Legal Proforma Invoice
Legal Invoice Format
Tips to Design the Best Invoice
An invoice design is an important aspect of invoicing. Through a clearly designed invoice, this will help you avoid late payments. You can follow these tips to ensure you get the best invoice design or you can also use our templates for invoices and draft invoice format.
Reflect Your Brand – When designing your invoice, it is important to stick to your branding. The invoice should reflect the services that you offer to your clients. Your clients will appreciate a customized invoice design to ensure that you get paid on time.
Keep It Clear – An invoice should be clear and easy to read. A simple invoice is more preferable since busy clients won't have the time to deal with invoices with a complicated design. All the essential information should be on point.
Show Your Appreciation – Although the main use of an invoice is to collect payments, it is also important to show your clients that you appreciate them for supporting your business. You can do this through your invoice.
Mind Your Language – This is important especially since a sample invoice involves money. When writing and designing an invoice, it is important to use appropriate language to avoid any misunderstanding.