Magazines, books, online advertising webpages, and other online or printed publications require designers who are able to manipulate images digitally. Indeed, the art of graphic designing has been harnessed by companies and businesses in this digital and technology-driven age.
It is for this reason that graphic designers have various job opportunities. Like all professions, graphic designers need to observe formal procedures and utilize standard business documents in their regular business transactions. One such document is the sales invoice samples.
Graphic Design Invoice Template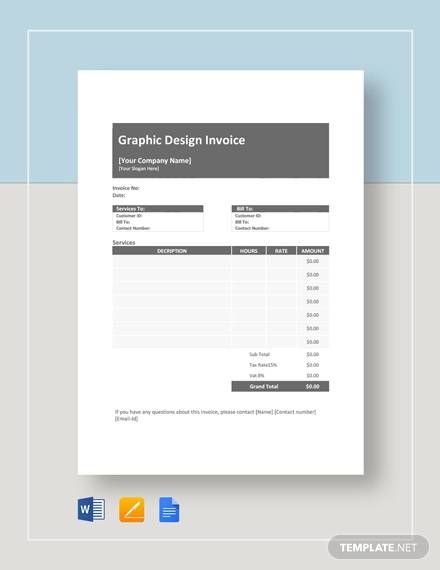 Sample Freelance Graphic Design Invoice
If you are a freelance graphic designer or an employee of a designing company, you need to make sure that you craft a standard graphic design invoice for your business. To help guide you in making your invoice, we are providing you with a variety of graphic design Invoice Samples that are available for free download.
Graphic Design Invoice in Word
What Are the Companies or Individuals Who Need Graphic Designers?
Magazines
Book publishing companies
Marketing companies
Graphic designing firms
Newspapers
Events marketers/organizers
Wedding planners
Birthday planners
Other party planners or organizers
Social media marketing companies
Indeed, there are numerous types of companies out there that needs a graphic designer to create their company or product branding. They may need a graphic designer to design the following:
company logo,
company letterhead,
job posting advertisements,
job posting flyers,
product advertisements on billboards,
social media marketing,
company websites,
company shirts,
other company materials (tumblers, jackets, etc.), and
employees' IDs.
If you are a graphic designer, then you are probably familiar with the abovementioned information, and regardless of the type of transaction (freelance or company-based) that you are making, a sales invoice is necessary. Below we will discuss the reason for such necessity.
If you need more reference for your invoice, you may check out our collection of Printable Invoice Samples. Simply click on the link provided.
Graphic Design Invoice Software
Free Graphic Design Invoice Example
Graphic Design Invoice Example
Why Are Invoices Necessary?
By keeping copies of the invoices you have given to your customers in an organized file system, you are better able to track your customer's payments and non-payments. It allows you to easily pull out the invoice when needed in certain circumstances such as in examining who among your customer haven't paid their dues in full.
Taxes are natural fixtures in legal business transactions. That is why, you can prove to your customers how valuable their patronage is by being transparent to them in terms of the amount of the value added tax that they are paying for on top of the basic product or service charge. Additionally, tax forms often require proofs of business transactions in order to track the credibility of a business owner's income report. In relation to this, sales invoices are one of the legally acceptable proofs of transactions.
Improve Marketing Strategies
Sales invoices allows you to examine the patterns of your customer base. In other words, you will be able to know what kinds of events will hire photography services and which season is the peak and lows for the photography business. This way, you can implement the appropriate marketing strategies to lure in more customers, especially during the low seasons.
Now that you know the advantages of using invoices, go ahead and create your graphic design invoice now! For your guidance, download our templates on this page or refer to our templates on the following page: Blank Invoice Samples