What is an invoice? An invoice is an essential document in every business. Whether you are running a small business or a big company, it is necessary for these businesses to provide a sales invoice for the sale of their products, goods, or services. This is also a sort of reminder for the clients of their obligation.
The main use of an invoice, especially in businesses, is to request a client to pay for the products and services that they have purchased from the business. You can check our free samples and templates available below that you can use as reference should you need to make an invoice.
Cleaning Business Invoice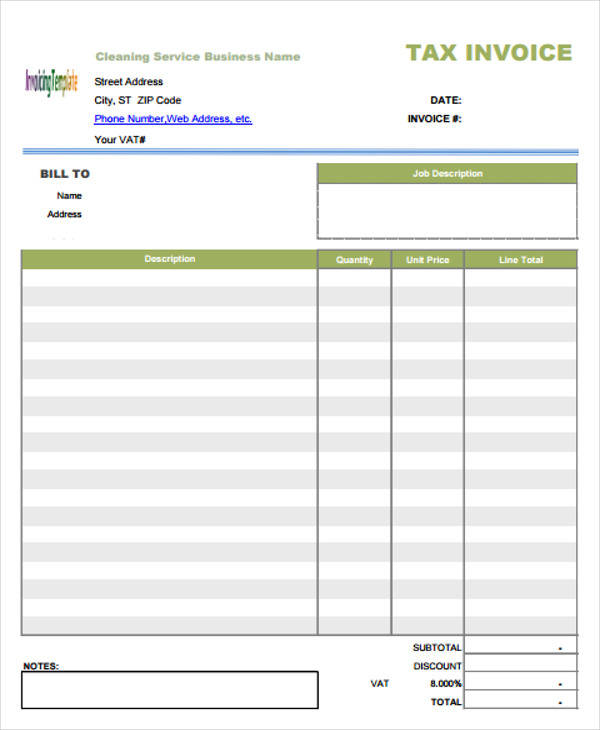 Electrical Business
Generic Business Invoice
General Business Invoice
Photography Business Invoice
What Is a Business Invoice and What Does It Include?
A business invoice is a written document provided by a business to their clients or customers. A Billing Invoice is basically a business invoice sent by the business to request for payment and to verify the purchase of certain goods and services. A purchaser or a client is obligated to pay the specified amount in a business invoice. The seller expects to receive a payment depending on the agreement and the policies of the business. Here are the components a business invoice should include:
The date when the invoice was issued should be included in the invoice. This is an important part of the invoice, especially if you have payment terms. This will tell you when a specific payment is due and can be used as proof should the client refuse to pay.
Both the names and addresses of the seller or business and the client should be written in the invoice.
A list of the items purchased should be included. It is necessary to specify and list down the products or service that was purchased to have a record of it.
An invoice should also include the terms of payment set by the business.
Professional Business Invoice
Small Business Invoice
Business Sales Invoice
Business Service Invoice
Business Tax Invoice
How Businesses Can Invoice Their Clients
The first thing you need to do is to determine who you are writing the invoice to. It is important to customize your invoice depending on the client that you are dealing with.
For every invoice format, it is important to keep your terms simple. Instead of using complex words in your stated terms and conditions, it is advisable to use simple words and state the point directly to prevent any confusion on the side of the client.
Another thing that businesses can do to ensure they get paid on time is to give incentives. For example, you can give a slight incentive or discount to clients who pay their purchases on the specified date.
Businesses can charge clients for late payments. This is important to prevent clients from paying late since most clients would want to avoid paying a penalty for late payments
In order to make paying convenient for clients, a business can set up other payment methods that a client can use such as online banking, credit card, PayPal, etc.
When creating a Business Invoice Template, you can use the templates available on this page to make it easier for you to write one. You may download a free format or sample to guide you.