Spreading the word about the existence of your product is the single most valuable step for creating consumer awareness and sparking buyers' interest to try your products. There are different marketing channels you can use. Some are way too expensive while others cost just a few bucks. Some mediums are free and they can yield results depending on your marketing efforts. Sample Marketing Files are the free tools you can use to market your business, and below are the best options you can add to your marketing toolkit.
Startup Marketing Budget Template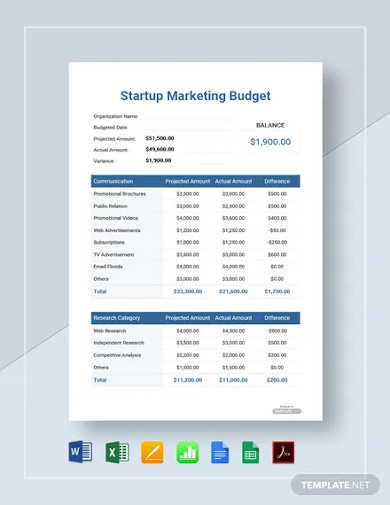 A marketing budget document is what you use to make the necessary financial plans for marketing. Use this form to account for your money even before you start spending so that you stay on the right marketing track.
Marketing Campaign Contract Template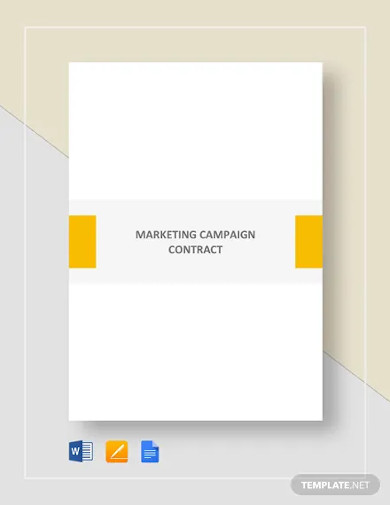 Sometimes you need a marketing campaign to win more customers and sell more products. In that case, you should use this sample template to create a comprehensive marketing campaign strategy
Sample Marketing Calendar Template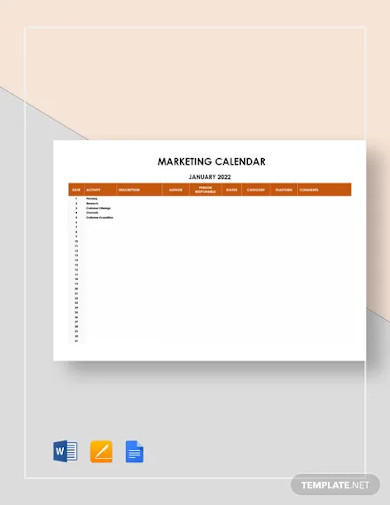 A marketing calendar is what your business needs to best plan the marketing days. The sample marketing calendar is free to download, ready for print, and it does not require customization.
Marketing Tri-Fold Brochure Template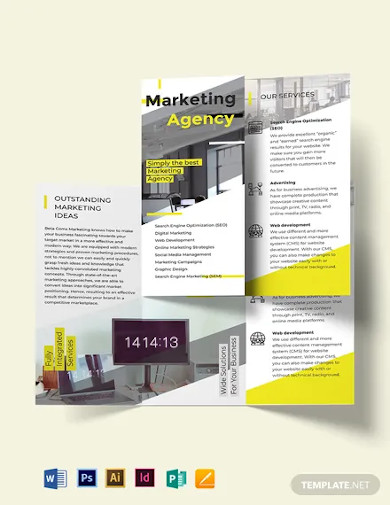 A marketing brochure can not only spread the message about the existence of your business to a target audience but also engage customers to your products. That's why you need this sample file in your marketing arsenals.
Sample Marketing Plan
Business Marketing Checklist
Social Media Marketing Proposal
Marketing Planner Sample
Marketing Calendar
Sales and Marketing Resume
If you want to find a marketing job fast and start making money, write a compelling resume. You can use this sample file to give you a hint of how a great resume for a marketer looks.
Marketing Strategy Sample
A marketing strategy is a plan written to market a business in the most effective and cost-effective way while paying attention to the core objective of the business. This sample file gives you a definite structure of how the strategy should look.
The uses of Sample Marketing Files
You can use the marketing files to create an effective marketing strategy for your business. The strategy will enable your business to introduce a new product to the market, remind the target audience about the existence and reliability of the product, teach consumers about the product and its benefits, and convert potential clients to regular customers. Sample marketing documents are significant for small and large businesses. Overall, using these files for marketing will not only expand your business but also reduce the marketing overheads by a great percentage.
The Benefits of Sample Marketing Files
The preliminary benefit of sample marketing files is they are free, and you can use them to introduce new products to your customer target while still promoting your business. These sample files eliminate the necessity of expensive marketing tools, making it easy for your business to get into the public domain without investing a lot of money. Besides, marketing documents are the best direct marketing tools that you can use to promote a product to a specific market as well as the general market. Marketing using these tools will yield the consistent results as you continue to do business.