It can be unfortunate, but due to many unforeseen circumstances, sometimes it's no longer a possibility to hold on to a previously agreed upon contract. As such, this is the time to present a termination contract. A termination contract is a type of legal contract that can break a contract between two individuals or even more. And you'll find samples for such a contract here on this list.
We have here termination contract samples that you can use to make one of your own. They are available for download and can be quite useful. If you are not interested in them, then feel free to surf our website for more contract samples as we offer many in all different kinds of variety.
Simple Termination of Contract Template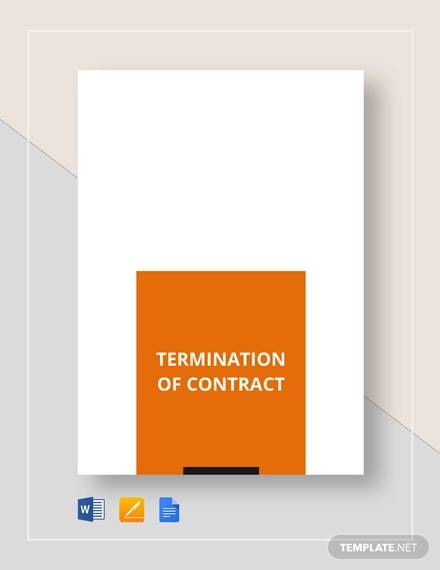 Mutual Termination of Contract Sample Template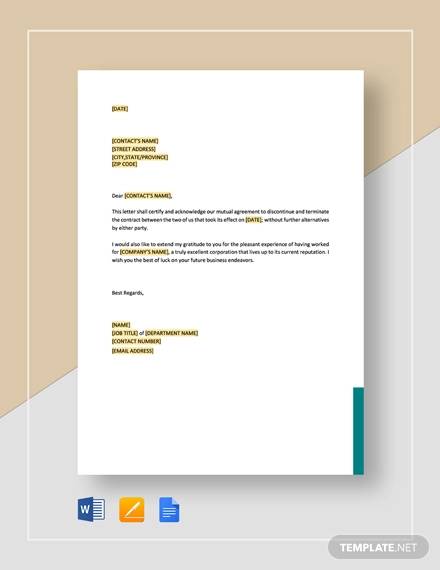 Termination Contract Sample
Employment Termination Contract
Termination Agreement Contract
Termination of Employee Contract
How to Terminate a Contract
When you want to terminate a contract, the best way to go about it is by sending out a termination contract to the people whom you made an agreement with. A termination contract can terminate mostly any contract agreement between two or more parties, but can be quite exhausting to make. It can technically be about terminating employee contracts to terminating work contracts.
Termination contracts should include reasons as to why the contract was terminated. You should take careful note of this, otherwise, the other party might not have such a good reaction.
Can an Employer Terminate an Employee without Notice?
To put it bluntly, yes.
However, it may be true that an employer can terminate an employee without any notice at all—be it because they agreed on something petty or a very serious offense—even if they had a contract agreement in the past, employers cannot terminate an employee merely because of discrimination. Such discrimination includes race, sex, religion, age, or disability. Though, only specific forms of discrimination are subjected to this. Employers can fire somebody for their sexual orientation, for example.
Employers who fire somebody can be sued for wrongful termination in many countries—more specifically, the United States, Canada, and the United Kingdom. When an employer wants to terminate somebody, it's usually only courtesy to even send in contract termination letters to the person they want to terminate.
Rental Contract Termination
Termination of Service Contract
Real Estate Contract Termination
Termination of Supplier Contract
Notice of  Termination Contract
Can an Employee Terminate a Contract?
To put it simply, an employee can terminate a contract by simply resigning. Once the employee resigns, the contract between him and his employer is no longer valid, because he is no longer working for them. An employee doesn't need to send in any contract termination letters, only resignation ones.
It's very much easy for an employee to terminate a contract this way. He only just really needs to resign. But if he wants to change the terms of his contract, he'd have to talk it over with his employer.
We hope that you have learned much from this list. We've really put effort into providing you with these termination contract samples so that you can know how to properly write one. We have many more contract samples for you to choose from. If you are interested, you can check out these lease contracts that we also provide.