It is a given that a sale of a product is important for every business establishment. Selling may seem easier said than done. The question here is how do you get potential customers to avail of your products. Aside from all the marketing and promotional activities your company has done, another good alternative for your sales pitch is through a product sales proposal. Using a sales proposal to help sell your products can give off a more personal vibe to it, as you are doing so to address a particular client(s) requirements, find out their needs and what are the benefits of availing the product. Read more about a product sales proposal in our article below and check out our free product sales proposal samples too.
4+ Product Sales Proposal Samples
1. Product Sales Proposal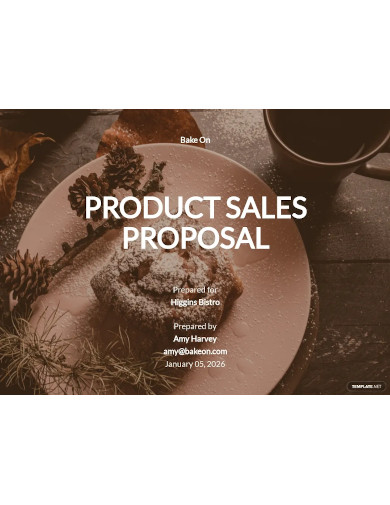 2. Sample Product Sales Proposal
3. Simple Product Sales Proposal
4. Product Sales Proposal Example
5. Salon Product Sales Proposal
What Is a Product Sales Proposal?
Products in simple terms are items or merchandise that are manufactured, stored, transported, advertised, and then sold. Basically our lives evolve in products, it is what keeps us alive and sustain our everyday living. With millions of products sold in the market in different variety, some of which even has the same components and usage, its perfectly understandable that the marketplace is a cut-throat community. As competitive as it sounds, it takes a good and competent management to take on this endeavor.
Now to start selling your products out in the market, you may want to try sending out a product sales proposal. Although there may be other types of sales proposal in general, for a product sales proposal this simply focuses on the particular product(s) your company is selling which will contain details such as description of the product, identifying the problem and the solution that product brings  about and the product benefits. More or less this is a sales pitch in formal writing, that is.
How To Create a Product Sale Proposal?
There are several ways in which a company can focus on increasing the sale of its products. Such as encouraging staff to upsell, set up a customer rewards program which helps in increasing brand loyalty, increase customer engagement by offering promotions and raffles, and distribution of free samples. These are the most logically, and easiest way to get new clients and retain older ones. But of course there are still other more comprehensive ways to sell products. It is all too common in the business world, that companies would express their interest on a certain product or services by requesting for a proposal.
This is their way of trying to shop around the market for the best company who can deliver their expectations. And this would be an opportunity for businesses to demonstrate their products to their potential clients. Writing a sales proposal is a very important step in gaining a new client, or selling to a current one. Take note that your product sales proposal should convinces the prospect that you have the competence to deliver what they need and it gives your prospect the confidence that they have all the information they need to make their decision. This includes clarity around budget, deliverables and the steps they must take to start the process. Now, to start here are some of the items you may consider to include in your proposal:
I. Introduction
In this section, give a brief overview of the proposal's intent, an introduction of your company and what the reader is expected to see in the proposal. You should try to concisely convey exactly what value you're going to bring to the company you're approaching.
II. Preface Of The Product
First of all, identify a product that corelates to the client and offer your product as the solution. Write a summary on how beneficial purchasing your products can do for the client.
III. Product Strategy
In this section, you can go into detail about how the product came to be. What problem were you trying to solve? What innovations make it different from other products? Justify the cost. The purpose of a product sales proposal  is to make a sale, so always try to bring it back to iterating the direct value it will have for the potential client.
IV. Cost / Pricing
The prices of your products will depend naturally on the type of you products you are selling. This may be sold individually or in quantities. Whatever you deem is relevant to your product and industry for that matter will affect the prices of your products.
V. Product Process
The processing procedures of the products, timeline and deliverables should be clearly defined in your sales proposal.
VI. Company Background
It is best to include your company background/history, a summary of your team and a some information about other products your company has been producing.
VII. Terms And Conditions
Most proposals always include a terms and conditions section, in which you are free to include the payment methods/scheme, warranties, modifications, liabilities and etc.
FAQs
How Long Should a Proposal Be?
There is no standard length to a proposal. Depending upon the business you are in, a proposal may be a two-page letter or a ten-page document. Thus it is important to know the protocol if there is any.
Are Business Proposals Important?
A business proposal helps provides a detailed explanation of the goals you have, how you will conduct a business and what expenses and profit you can expect. It also help you make important decisions on things like cash flow, marketing and personnel.
What Is The Benefit of Having a Sales Team?
Simply having a sales team in your organization could drive up revenue and ensure the company's products/services are standing strong and competitive in the market.
If you want to gain more clients, and find other avenues to increase sales then start writing your product sales proposal and continue to raise your products value in the market.