Perhaps you need to make an investment such as purchasing a new property or have decided to open a new business, but there's just one problem you need money to accomplish all these. There are times when we are unable to produce the exact amount of cash on the spot whenever we try to invest or buy something we need. This is why we opt to borrow money and would pay it back on an appointed schedule that is indicated in a document called a payment contract. This document is not only limited to borrowing money, this can also be used when a business contracts work out to subcontractors, it will be necessary to create a subcontractor payment agreement. So basically, you can provide a payment contract for services availed. Read and learn more about this below and if you need help working on that contract check out our payment contract samples that are available for download on this page.
10+ Payment Contract Samples
1. Personal Payment Contract Template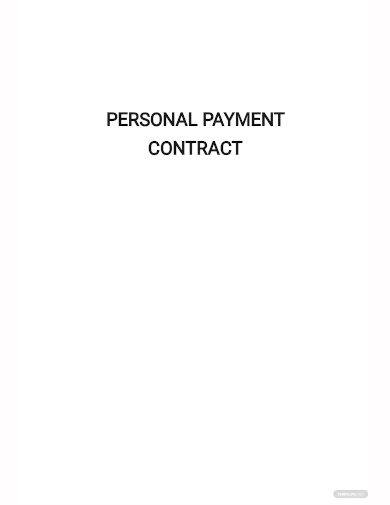 2. Agency Payment Contract Template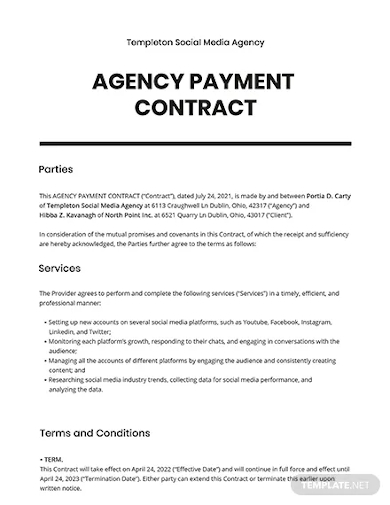 3. Payment Agreement Contract Template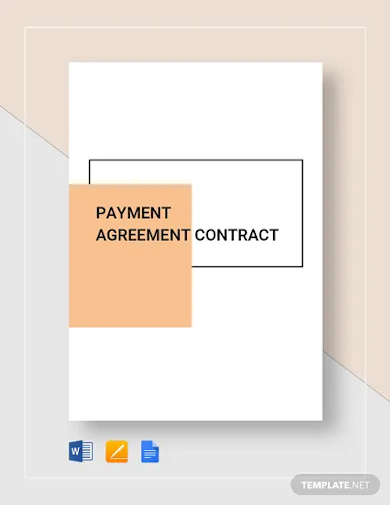 4. Payment Contract Invoice
5. Stage Payment Contract
6. Commercial Agency Payment Contract
7. Payment Bond Contract Form
8. Production Agency Payment Contract
9. Parent Payment Contract
10. Deferred Payment Contract
11. Voucher Payment Contract
What Is a Payment Contract?
If you owe someone or establishment money, a payment contract is a document that will detail the terms of installment payments between the lender and the payer. Basically, this contains specifics of the loan. Other popular terms of this document are a payment agreement, installment agreement, or contract payment, all of which pertain to payment terms and conditions. This type of document is very important since this deals with money which has always been an issue for personal and business reasons. Borrowing money is one of the most common financial transactions in society. Whether it's borrowing money from friends or making a deal with a potential business partner, debt exists in much of our dealings. Without proper documentation, the risk of unpaid debts is high so to protect the interest of the parties involved a contract must be created.
How To Create a Payment Contract?
Typically a payment contract as mentioned outlines all the details of a loan between a borrower and the lender. This document is important in the lending process and should be used whenever there are plans to borrow or lend money, making an amortization table, or simply you want to record or determine the number of payments and interest that will need to be made on the loan. Every payment contract has its own personal structure yet the details remain more or less the same. Its overall goal is to ensure payment for the exchange of the product or service rendered. A payment contract holds all parties accountable to the payment plan and acts as a point of reference if disputes escalate. To start, here are several important details you should include in a payment contract.
1. Contract Identification
Start by defining what the payment contract is to be used for.
2. Parties Involved
Information about those involved with the contract must be stated such as their names and contact details.
3. Debt Amount
The main point of the payment contract is the amount borrowed by the debtor. As a creditor, it is up to you to evaluate those who need to borrow money from you, whether the other party has the capability to return the funds in due time. When it comes to banks or lending companies, borrowers are often assessed and asked for strict requirements before they are able to proceed with the transaction.
If there is a corresponding service to be rendered or goods to be delivered, this should also be specified in the contract. Such payment will be made if a number of goods are delivered, or perhaps servicing of equipment will only proceed when a deposit is made. Specifics such as these will have to depend on the initial agreement between parties, particularly if this is a transaction between two companies.
4. Payment Schedule
Part of any payment contract is the agreed payment terms and its schedule. If you lend money to someone, it is common sense to set a time frame for the repayment unless personally are lenient with the borrower. But for banks or lending companies, repayment schedule terms have to be included in the contract, as parties need to agree on how and when payments will be made. So before putting this in writing make sure you negotiate any preferred payment method and frequency beforehand.
5. Amendments
Terms must be duly specified in case any of the parties wish to amend the contract, for example, the borrower wishes to extend the due date or change the payment schedule.
6. Signature
Parties will need to sign the payment contract as legal proof that they both acknowledge and accept the terms of the contract.
FAQs
How Do You Legally Terminate a Contract?
By using the termination clause and following the steps indicated in the contract.
Why Are Contracts Important?
Contracts are needed to protect the interest of the parties involved, also this document helps you understand your rights and obligations as initially agreed upon.
What Is Payment Obligation?
This is the obligation of the borrower to repay the amount due. The obligation may arise in various ways, but it is most commonly the result of a commercial transaction or contract between the parties.
Borrowing and lending money is a common financial transaction that requires proper documentation which is why payment contracts are needed. Without it, you risk the chance of getting your money back since there are no legal consequences attached to it.