Having to take care of our own children is a joy and responsibility that parents are willing to undertake every time without complaint and moreover, without fail. However, staying at home nowadays is not an option especially when you are employed and need to earn money for the family. Because of their busy daily schedules, parents have no choice but to get a nanny to take care of the kids while they are away from home. Getting a nanny is easy when you approach a recruitment agency, however, it pays to stay on the safe side always. 
10+ Nanny Contract Samples
1. Nanny Contract Template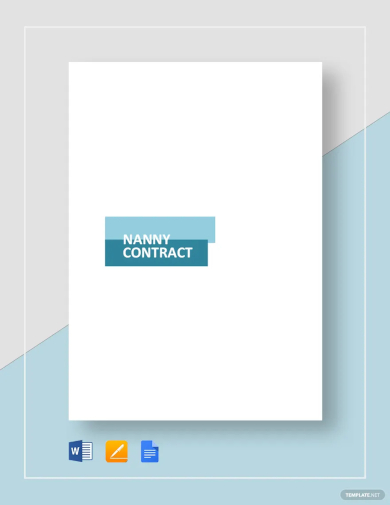 2. Nanny Agreement Contract Template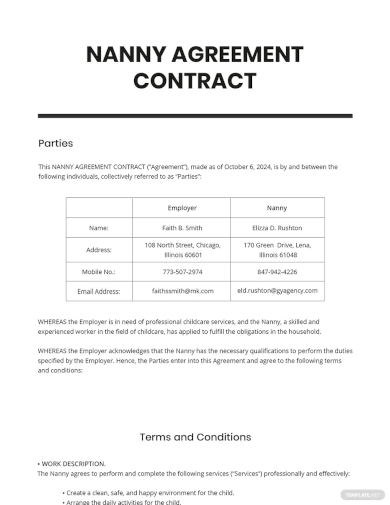 3. Sample Nanny Contract
4. Nanny Contract for Services
5. Employer Nanny Contract
6. Nanny Employment Contract
7. Employment Contract for Nanny
8. Nanny Work Contract
9. Nanny Contract for Kids
10. Nanny Babysitter Contract
11. Basic Nanny Contract
What Is a Nanny Contract?
Like all employment contracts, a nanny contract is a document that states the intention of the employer by hiring the nanny, as well as entails the responsibilities of the job. The work contract also mentions the employment status of the nanny as a part-timer, individual contractor, or full-timer in accordance with the law depending on the state the arrangement is made. 
How To Create a Nanny Contract?
Are you in the process of hiring a nanny and in immediate need of a contract? You can make your own contract with ease by preparing your pen and paper, a digital device with word processing functions, or a template. You can then follow the suggestions and recommendations below to begin your task.
1. Provide Specific Information
The most important information you will need to provide in your contract is your details as the employer and the caregiver. Not only are you presenting yourself as a legitimate employer, but you are also in return, getting the specific data from your potential nanny in case you might need to do a background check. Also, never forget to include emergency contact and ID card information so that you can trace their identity (in worst-case scenarios).
2. Define Your Terms Clearly
When you set your terms and conditions of what you want and need the nanny to do during the duration of their service, make it clear and precise. Do not put vague and unrealistic conditions such as making the nanny do household chores not related to child care unless you also want to hire them as a housekeeper for the family. Be very definite when giving timetable information like when the nanny will send the child to school, put them to bed, or if there are other activities that the child is attending.
3. Give a Clear Schedule
Most people would often hire the nanny for only a small amount of time, such as when they are traveling or doing overtime jobs. However, there are also parents who wants to hire a stay-in nanny to monitor the kids 24 hours a day so that they can also do other important things. Either you want a part-timer or a full-time nanny, you must also indicate the time when they are needed in the contract as to be clear about their time when they ought to perform their duties. Include their daily, weekly, or monthly schedule as per the mutual agreement that both parties should adhere to. 
4. State The Compensation and Benefits
In many different countries and states worldwide, the compensation and benefits a nanny could get would vary on the government and employment policies. It is your duty to tell your nanny how much they would get from you, including salary and benefits, for transparency purposes. Sometimes, nannies could get underpaid or do not get the benefits they deserve, and sometimes this can be a cause for concern, as it may lead to circumstances such as lawsuits. State their compensations clearly and concisely. If there are questions, you can always change your contract before the actual signing happens. 
When is the best time to sign the nanny contract?
The best time to draw up a contract with your nanny employee is after the initial agreement upon hiring their services. This would make sure that whatever is stipulated in your contract is already discussed and agreed upon.
Why should I use a nanny contract template?
A template is already premade, meaning, it has been curated and exacted for the benefit of its user. If you use a template when making your nanny contract, you can be sure that you will never have to make anything from scratch again, plus you save time as you only need to edit some lines from the preformatted and prewritten contents.
Can I renew the nanny contract every time?
Yes, you can renew the contract every time you want to extend or retain the services of the nanny. You only need to change the duration of the expiration of the contract or add more conditions shall it be necessary. Of course, just the same, once renewed, you cannot just cancel the contract on a whim as it might be illegal and unjust to the service provider.
Nannies are known for their nurturing, caring, and loving nature towards their wards. They give their full attention and time to the children as their parents are away, keeping them safe from harm and giving them an environment full of fun. Make sure that your nanny is compensated well for all their hard work and dedication with a professionally-created nanny contract. Check out our gallery today and download the contract that works best for you.