A business investment proposal is a formally written document that presents all the facts and details about why investors should invest in a business or why they want to invest in a business. Investing in a business means letting a business use your money to help them start or further make improvements to the business in exchange of something, either in cash or shares in the business. A business investment proposal helps both the business and the investor decide whether doing the specific transaction with another is beneficial to them or not.
If you are in need of business investment proposal templates, then you may check out the sample templates that we have prepared for you below.
1. Business Investment Proposal Template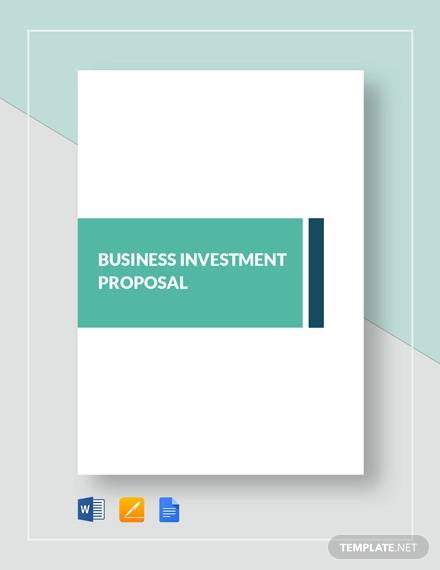 2. Investment Proposal Template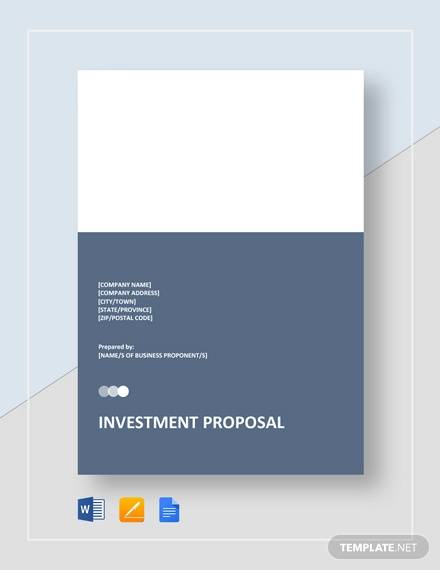 3. Sample Investment Proposal Template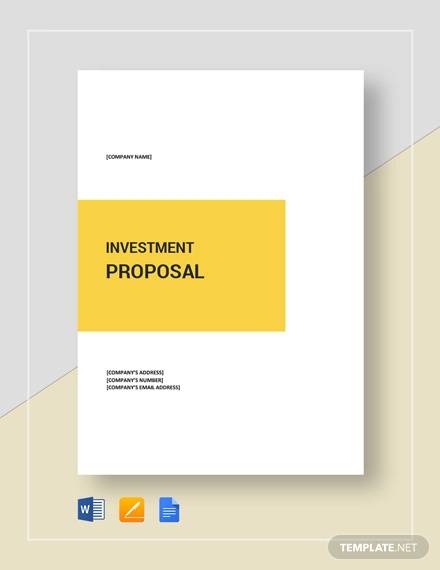 4. Small Business Investment Proposal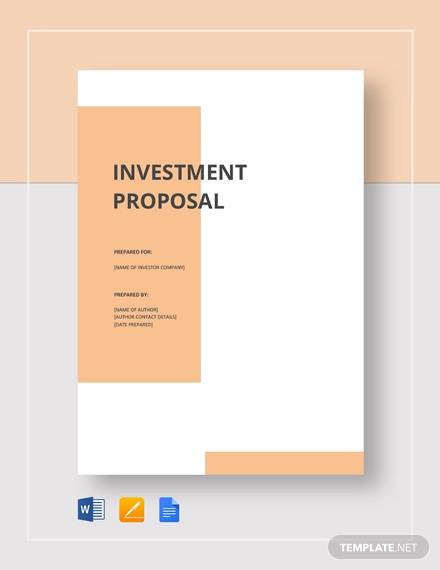 5. Property Investment Proposal Template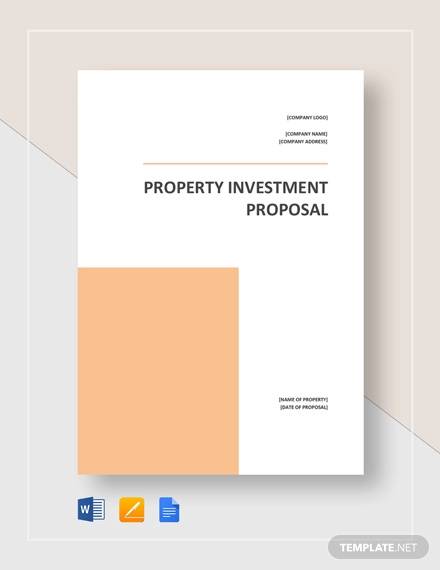 6. Startup Investment Proposal Template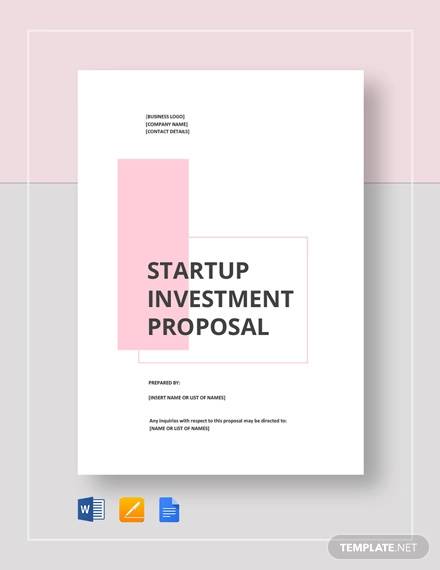 7. Construction Investment Proposal Template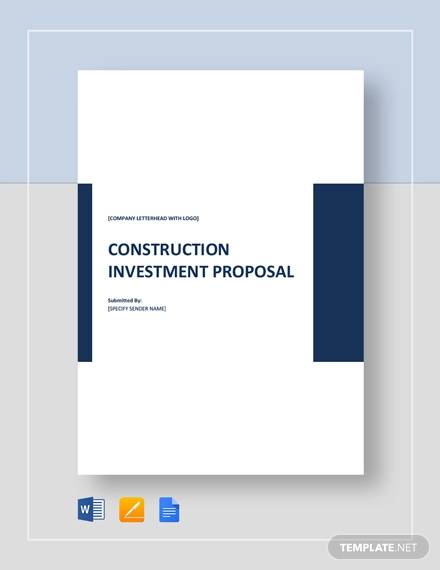 8. Restaurant Investment Proposal Template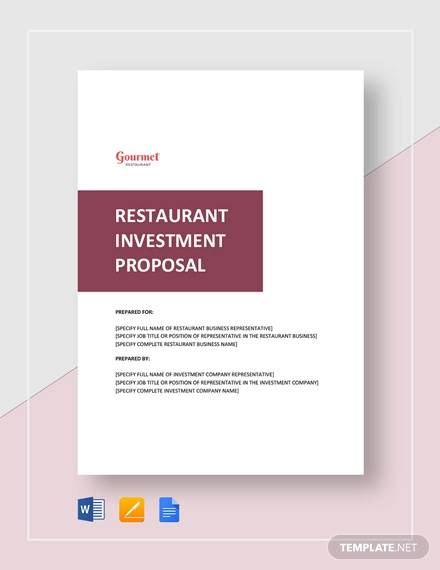 9. Business Investment Proposal Sample Template
This sample business proposal is the type of proposal used in doing real estate investments. It is also called a real estate investment proposal. The very first page of this template provides details and instructions about it and how it should be used. A formal letter is necessary when writing proposals, that is why on the second page, a sample formal letter is provided. You may use this formal letter as your own or as your reference. The template has a simple yet attractive layout, which includes an executive summary, proposal description, table of contents, location analysis, etc.
10. General Investment Proposal Template
No matter what type of business investment proposal you need, you will surely find this general investment proposal template useful. The template is only made up of three pages. The first page serves as an introduction and instruction page where you will see a preview of some of the details to be covered in the investment proposal. The proposal includes six different sections each with specific description and instructions to help you create quality content for your proposal.
11. Business Investment Proposal Format
Looking for a business investment proposal template that provides you with the appropriate format for your investment proposal and at the same time can be easily edited? Well, look no further because this business investment proposal format is definitely the template that you need. It consists of different sections required in a proposal as well as different tables, graphs, and charts for data presentation.
12. Business Investment Proposal for Infrastructure
The cost of building infrastructures depends on their size and purpose. Large scale infrastructures will definitely cost millions or billions, that is why investors are needed to help build them. The business investment proposal for infrastructure is just one of the many investment proposals that you may use to come up with your own investment proposal. The sample is specifically intended for gathering funds for large-scale infrastructures. It's a great template that will surely help you with your needs.
13. Business Capital Investment Proposal
A capital investment refers to a specific amount of money that is provided to a company to be used in its other business objectives. This business capital investment proposal is a sample template for making an investment in a golf club. The template consists of a proposal overview, a capital plan, and several tables showing data that are relevant to the investment proposal. Important details such as headings and sections in the proposal are underlined and written in bold so that they can be easily identified.
14. Food Start-up Proposal Template
If it is about starting a food business that you need an investment proposal for, then you will surely find the food business start-up investment proposal template useful. With the use of this sample template, you can turn your food ideas into an enterprise. This simple template is available in Word and only consists of two full pages to ensure that your proposal will not turn out to be a long and dragging one. Guide questions are provided in every section of the proposal to help you create appropriate and relevant content.
15. Property Investment Proposal Sample Template
Use this property investment proposal sample template if you need investors for your property business or projects. The sample template is short but detailed so you can guarantee that the important details and facts of your proposal will be covered. This sample template can be used both as your reference or your own investment proposal. Just make sure to change irrelevant contents to make it appropriate for your needs.
16. Editable Capital Investment Proposal Sample Template
Another sample template that we have available in Word is this editable capital investment proposal sample template. As its name implies, you can easily edit or make changes to this template however you want. The template is created for use for the funding of certain information and communication (ICT) activities. The different paragraphs in the template are numbered and other important parts are written in capital letters. You will also find tables within the template where cost estimates and their descriptions can be found.
17. Apparel Business Investment Proposal Template
If you should start a business, why not start one in the apparel industry? You can use this apparel business investment proposal template to help you attract and gather potential investors to help start and further your business. The template has a simple layout with a header and footer on every page. It is somewhat lengthy but you can be sure that your proposal is detailed and complete.
18. Simple Business Investment Proposal Template
They say the best type of template is one that is simple. A simple business investment proposal template is a no-hassle and easy-to-use template. It is perfect for those who want to get to directly to the point instead of beating around the bush with their proposals. Instructions are clearly provided in each section and each section is enclosed in a box. This way your template will look neat and easy to read.