What is the point of spending bucks to buy calendars when you can create one on your own? Tracking dates just got easier and free because now you can download  Annual Calendar Template and create a good calendar on your own for the year 2015. The Printable Calendar Templates are free for download, and the package comes well put with the calendar complete.With this template system available, I do not think you would even dare think about creating your own calendar system from the ground up. The printable and Blank Calendar Templates are there to help make work easier, so take advantage of these and enjoy their benefit.
Yearly Calendar Template PSD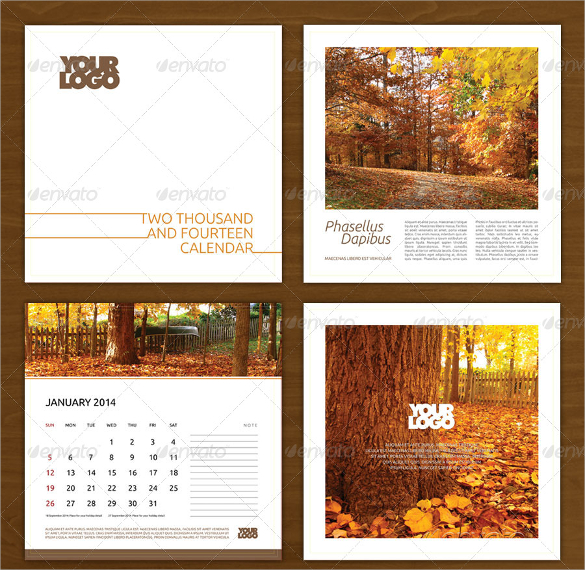 Blank Calendar Template
Blank Calendar Templates can be on with the month or year not specified, just boxes with space for days of the week. In such a template you can insert your desirable year and personalize it. There is also another kind with comes with year and month specified, but no holidays or events are marked on it.
Blank Weekly Calendar Template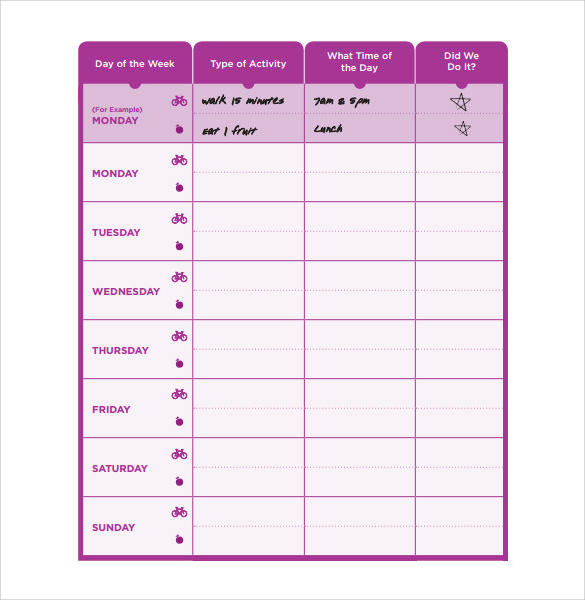 letsmove.gov
Blank Monthly Calendar Template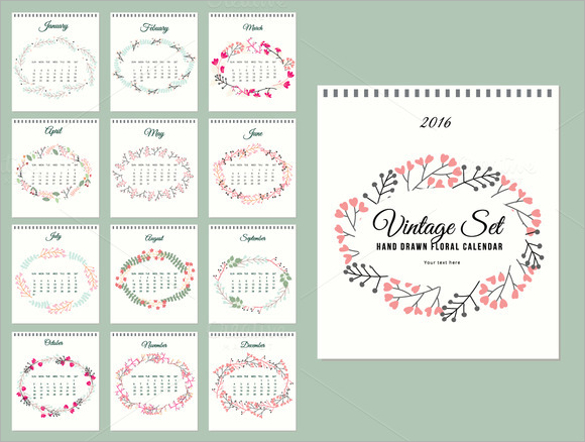 2016 Calendar Template
A 2016 Calendar Templates can be as simple as the months sorted out in days with dates and holidays marked on a white background to something more colourful, with tons of options like image and text insertion, deletion, task addition, space for reminders, addition of events and so on.
Printable 2016 Calendar Template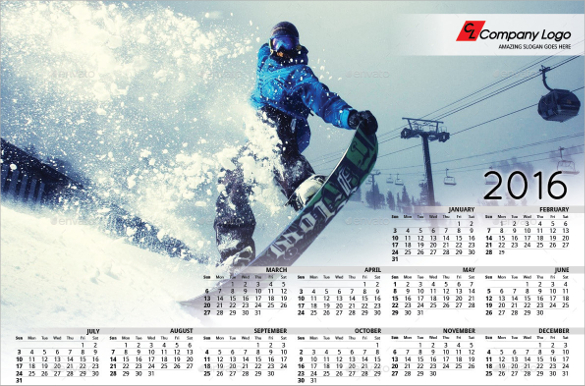 2016 Calendar Template PSD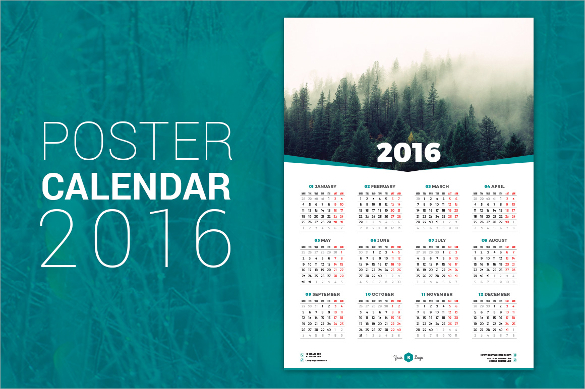 Daily Calendar Template
In  Daily Calendar Templates there are a few sections for daily events specified for each day like to-dos, calls to make, meetings, class or office timings, birthdays, reminders, contacts, specific work to be done that day like posting an ad, blogging, workout of the day, meal of the day, theme for dress etc.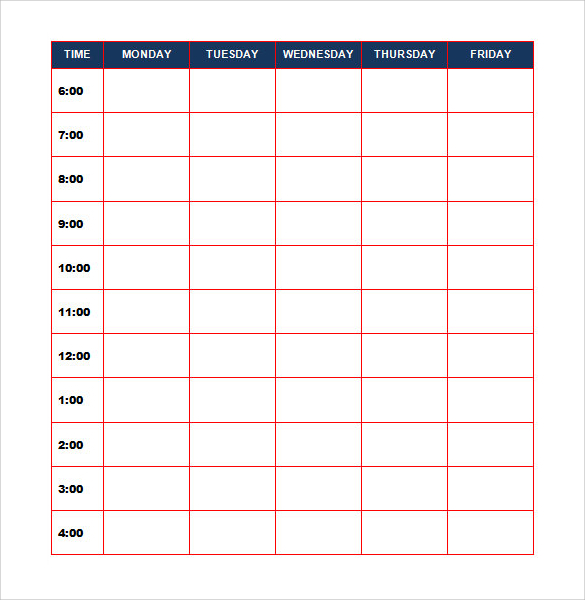 Daily Planner Calendar Template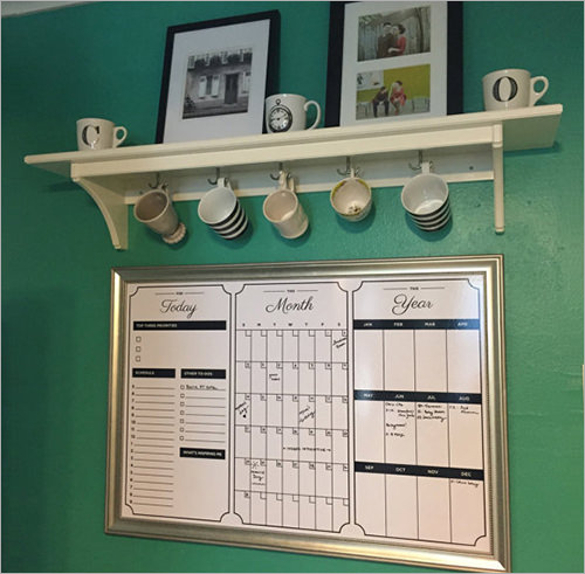 Yearly Calendar Template
Yearly Calendar Templates has every week specified in number. With space for individual activity for each day, it may also have extra space for notes and contacts. It may act as planner in which case will consist of marked holidays and divided into time sections for each day.
Year View Calendar Template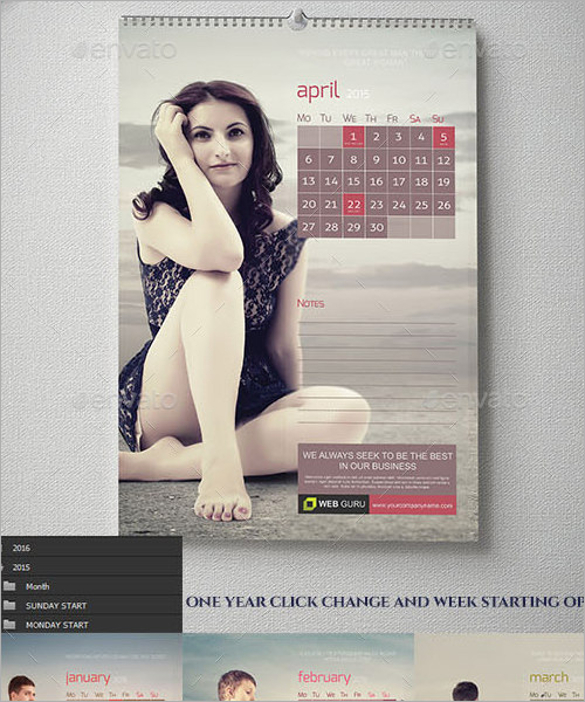 Yearly Calendar Template PDF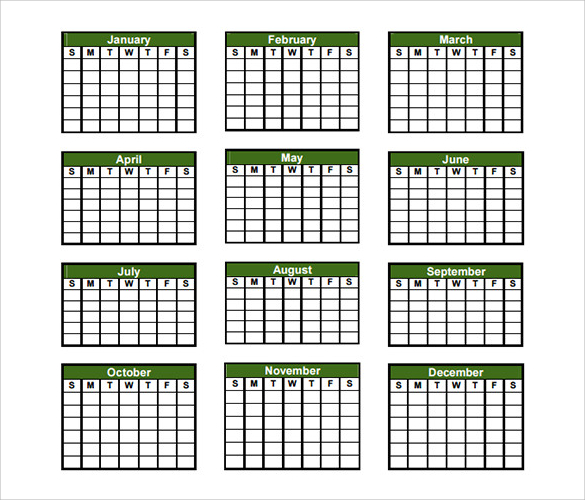 blankcalendar2014.com
Planning Calendar Template
Planning Calendar Templates with a simple format consist of a space for to-dos and events on a monthly basis or weekly basis, whereas a more vivid one would have each day divided into sections like morning, afternoon, evening and night, goals, prioritized task lists, calls to be made, expenses and daily events.
Planning Calendars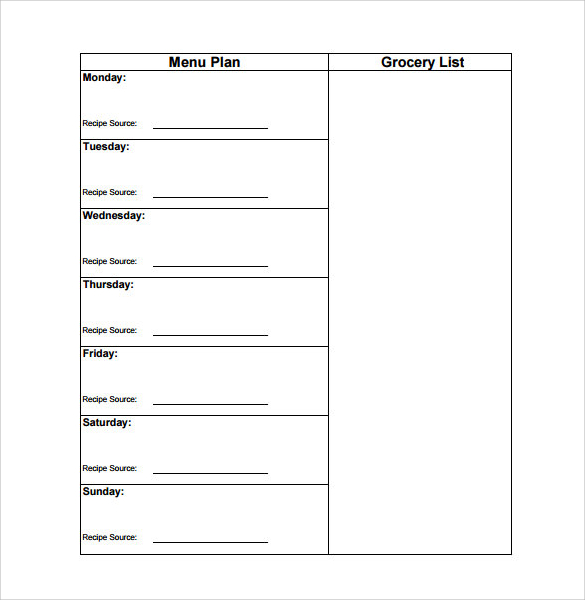 orgjunkie.com
Printable Planning Calendar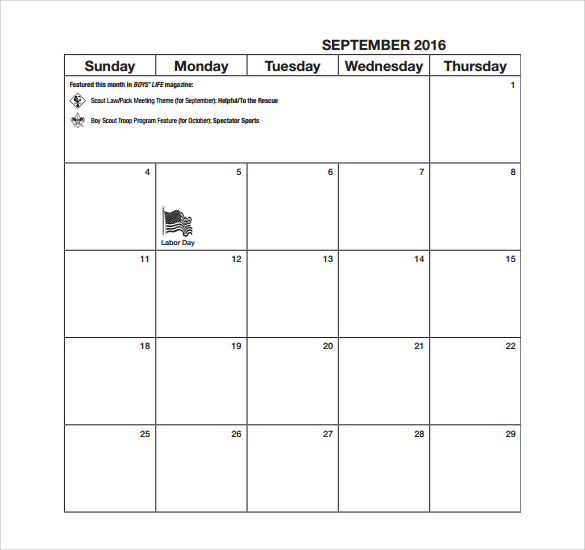 scouting.org
Sample Monthly Calendar Template
A sample monthly calendar template can be one with no specified month or year, but just days without dates. Here the spaces are provided to be filled in accordingly. This Monthly Calendar Templates can also have space for notes, events, contacts, but holidays and festivals are not marked in here.
Monthly Calendar PSD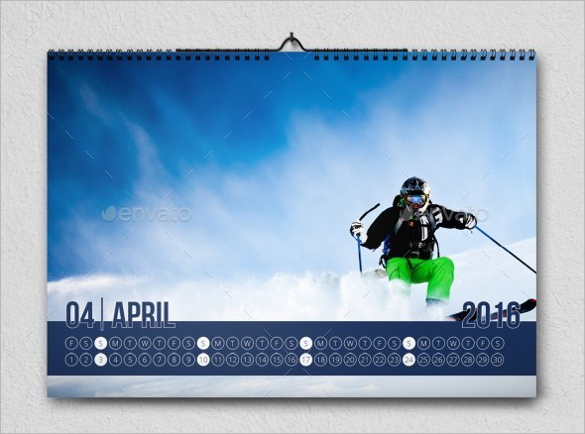 Annual Calendar Template
An annual calendar template consists of days, sorted out in months and weeks with all the important holidays the marked on it. It may also include events, places to visit, meetings, work all scheduled in it. Annual Calendar Templates may have each day sectioned into different time periods to make scheduling easier.
Annual Calendar Template 2016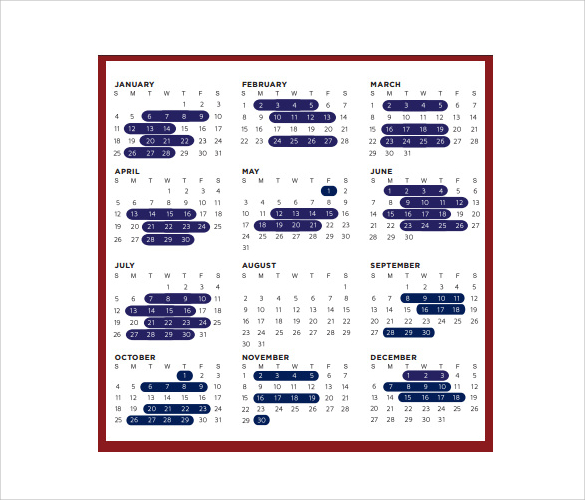 majorityleader.gov
Monthly Calendar PDF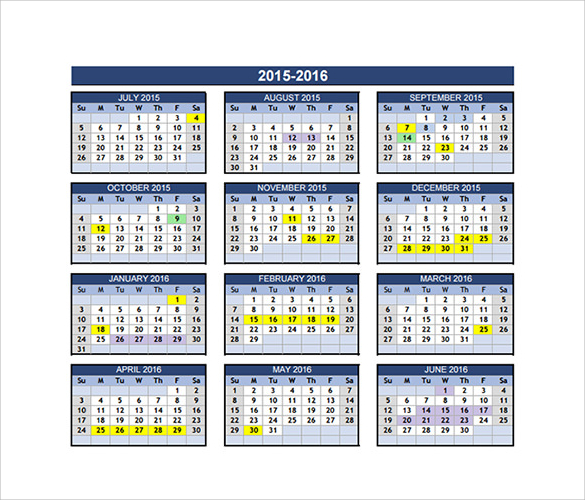 capregboces.org
Event Calendar Template
An Event Calendar Templates has every single day for a month or year scheduled with all the to-dos for the day. It can be further divided into time periods of each for an event like meetings, calls, seminars, celebrations, holidays, trips, company specified theme days, workouts, shopping and more.
Event Calendar PSD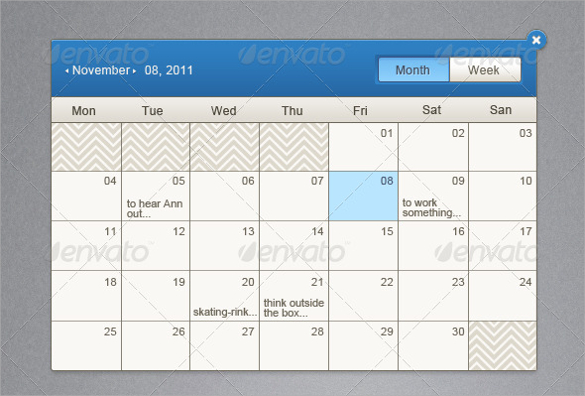 Social Media Calendar Template
A Social Media Calendar Templates when used for business can include just icons to represent social media traffic to their website for each day. it may also consist of days marked for publishing, blogging, posting new content, sending e-newsletters, important sales days on social media etc. these are also used to track social media usage for marketing.
Social Media Calendar PDF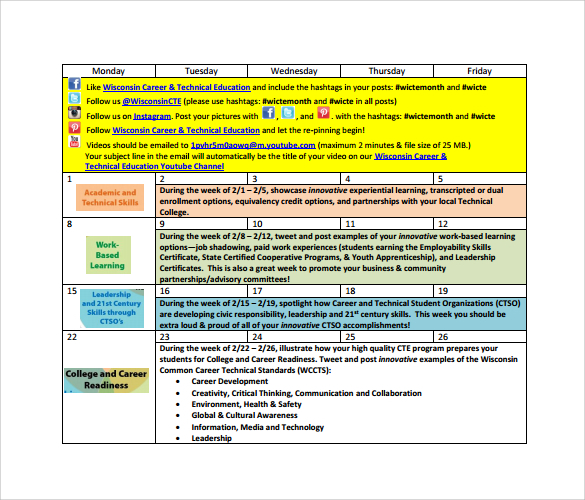 dpi.wi.gov
Editorial Calendar Social Media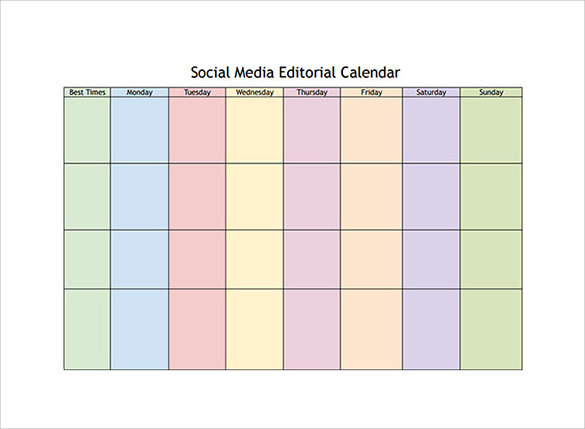 movehsv.com
Powerpoint Calendar Template
PowerPoint Calendar Templates are really very convenient as it not only has the months and days all sorted out in weeks, but also provides space for text input and image input. All such images and texts are 100% editable at any given time. It can also act as planners.
Powerpoint Calendar PSD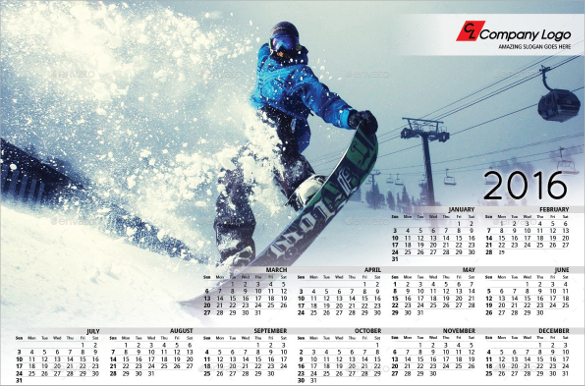 Powerpoint Monthly Calendar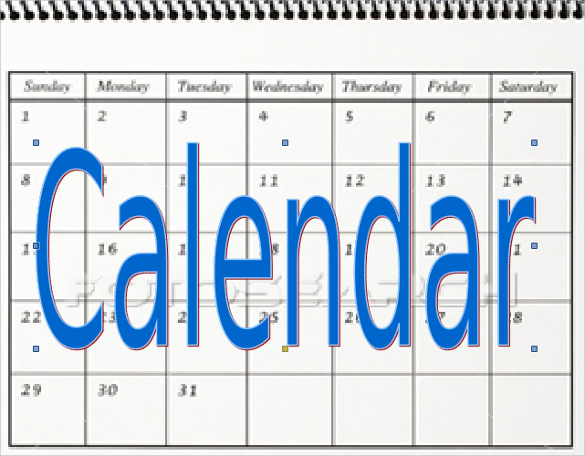 Training Calendar Template
A Training Calendar Templates have every single day for the entire training period of a month or year scheduled. For workout trainings it may include meal plans with workout regimens for each day, for social media marketing training plan it may include blogs, twitter, Facebook, Instagram usage timings everyday for marketing training. It varies greatly.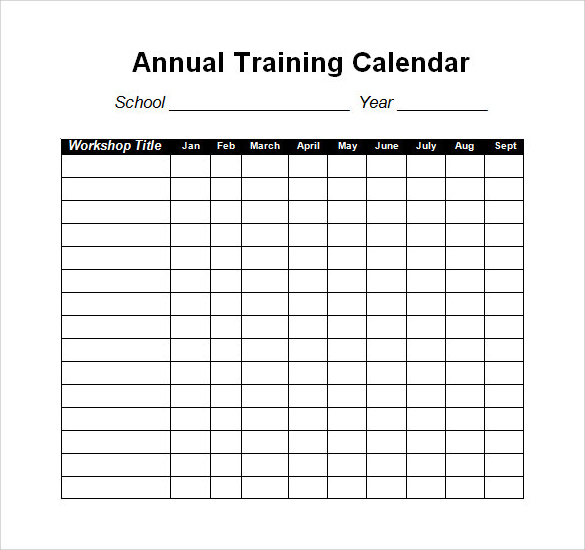 Training Calendar Template PDF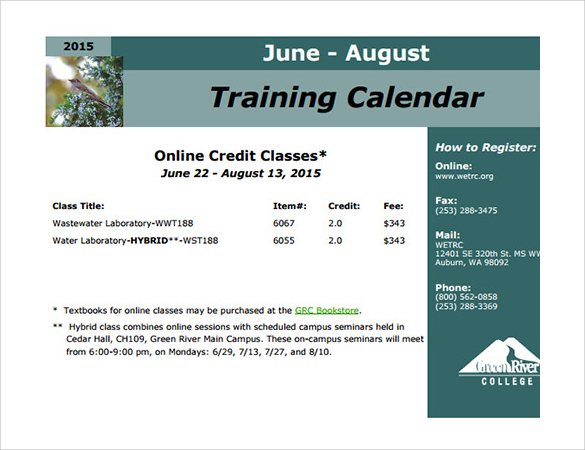 Indesign Calendar Template
An Indesign Calendar Templates have three months divided in weeks with spaces for events, notes, marked holidays for the month or week, contact information, phone calls to be made. Some have designed pictures for every month with quotes. If it is a business calendar, then it will consist of company logo and contacts.
Indesign Calendar PSD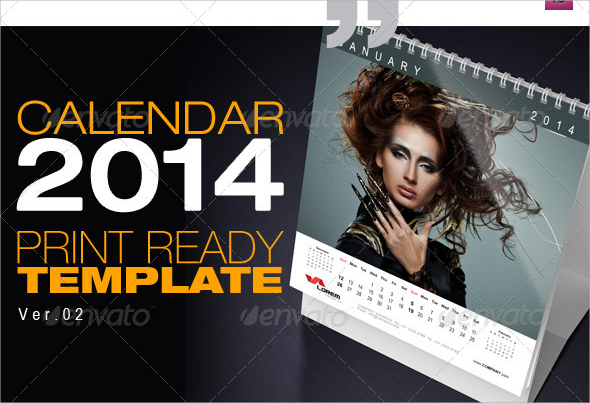 Indesign Calendar Template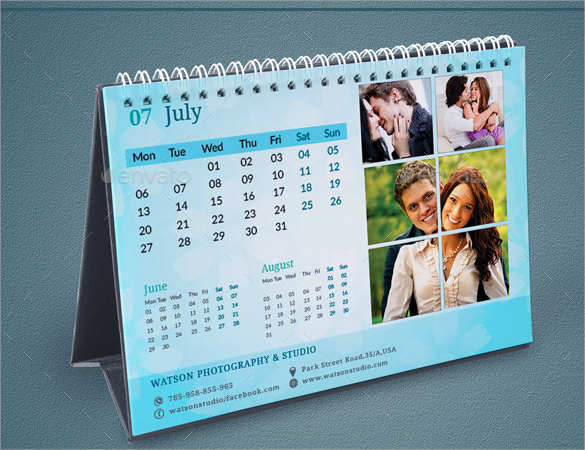 Weekly Calendar Template
A weekly calendar template is used to specify activities for a week, which may include meetings, workload, class timings, calls to be made, bills to be paid all categorised into different sections or simply note spaces for each day of the week. Weekly Calendar Templates may also comprise of specific timing in a day for completing each task in to-do sections.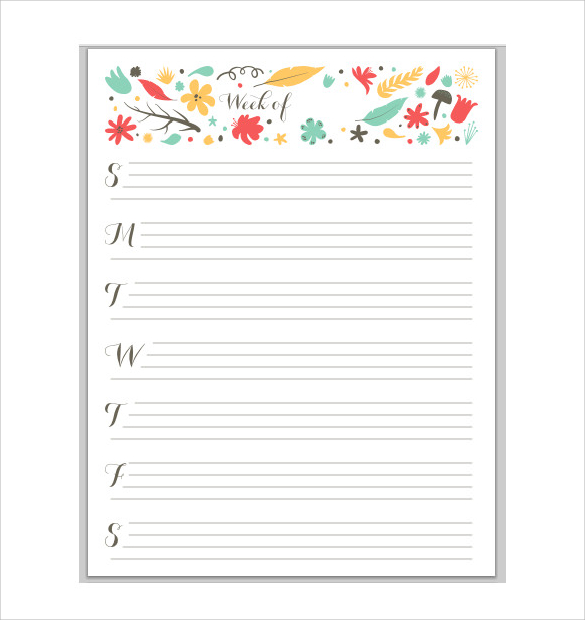 opti.snapfish.com
Weekly Calender Worksheet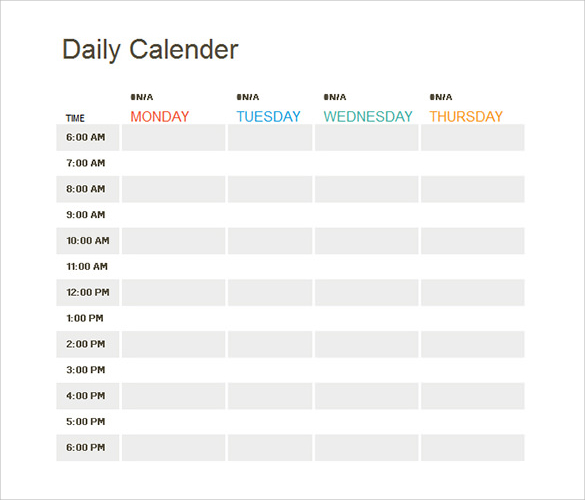 Workout Calendar Template
A workout calendar template basically has the workout regimen all clearly set for specific dates. It  also consists of reps and sets for each workout every day. In this Workout Calendar Templates the meal plans for breakfast, lunch, dinner and snacks for each day may also be included with images for each workout every day for a month or year.
Workout Calendar PSD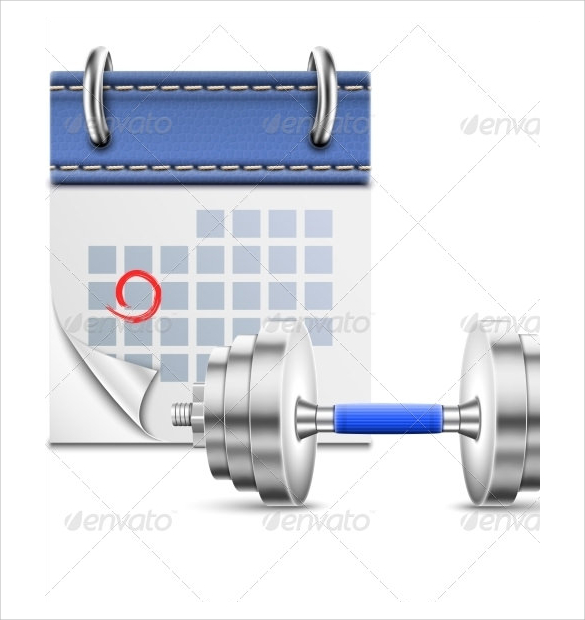 Workout Calendar Template Word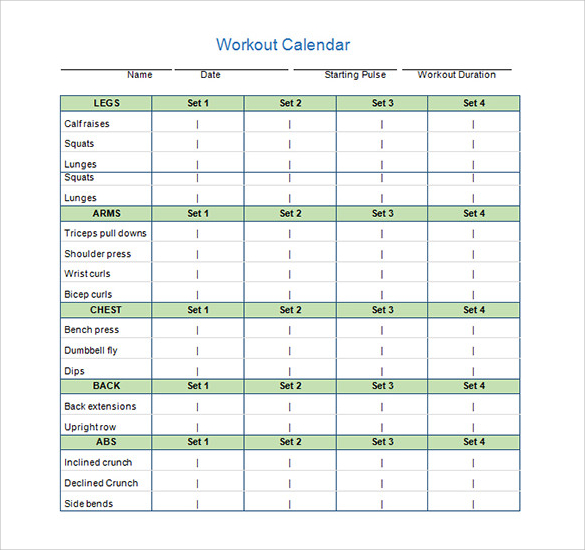 Marketing Calendar Template
A Marketing Calendar Templates has varied section for tracking yearly or monthly marketing. It mainly comprises of broad categories like local marketing, in-store marketing, relationship marketing that can be further sub-divided into television commercial, print ads, social media marketing, seasonal banners, holiday banners, customer application signs, customer e-newsletters and more.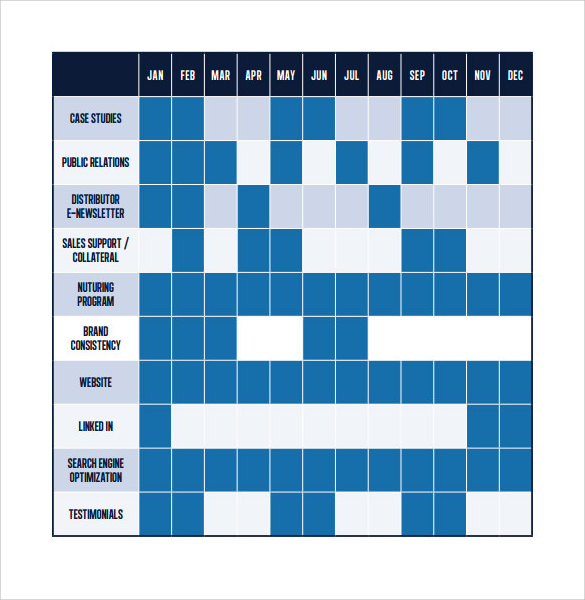 marketsmartb2b.com
Content Marketing Calendar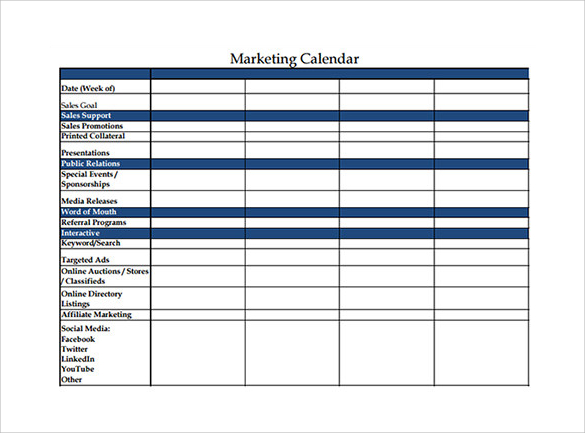 marketsmartb2b.com
Academic Calendar Template
An Academic Calendar Templates consists of each month with days marked for early release, schools closed, first and last day of class, report card issue, parent-teacher meetings, sports days, field trip days, exhibitions and other school events with probable exam dates for each subject, assignment submissions and more.
Vacation Calendar Template
A Vacation Calendar Templates will have the holidays celebrated in the place you are visiting all marked out, with days for vacation scheduled out, specific dates marked in places to be visited during vacation. There is also another kind which tracks employee vacation with section fir employee name and vacation days marked on the calendar.
Vacation Calendar PDF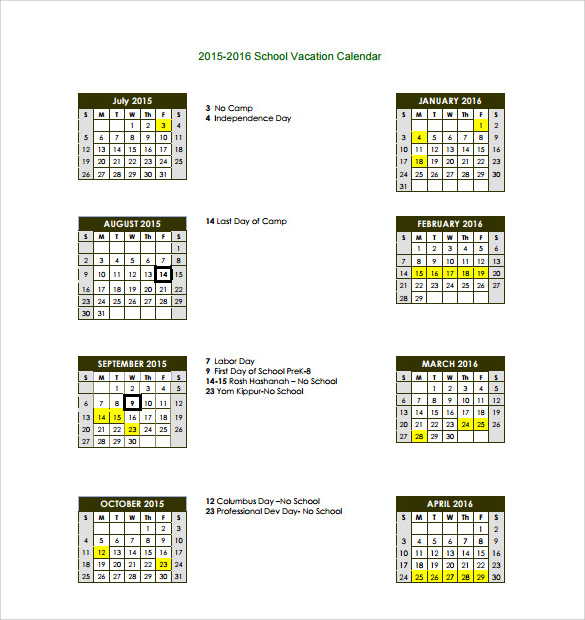 hcdsny.org
Vacation Calendar Planner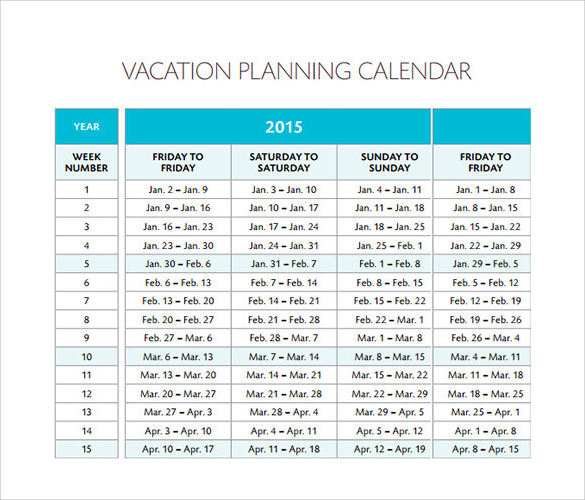 hgvc.com
Birthday Calendar Template
A Birthday Calendar Templates generally has every month with a birthday themed background. Some simply have space for dates to mark birthdays and may have marked holidays and the date times, place where the person being celebrated was born in. Some have space for noting celebration timings, venues, calls to make, gift purchase days and planning parties.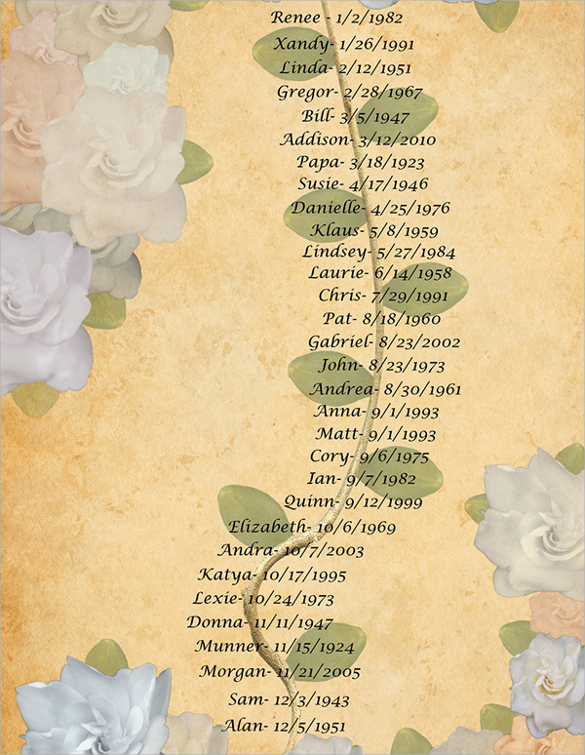 Handmade Birthday Calendar Template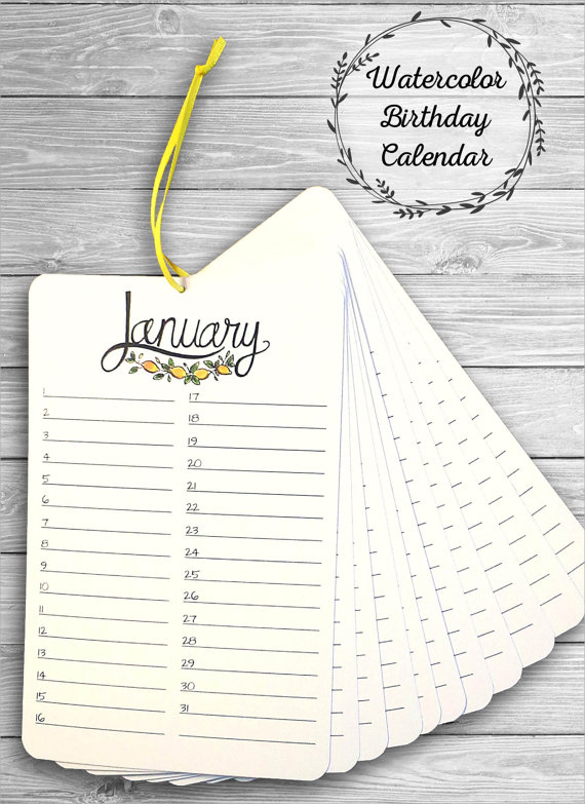 Preschool Calendar Template
A generalized Preschool Calendar Template has all the dates of every month in a year sorted out with daily activities that kids will be going through. It comes with tick boxes for every day, sections for homework, the themes of the day, festivals, and holidays marked on it with school events like PTA meetings etc.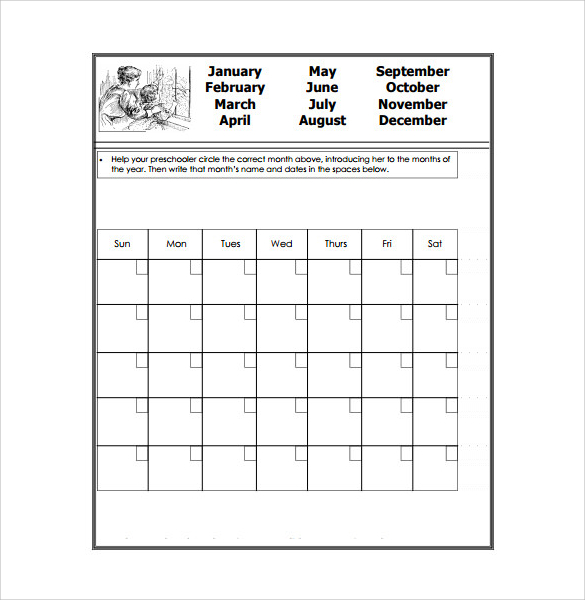 paintedgold.com
Excel Calendar Template
An efficient Excel Calendar Templates is used as a planner as it has the options to increase and decrease the space for events in each day. Such a template may not be a comprehensive one, but consist of detailed spaces for bill payments, shopping, holidays, meetings, calls and more. All are customizable.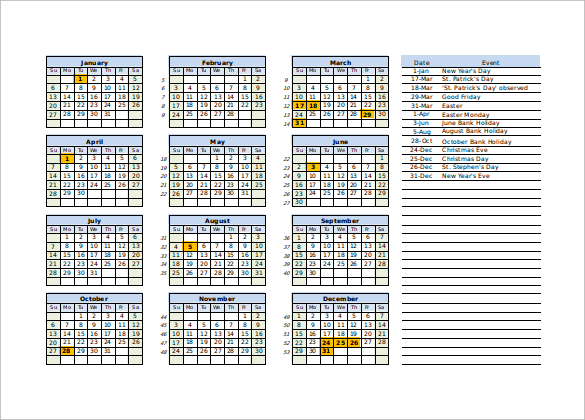 excely.com
Printable Calendar Template
Printable Calendar Templates are one with a readable format for each month of a year. It mainly has space to include activities for each day, if not, then it has a specified section dedicated for note taking for each week or month, with or without tick boxes and a to-dos section.
If you have any DMCA issues on this post, please contact us!