Planning on budgeting your finances? That's a great idea! By doing so, you are able to evaluate how much to allocate for your daily, weekly, or monthly expenses. It can also help you work out a specific strategy when it comes to paying your debts if ever you have any.
Personal Budget Planner Spreadsheet Template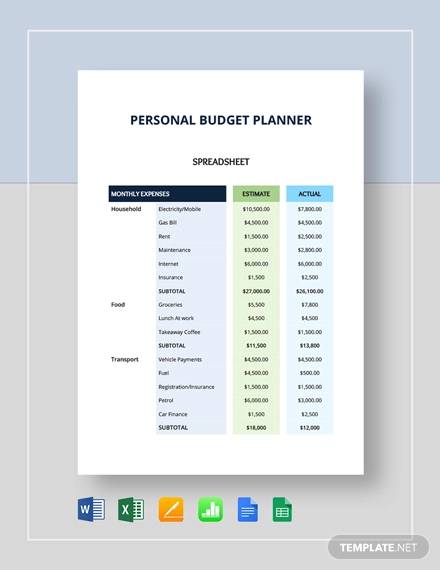 The personal budget spreadsheets featured here are in Excel (.xls) format and are easy to use. They are pre-formatted in a way where formulas have already been executed on specific cells. All that needs to be done is to enter the amount you paid for a specific item. These spreadsheets will readily compute the total expenses that you have made.
Sample Monthly Personal Budget Spreadsheet
Bi-Weekly Personal Budget Spreadsheet
Personal Finance Budget Spreadsheet
Personal Daily Budget Spreadsheet Excel
Personal Monthly Budget Planner Spreadsheet
Who Should Use the Personal Budget Spreadsheets?
Anyone can use the budget spreadsheets. But you most certainly should consider a budget plan if you
are earning a limited amount of money,
want to work on a strategy to pay your debts,
have early retirement plans, or
are trying to put your money to good use.
Why Stick to a Budget?
When you decide to start budgeting your finances, you start by listing down your income and expenses for a specific period of time. Finances can be difficult to monitor, that's why setting a budget for all your expected expenses is beneficial in numerous ways.
You are able to determine which items or spending need to be prioritized. This means overspending can be avoided.
Getting rid of wasteful expenses can be easier because all your expenses are recorded.
It can help you figure out how much to set aside for investments and savings.
You can set up an emergency fund.
Gives less stress brought about money matters because you are able to figure out whether you have extra cash.
In the long run, planning out a budget is favorable, but it can start out as a process that may be deemed as tedious. But with the help of these spreadsheets, taking note of your finances will not be as complicated as it seems. The Excel format gives much convenience for your personal budget needs.
You may want to check out ourSample Monthly Budget Sheetsto give you a guide and an inspiration if you want to start budgeting on a monthly basis.
Personal Budget Calculator Spreadsheet
Sample Personal Budget Spreadsheet PDF
Personal Expense Budget Spreadsheet
Student Personal Budget Spreadsheet
Personal Budget Spreadsheet Example
When we say budget, it comes with a few sets of negativity especially because your spending will be limited. You start to think that you have to stop yourself from doing certain things that you enjoy. This is most certainly not a bad thing because having these limitations are a part of having an efficient budget system. In order to lessen a bad perspective about limitations to spending, you can create a reward system for yourself whenever you reach a certain budgeting goal. Remember that setting up a budget plan is more than just having to set spending limits. It is a way for you to adjust your spending accordingly with no regrets at the end of the line.
The aim of the spreadsheets listed here is to help people who need guidance when it comes to budgeting. Although sticking to your budget plan may prove to be a difficult task, these Budget Spreadsheet Excel Samples help you adhere to your goals.