Equipment Lease Agreement is used to specify the conditions under which a person or organization can rent equipment from another person or organization. This agreement explains the rights and obligations related to equipment on which both parties have agreed.
Equipment Lease Agreement Template Sample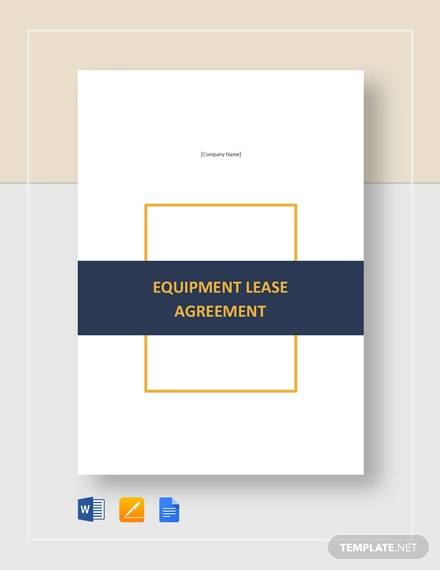 Restaurant Equipment Lease Agreement Template Sample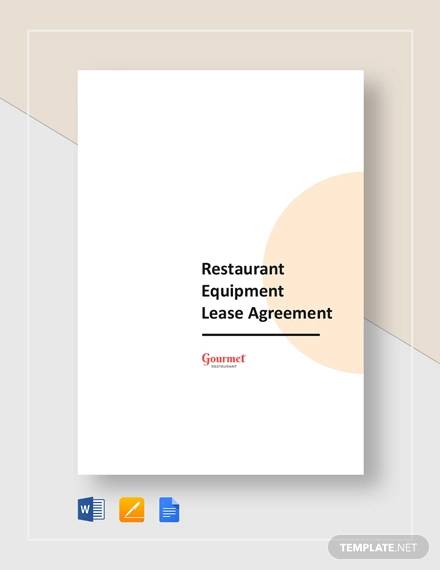 Details like the name of the company, person who owns the equipment, person who borrows the equipment, cost of equipment, duration of the lease, laws and rules, the responsibility of Lessor and Lessee and many other are to be mentioned in the agreement.
Equipment Lease Agreement Word Template
The equipment lease agreement word template can be of immense use when you are leasing equipment of any sort. It is very easy to edit a word equipment lease template rather than creating a totally new lease agreement from scratch.
Sample Lease Agreement for Agricultural Land
While leasing an agricultural land a lease agreement, a sample lease agreement can act as a guide to draft a new lease agreement for agricultural land. One can even avail a "ready to fill" samples lease agreement template.
Simple Lease Agreement Template
Sample lease agreement doc can be a helpful tool to quickly refer to lease agreement and get a sense of what a typical lease agreement looks like
Sample Lease Agreement for Commercial Property
Sample lease agreement for a commercial property should consist of details such as – the name of the lessor and lessee, start and end date of the lease. And other terms and conditions. Lease agreements for commercial property can be more complex than that of residential property.
Sample Equipment Lease Agreement
Master Equipment Lease Agreement
Basic Equipment Lease Agreement
University Equipment Lease Agreement
Equipment Lease Agreement Example Template
Company Equipment Lease Agreement
Society Equipment Lease Agreement
Equipment Lease Agreement for Plant and Machinery
Attributes of Equipment Lease Agreement
While creating an equipment agreement one should include the following details: –
Introduction of Parties– The parties should be clear about who is a Lessor and who is a Lessee. The Lessor is the party that is leasing the equipment to the Lessee.
Lease Terms– the time period during which the Equipment is leased is called the Lease Term.
Lease Payment– Lease Payment is the amount on which Lessee agrees to pay to Lessor as a rent of equipment. This amount should be paid as an advance of each month as decided.
Late Charges– if the Lessee are unable to pay the amount of time then they have to pay late charges as decided.
Security Deposit– this is optional provision. Here, Lessee agrees to pay a deposit to the Lessor in the beginning as a guarantee of the conditions of equipment. This security amount is supposed to be returned to the Lessee if the equipment is still in good condition.
Ownership– it is mentioned that equipment is still the property of Lessor though Lessee uses it in its business.
Liability for loss and damage– Lessee is responsible for any loss or damage of the leased equipment. It is clearly to be mentioned in the agreement
Defaults– there are some events which are considered as "Event of Default" by the Lessee. It means that if Lessee mentions a thing as "Event of Default", Lessor can walk away from the lease.
Taxes and Fees– it is the responsibility of the Lessee to pay all the taxes and fees of the equipment during the lease period. One copy should be given to Lessor as proof.
Above listed are some of the major attributes which need to be included in any Equipment Lease Agreement. Before signing the agreement, it requires both parties to read and understand the written statement carefully in order to avoid any future conflict.
Sample lease agreement templates can save your time and efforts. Also, using a ready-made template form us will ensure that you have covered all the essential details. Sample equipment lease agreement templates are widely used amongst the equipment buyers and sellers.
If you have any DMCA issues on this post, please contact us!