When a senior official of a company or an office has to display or let his/her subordinate employees know about some urgent and important information, they can use company memo template to do so. Using the company memo template, a company official can fill in all the urgent information and display the filled up template to his/her subordinate employees, thus making the work easy and peaceful to do. There are various types of company memo templates. You may check Professional Memo Templates. Here are some instances :-
Sample Company Memo Template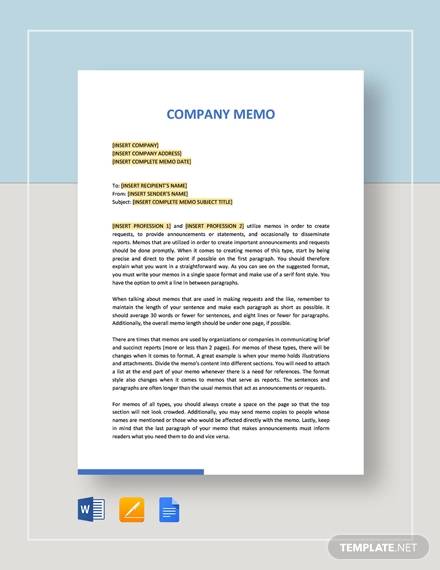 Employee Memorandum Template
Business Memo Template
Company Letter Memo Template
Company Memo Template Download
Company Letter Template
Company Memo Example
Corporate Memo Template
Company Issue Memo Example
Company Memo Format
Use & Purpose of Company Memo Template
A company memo template serves to be very useful and handy for the senior officials of a company to let their subordinates know of any information that is very urgent and important in nature. A company memo template comes to play its actual role when the seniors of a company have to let their subordinates know of any information that is needed to be informed to stop a work. You can also see Meeting Memo Templates.
When is a Company Memo Template needed?
There are several times when a company may need to use a company memo template. When a company has to send a notice or a formal letter to some new candidate to let him/her know about any interview related matter, the recruiting company official can use a company memo template that usually serves to be a good help in such situations. You can visit Email Memo Templates.
Benefits of Company Memo Template
Company memo templates show a lot of benefits and useful advantages on being used. So, on the basis of the various types of company memo templates, different types of notifying jobs can be done perfectly without any turmoil and confusion created.
Tips on using Company Memo Template
Depending on the type of notifying jobs or works they are related to, company memo templates are of different types. That is why, when a senior company official needs to get a company memo template, he/she must check in the type of notifying job and hence on that basis, the type of company memo template that he/she requires at that time. You may visit Accounting Memo Templates.
Company memo templates come in a lot of file formats such as PDF file format and Excel file format and many more. Therefore, when someone wants to get a company memo template, he/she should always check the file format needed by him/her. Some company memo templates come as easily editable.
If you have any DMCA issues on this post, please contact us!