According to a study by Gartner, only 12% of organizations say that they're fully prepared for the economic damages caused by the coronavirus. The rest say that they're partially prepared or unprepared at all. Although the majority of us didn't expect a pandemic to hit in 2020, it's still a glaring fact that only 12% of organizations are highly prepared for it. Incidents such as a pandemic can force some unprepared businesses to close. Of course, that's something you don't want to happen to your company. So to prepare your business for threatful situations, you need to create a strategic plan for it to survive. And our Business Continuity Plan Templates can help you with that. So we invite you to check them out below!
FREE 13+ Business Continuity Plan Templates
Business Continuity Recovery Plans
Business Continuity Strategy plans
Business Manufacturing Continuity Plan
Business Continuity Crisis Management Plan
Sample Business Continuity Plan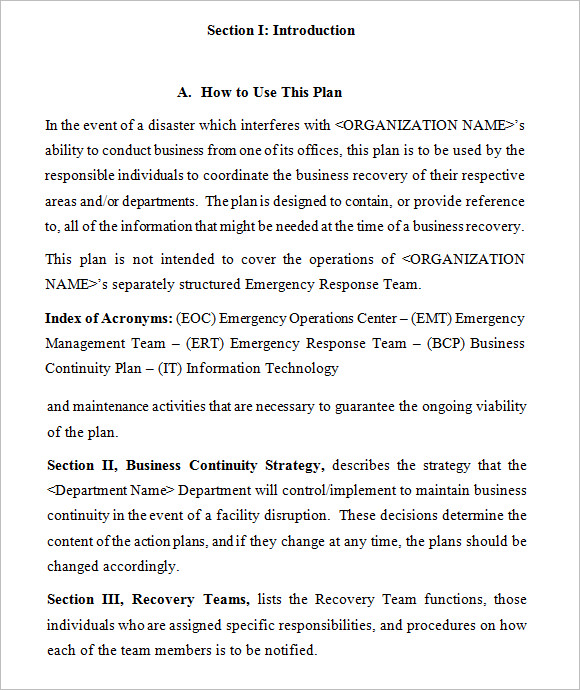 Business Contingency Plan Template Word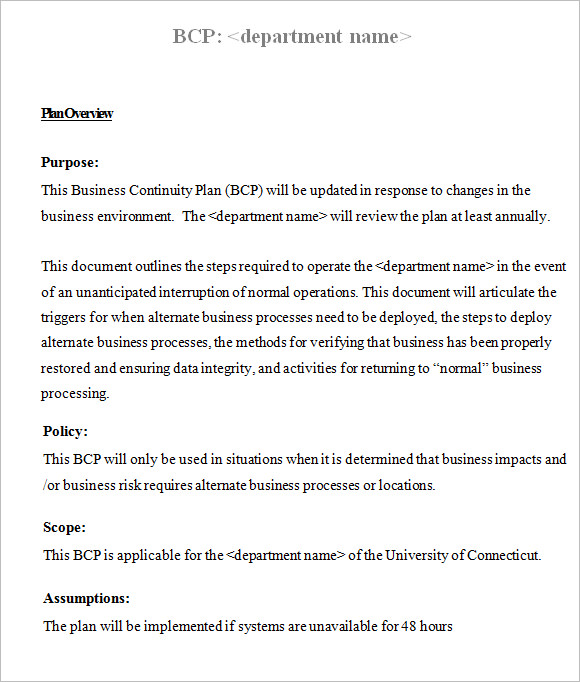 BCP Plan Example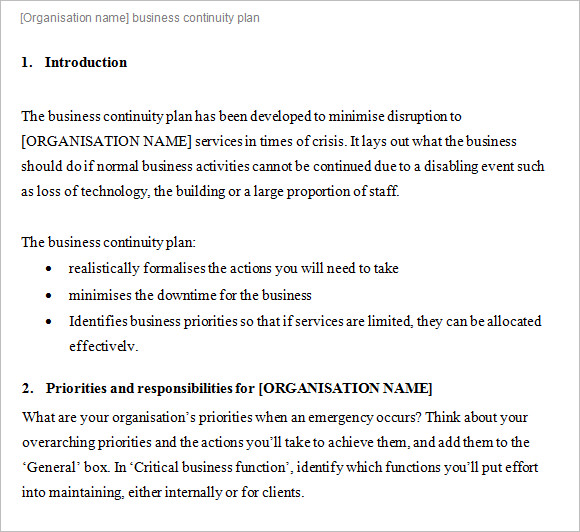 Business Continuity Plan Sample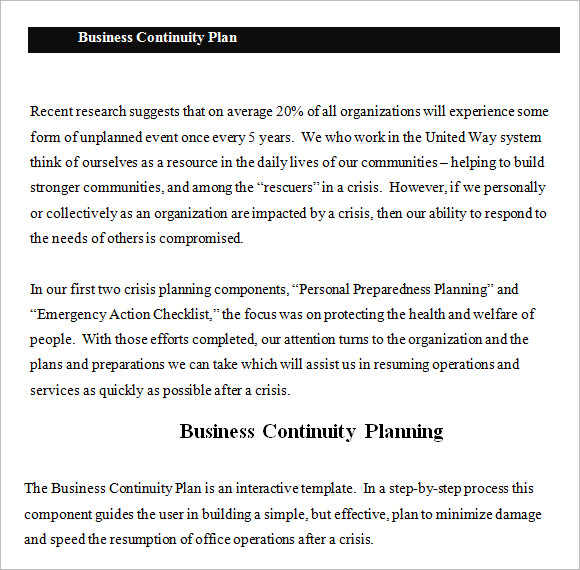 Business Continuity Plan PDF Download
Non Federal Business Continuity Plan Template
Business Continuity Plan Example
Business Continuity Management Format
Free Business Continuity Plan Management
Business Continuity Plan Template
The Components of a Business Continuity Plan
Preparing a business continuity plan is a necessity for both a big business and a small business. No organization is safe from incidents that can cause its downfall. Even large corporations that have established a widespread business empire can be at risk. However, a business continuity plan wouldn't be as effective as it should if it has some missing pieces. So, here we'll show you its key components that you must include.
How to Write a Business Continuity Plan
Knowing the components of a business continuity plan and writing it are two different topics. It won't do if you just know what it should contain. You also must know the process of formulating it effectively. For that reason, we'll discuss with you our quick guide in writing a business continuity plan.
1. Explain the Scope and Purpose of the Continuity Plan
You have to provide a general overview or executive summary of what the business continuity plan does to help the company. That way, every stakeholder of the business will have a glimpse of its purpose, and why they should partake in fulfilling it. This step is where you should set goals and expectations for the business's continuity.
2. Identify the Critical Areas and Functions of Your Business
The most important areas and functions of your business are what you must protect. Consider them as your top business priorities. If they suffer significant damages, your company might end up closings its doors. So make sure to emphasize them as the main targets of your business continuity plan.
3. Identify Threats and Study Them Through a BIA
There are countless threats that can affect your business adversely. These could be an economic crisis, natural disasters, security breaches, thefts, frauds, data loss, cyberattacks, and many more. Make sure to identify those that you see as the most likely to happen based on how your business works and its location. After that, study how each of them can affect your company through a business impact analysis or BIA.
4. Establish Action Plans for the Business's Survival
Once you've gathered results from your BIA, use them as a basis to establish a checklist of action plans. These action plans are your approaches to enable your business to recover and survive from a disastrous incident or crisis. They're the core element of your business continuity plan.
Why do some business continuity plans end up failing?
There have been many cases of business continuity plans failing. The main reasons why that happened is simply not testing or evaluating them enough and ineffective strategies.
How does a business continuity plan differ from a business disaster recovery plan?
The two of them share the same purpose, and that's to enable a business to continue operating after an incident. However, a business continuity plan is a collection of strategies to ensure the business will still operate for longer terms after an incident. Whereas a business disaster recovery plan consists of strategies to immediately recover from an incident and retrieve lost assets.
How often should I evaluate a business continuity plan?
You should at least evaluate your business continuity plan once or twice a year.
Business continuity planners are every business's lifeline to continue standing despite dire circumstances. We never know when disasters strike. So it's best to be prepared. With that said, make sure to start devising your business continuity plan example asap.