Because people are moving from one place to another because of opportunities in their job, business, or studies, renting an apartment has become a cost-efficient way to find a place to stay temporarily. Based on a report by iProperty Management, there were 44 million American households or 109 million individuals who made up 36% of the population rented their homes in 2019. Because the demand is high, both landlord and tenant should have a common ground to agree. Hence, a lease agreement must be written to set everything in stone. Find more about apartment lease agreements in this article.
Apartment Lease Agreement Template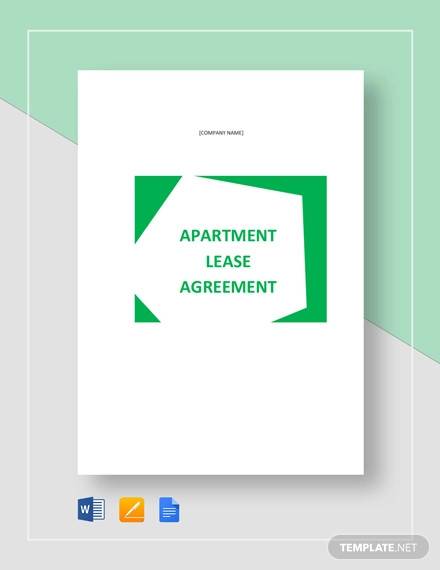 Apartment Lease Agreement Template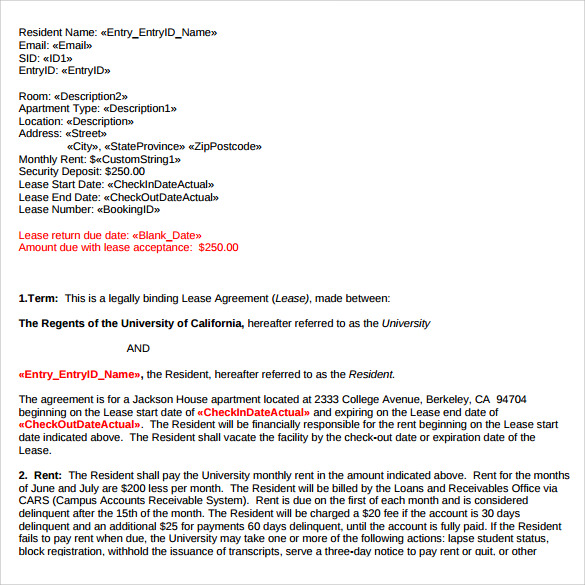 housing2.berkeley.edu
Sample Apartment Lease Agreement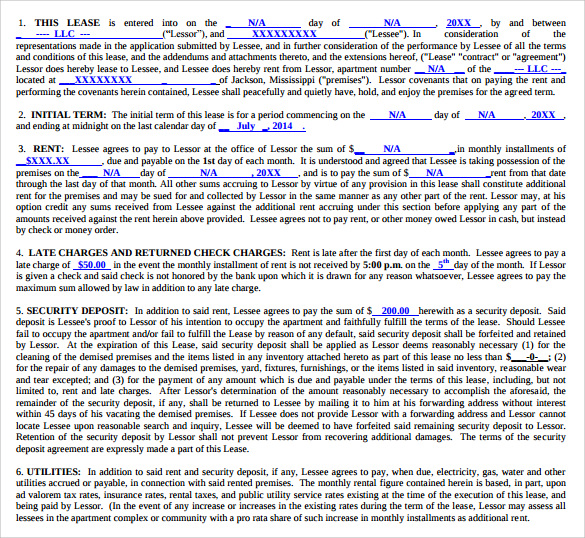 housing2.berkeley.edu
Word Apartment Lease Agreement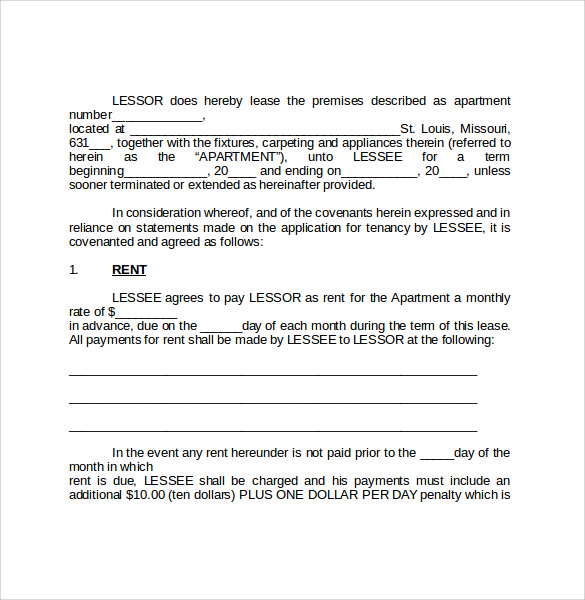 Example Of Apartment Lease Agreement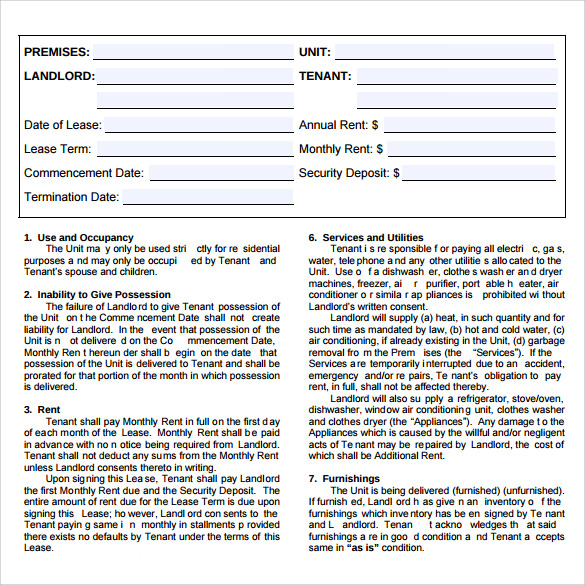 judicialtitle.com
Apartment Lease Agreement Free Printable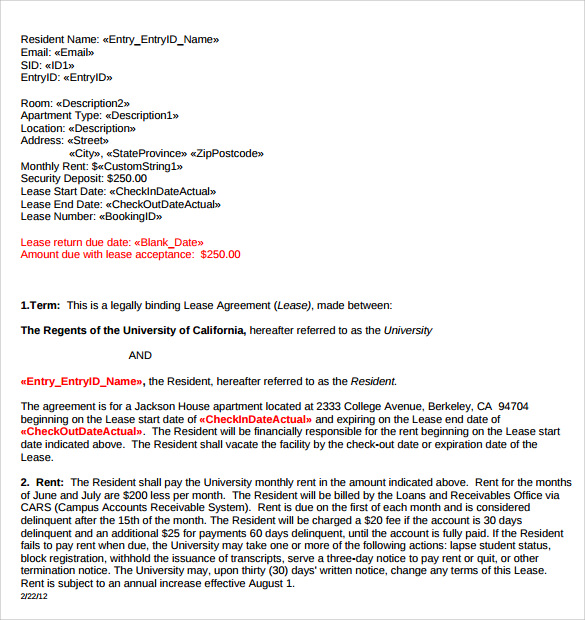 housing2.berkeley.edu
Apartment Rental Agreement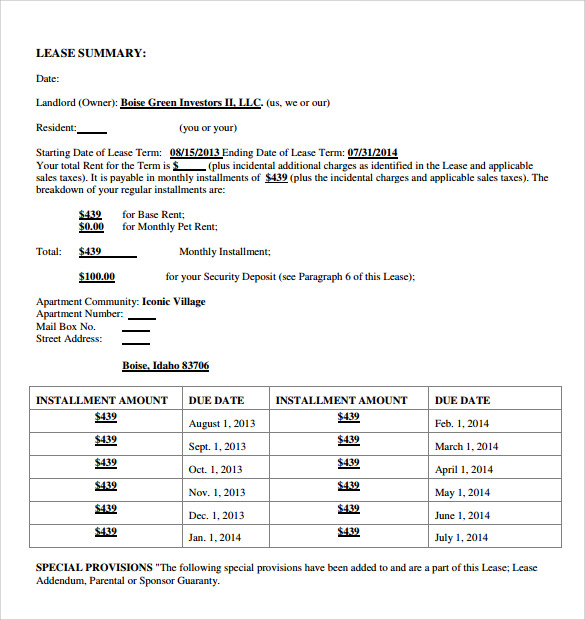 iconicvillageapts.com
Download Apartment Lease Agreement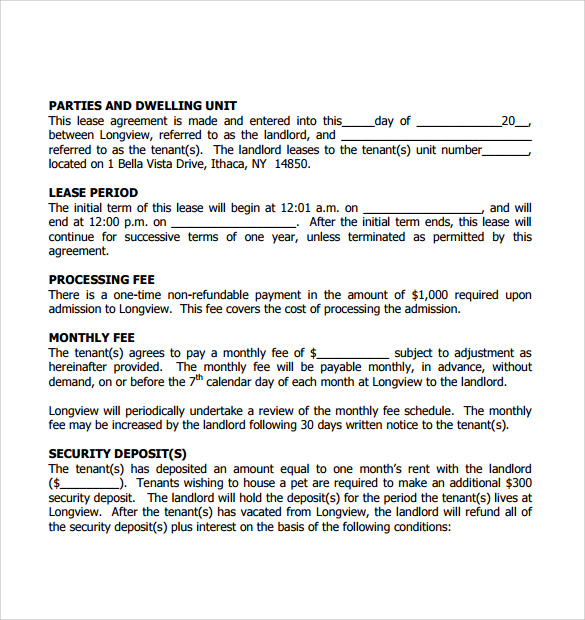 ithacarelongview.com
Free Download Apartment Lease Agreement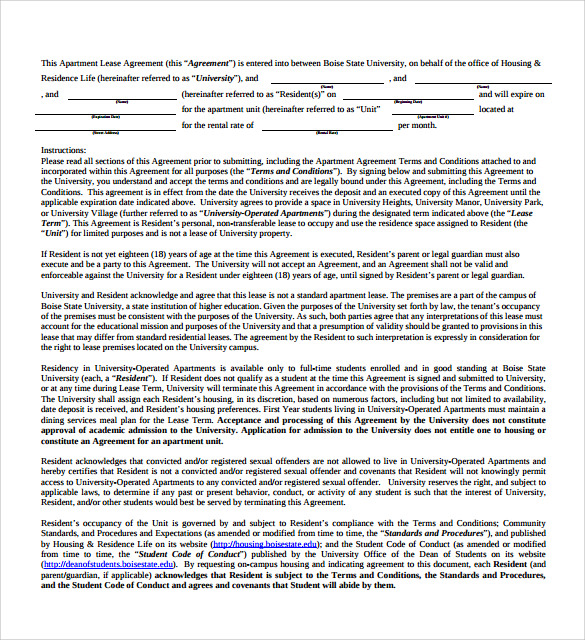 housing.boisestate.edu
Simple Apartment Lease Agreement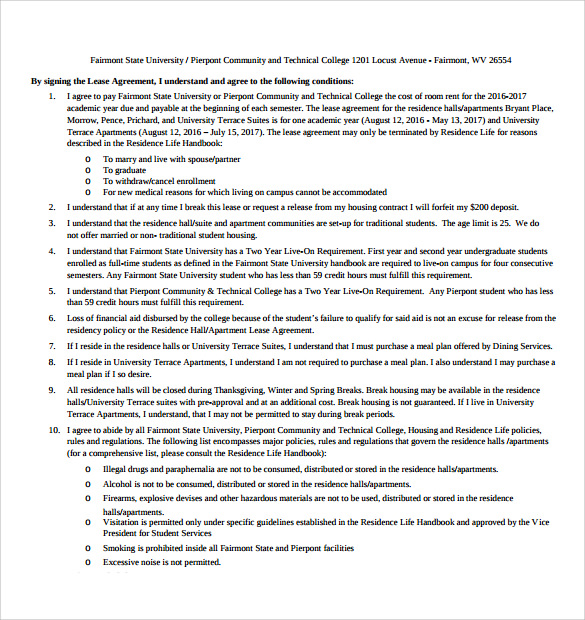 fairmontstate.edu
What Is an Apartment Lease Agreement?
An apartment lease agreement is a type of rental/lease agreement. This document is specifically used when an individual rents or leases an apartment unit. It outlines an arrangement between a landlord who owns the apartment and a tenant willing to pay to temporarily stay in the property. Moreover, this agreement may collect the tenant's relevant information, consent to run a credit report, and lease history.
How to Write an Apartment Lease Agreement
When a basic agreement is signed by the parties, it becomes legally binding. Because of that, writing a simple lease/rent agreement requires more time and attention to detail. More so, this type of agreement varies depending on the terms and conditions it indicates. Your state's governing law also influences how the agreement should be written because states have different laws for renting and leasing. Below is a list of pointers you must take note of if you want a flawless apartment leasing agreement.
1. Identify the Parties
Before jotting down the printable agreement, identifying the parties is an important step to start with. If the agreement is between two businesses, indicate the owners' names and registered business names. Then, know where their business is located. On the other hand, just use legal names if the agreement is between individuals and their residential addresses. Begin the agreement with this information. Additionally, mention the agreement's commencement date.
2. State the Lease Term
The lease term is the agreement's most crucial section. It is also called the rent term in similar agreements. This part tells how the sample agreement came to be. Aside from that, it describes the property, its location, premises, condition, and amenities. You can also indicate when the tenant will move into the apartment. However, some agreements do not include the lease term because they put it in the terms and conditions instead.
3. Indicate the Payment
Money is a contentious matter. That is why you need to get the numbers right. The payment terms will be based on how the tenants prefer to pay for their stay in the property. If they desire to pay a monthly rental, then indicate the amount they should be paying in the agreement. Meanwhile, paying a yearly lease should be equal to twelve-monthly rents on top of the advance payment. Furthermore, some landlords add a security fee to protect the property from any damages caused by the tenants. You can indicate that as well. Lastly, state the payment method to let your tenants know how to pay for their dues.
4. Add Termination Clause
The termination clause tells the limitations of the agreement. In most parts, it is a warning clause that indicates how the bind between the parties can be broken. It can be late payment, non-payment, damage to the property, or not complying with the propety's rules and regulations. Other clauses, like property maintenance and sanitation, visiting policies, amendment, and governing laws must be added too. To make sure that the agreement has no loophole, consult an attorney, and ask for a piece of advice on how to improve your document.
5. Let the Parties Sign the Agreement
The apartment lease agreement is incomplete if unsigned. So, let the landlord and tenant sign the document with their names. Take note: both parties must be at least 18 years of age, to be of sound mind, and in no way coerced into signing for the agreement to be legally enforceable by law.
FAQs
Do I need a lawyer to make my rental agreement?
You do not need a lawyer to write your rental/lease agreement. You can write yours as long as it has the necessary information to enforce the terms and conditions. It should also be compliant with the state's laws where the property is located.
Is it okay to move out before the lease ends?
According to Stack Exchange, unless otherwise stated in the state laws, you are obligated to pay the monthly rent continuously until the lease ends. However, the landlord is legally obligated to rent the property out as soon as possible. Just make sure to ask for a rent receipt always.
Can I sue my landlord for lying?
According to Realtor, if you think your landlord is trying to evict you illegally, you may remain on the property and sue them. If you are already evicted from the property, the court may ask your landlord to reimburse you the costs incurred stemming from the illegal eviction.
What are the legal reasons to break a lease?
According to Choice, these three reasons are breach (whether repeated or not) of an agreement by the landlord, undue hardship, and inhabitable premises.
Renting is not as simple as booking hotel rooms because it is a long-term commitment to some. As a landlord, having a lease agreement is vital in protecting their business's health and reputation. For a tenant, an agreement gives them the assurance that the property they are staying in does not compromise their safety and gives the comfort of a home. Writing a simple agreement may seem challenging, but it is easy with the right tools. For more agreement templates, visit our website and click the download button to grab a copy today!