Agreement letters are commonly useful in outlining conditions and ensuring both parties involved to be protected. It can be used in resolving disputes or strengthen the legality of a dubious contract. Depending on the situation, it can be useful in various services.
Sample Agreement Letter
In creating your agreement letter, be specific and thorough in listing down your information. Never forget to note down the essential details in your written letter of agreement and have it signed by both parties to make it a binding legal document.
If you are looking for ways to create an agreement letter, here are a few excellent samples listed below.
1. Sample Letter of Agreement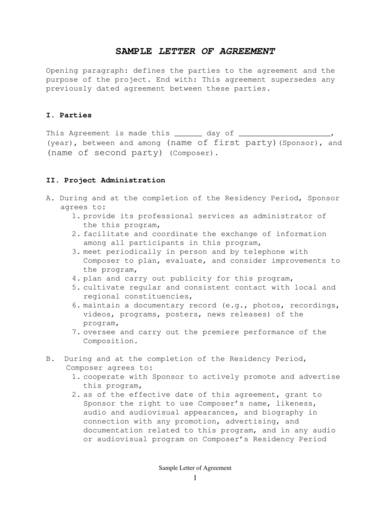 Compared to a written contract, an agreement letter is less formal. What makes an agreement letter distinct from a regular agreement is the date and addresses added at the top corner of the letter. In negotiating your transaction, make sure to define your arrangement understandably for both parties. This sample letter of agreement contains a defined explanation of your agreement along with the limitation, enforcement, and jurisdiction of your transaction.
2. Sample Agreement Letter for Creative Practitioner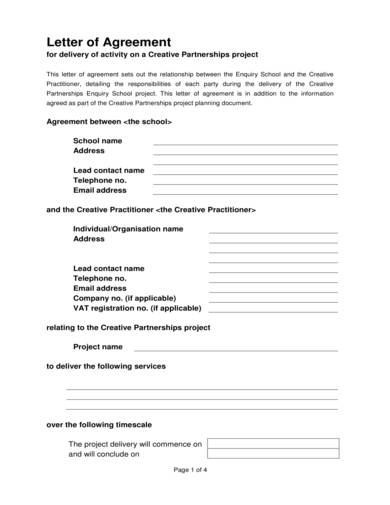 There is more than being an artist when a person is a creative practitioner. They are not limited to delivering art as their experience but can also work well with others in different fields. If your school wishes to provide activity on a creative partnership project with a creative practitioner, this sample letter of agreement will best fit your plans.
3. Sample Oversight Agreement Letter for Supervision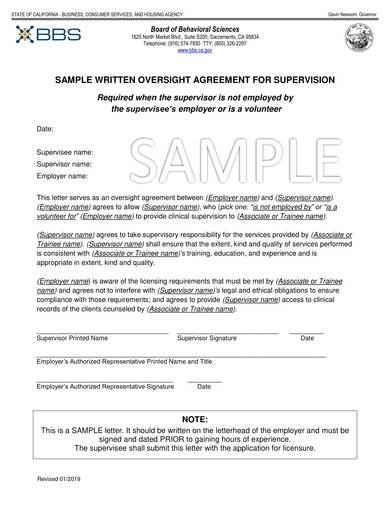 Proper supervision is an important aspect to be established in the creation of a project. In particular to the field of medicine and other sciences where they handle the lives of different people, the relationship between the supervisor and their supervise is crucial to the success of the project. Having an agreement letter for supervision gives assurance that both groups are working well under the agreed terms and conditions, preventing any possible misunderstandings and delays.
4. Sample Cash and In-kind Sponsorship Agreement Letter
Who doesn't want to have sponsors sponsoring events? Events cost a lot of money, and having a sponsor is a great help in minimizing the cost. But of course, as the sponsors, you don't do it for free. Indicate your terms and conditions in sponsoring an event. Be transparent in listing down both your obligation as the sponsor and the organization who is working with you. If you want to sponsor cash or in-kind, this sample cash and in-kind sponsorship agreement letter will perfectly fit your needs.
5. Sample Grant Agreement Letter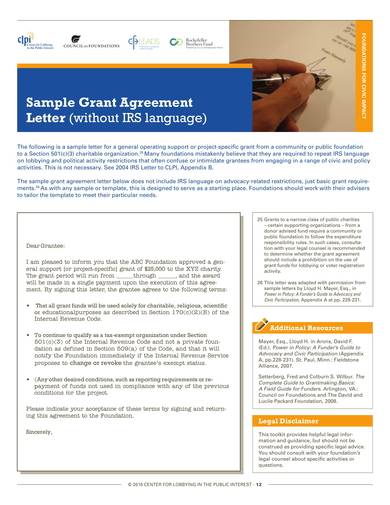 Establish a mutual understanding between you and your grantee with a grant agreement letter that encapsulates your conditions in providing grant funds in a particular group. Grants are basically given to fund specific projects. In this sample grant agreement letter, you can specify an amount in which you are to give along with your conditions for a charity.
6. Sample Employment Agreement Letter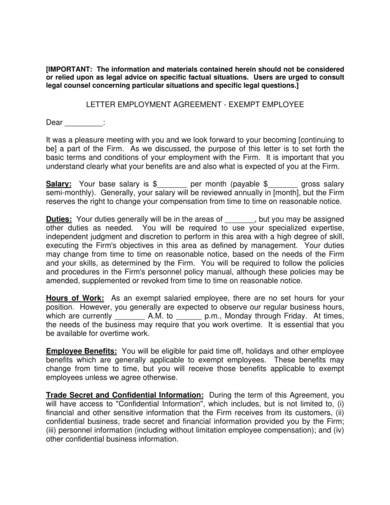 One of the most common uses of an agreement letter is for employment purposes. This is a traditional document that defines the relationship between you and your employee. Laying down all the rights, responsibilities, and the benefits your employee can acquire, this document is vital for employers like yourself. Once your employee agrees to your terms and conditions, have them sign your employment agreement letter to finish the transaction.
7. Sample Agreement Letter for the Transfer of Materials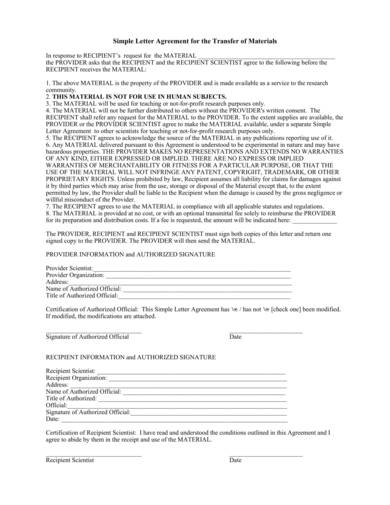 Researching is a tedious process that requires a lot of resources to fulfill the necessary development of a product or a study.  During these cases, institutions that are into research need to collaborate with other groups who have the research material they need. In response, the partner institution creates an agreement letter for the transfer of materials which indicates their terms and condition along with the protection of their material's patent rights.
8. Sample Agreement / Appointment Letter
An agreement/appointment letter is a legally binding document that informs and confirms an employee or a trainee about an open position offered to them. This contains all the necessary information they need to know about the job they are about to take, which shall serve as a guideline to them.
9. Sample Debt Payment Agreement Letter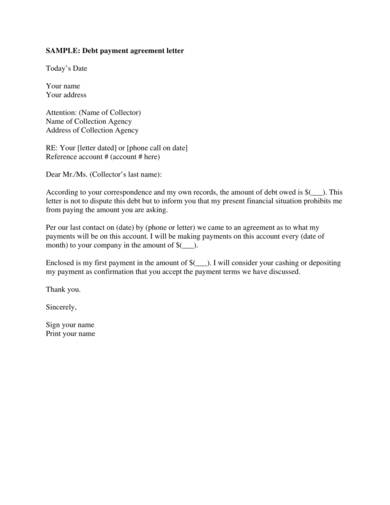 There are numerous reasons why your debts accumulate in time, and settling a debt can be part of your greatest accomplishment. There will be moments when you are in a tight situation, and the only way out of it is to borrow money. In this scenario, the best way for you to lessen your dues, for the time being, is to settle a debt payment agreement letter to your creditors. State the hardships you have encountered and indicate a specified amount you are willing to pay until you completely settle your account.
10. Sample Homestay Student Letter of Agreement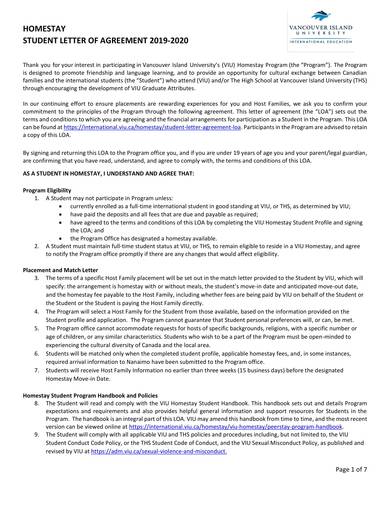 Homestay means staying with a family or a homeowner during a specified time, meeting the locals while living under the same roof with them. Some universities engage this kind of activity as exposure for their students. During this kind of event, the university is required to provide a formal letter of agreement for the student's homestay activity. This shall serve as guidelines for the participants as well as a notification for their parents and guardians.
11. Sample Collaboration Agreement Letter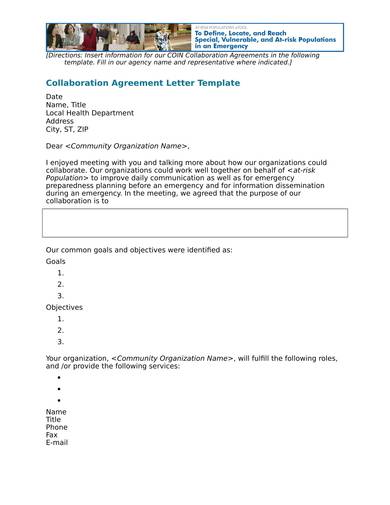 Each organization has a reason for collaborating with other organizations. Commonly, when both groups have the same objectives, they tend to work together to achieve the same output and benefits. Explain the purpose of your collaboration agreement letter and indicate your goals, objectives, and roles during the said activity. Once the other group approves, have the document signed by them, and you are ready to begin the next step of your collaboration.