Sales analysis is part and parcel of sales and marketing for any organization. Without thorough analysis, it is impossible for the management to set target for the next month or year as also it is not possible to find deficiencies in some sectors. Sales analysis templates are often used by the sales and marketing professionals to analyze sales reports including revenues, profit and loss, overhead expenses, sales volume sector wise etc. You May aslo See Company Analysis Report Templates.
Sales Analysis Template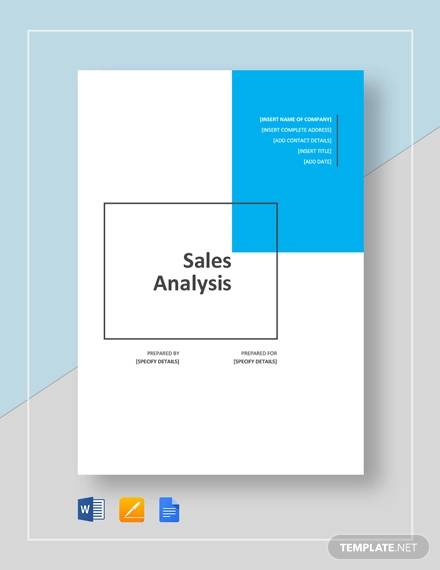 Break Even Sales Analysis Template
Breakeven sales level is the minimum revenue earning necessary from sales to cover up the cost of production and distribution of a product so that the organization doesn't sustain any loss. For each product, management needs to decide to break even sales level so that a specific sales target could be set for each product.
Break even sales analysis template is easy to use, here the users just need to put some important figures under variable costs and fixed costs. The breakeven sales level is then calculated accordingly. This template is useful for daily, weekly or monthly calculation of break-even sales volume required when some variable factors keep on changing frequently.
Marketing Sales Analysis Template
Sometimes detail market report is required when a start-up launches their products in a market or an existing business launch a new product in an existing market or in a new market. Marketing sales analysis template helps to create a complete report of various aspects of marketing to enable the management and sales personnel to understand the real scenario and what strategy they should adopt to reach at their sales target comfortably.
It's a kind of report that is created after thorough research on a market where the organization is going to launch their products, this includes market segmentation, target market segment strategy, promotional strategy, product positioning strategy, pricing strategy, sales strategy, strategic alliances, and competitive edge etc.
Retail Sales Analysis Template
Retail sales analysis is a handy tool for the top management or marketing and sales department for getting updated sales report on a daily basis from the retail branches. Thus, when an organization's retail stores are located in different places, even offshore, the retail sales analysis report can be used for tracking daily sales and updating sales data centrally. This readymade sales report template can be used very easily just by filling up the given fields like gross proceeds from all sales, type of sale and SSP payment etc. After filling up the template with relevant data, the report can be dispatched to appropriate authority online.
Sample Sales Analysis Template
Gross Profit and Sales Analysis Spreadsheet
Sales Performance Management Analysis Template
Analysis on Sales Increase & Decrease Template
Sales Analysis & Reporting Template
Usefulness of Sales Analysis Templates
These templates ease jobs of top management and marketing heads.
Sales analysis and sales report could be made for any period of time like daily, weekly and monthly.
Enables the management to set a target and analyze current issues.
These templates are very useful for any type of business establishments. Product sales analysis and breakeven analysis are required for smooth running of a business. These two analyses are suitably done with the help of the templates as depicted here. Market sales analysis is an extremely important job for a new start-up or launching a new product. Template designed for this purpose enables the management to create in detail analysis report for better understanding the market and prospect of the product or service. Retail sales analysis helps to keep track of daily sales in distant retail stores which work independently, but controlled by the headquarter.
If you have any DMCA issues on this post, please contact us!