Sometimes you would notice events that are organized to raise awareness and funds for a particular cause. This is what we call a fundraising event, where people come together for a certain activity such as marathons, concerts, art exhibitions, auctions, non-sport competitions, and many others. Fundraisers are one of the best ways to promote your message and goals, make friends and build partnerships, and develop community relationships. But in order to achieve your goals and objectives, you need to start from the beginning. And that is through a fundraising event proposal. A proposal will help you formulate your goals, help the readers understand the purpose and the need to hold such an event. To learn more about this, let us discuss this further below. If you need to start working on this particular proposal, we've got a list of fundraising event proposal samples that are downloadable for free on this page.
10+ Fundraising Event Proposal Samples
1. Fundraising Event Proposal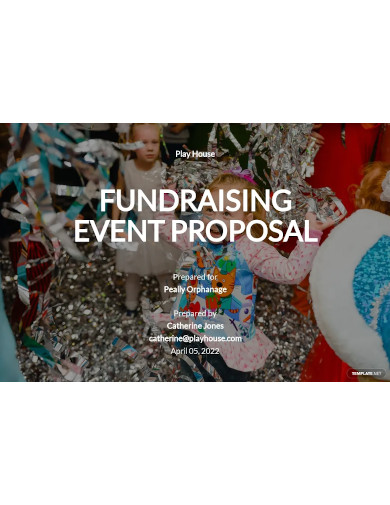 2. Sample Fundraising Event Proposal
3. Fundraising Project Event Proposal
4. Simple Fundraising Event Proposal
5. Third Party Fundraising Event Proposal
6. Independent Fundraising Event Proposal
7. Food Service Proposal For Fundraising Events
8. Community Fundraising Event Proposal
9. Third Party Fundraising Event Proposal Example
10. Sample Fundraising Event Project Proposal
11. Printable Fundraising Event Proposal
What Is a Fundraising Event Proposal?
The success of a fundraising event relies on the planning and of course the budget to make the event come to life. You also need funds to hold the event, and to do so you need to start writing a fundraising event proposal. A proposal should contain the details of how the event is organized, the timeline, its goals and purpose, and the event budget and cost. It needs to include key information that informs supporters and inspires them to donate. Other than that, you need to be genuine and persuasive as well to convince sponsors to donate to your cause. Like a business proposal, a fundraising event proposal will rely on the right information to support your cause and how you are able to present this to your sponsors.
How To Create a Fundraising Event Proposal
If you need to organize a fundraising event, the first thing you need to think about is what kind of event you wish to arrange and for what purpose. Do you want to raise funds to support a charity group? To help stray cats and dogs? Or for the homeless? Whatever your reason may be you must be able to properly convey this to your readers. A well-written proposal will get you the funding you need so you can successfully host the event. That being said, here are some helpful tips on writing a funding proposal for a nonprofit organization or for other groups.
1. Purpose of the Project
Explain why you decided to organize your fundraising project. This will help the readers understand how important this is to you personally and to the community as a whole. Make sure the reader has a clear understanding of your needs, and how you'll use any funds they donate.
2. Goals and Objectives
You will also need to relay the fundraising goals and objectives. What will the event aim to achieve in the process? How exactly does your cause make any difference? What change will you make in people's lives?
3. Project Scope and Activities
Explain the mechanics and include details about the event you plan to organize. For example, you want to organize a small music concert, with that you need to include when you plan to hold the concert, the venue, the theme, artists to invite, and other important details needed to ensure the success of the event.
4. Marketing Activities
You may opt to also include how you plan to promote the fundraising event to the public. Perhaps you want to post the news online on different social media platforms, send out emails, or advertisements through television or radio.
5. Targeted Participants
If you plan to invite other participants or sponsors like food stalls or other concessionaires then make sure to include this in the proposal as well.
6. Include Finacial Information
Since you need funding for the event then it is important to include specific financial information, including a budget for the use of any money received.
7. About Your Organization or Yourself
Readers would want to know a bit about the organizer of the fundraising event, so it is important to include a brief overview of your organization or if you personally are planning the event all by yourself or with a small group of people.
FAQs
What Is a Business Proposal?
This document is written to persuade a buyer to avail of a company's product or services. It's a sort of sales pitch with complete details about what is being sold or offered to the client.
Why Do You Need Events to Raise Funds?
Events are organized because it is the best place for people to interact and reach a wider audience who may want to help and donate to the cause.
What do you get from Sponsoring an Event?
When an individual or an organization sponsors an event, there is an exchange for something valuable such as increased brand exposure, access to attendee data, speaking opportunities at the event, advertisements, or discounted event tickets.
Creating a fundraising event proposal is your first step for planning an event, so you have to ensure this is well-crafted and persuasive enough to help you with the funds you need. To make it easier for you to prepare, don't forget to download our free templates above!