No matter what size of your business or company is, it is always important to follow certain procedures that will ensure its products are being managed properly. You don't just begin the selling process without trying to assess and make sure that the quality meets the standard requirement. Each of the products and services must exist in order to provide value to the person who is purchasing and availing it. That is why there is what we call a quality assurance plan that will help us ensure that the products meet the customer's needs most especially to the industries. It also helps in reducing the chance of getting errors during the process of production and in highlighting specific aspects and areas that would definitely need some improvement. In this article, you will be able to know more about the details of a quality assurance plan.
10+ Quality Assurance Plan Samples
1. Quality Assurance Plan Template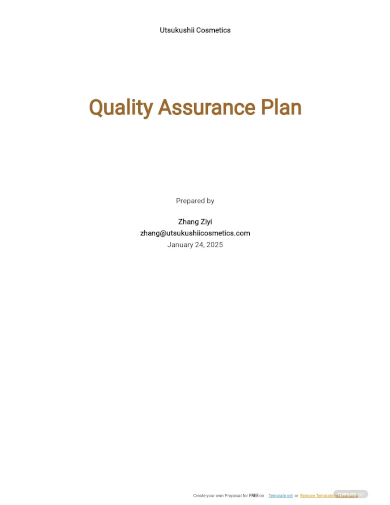 2. Project Quality Assurance Plan Template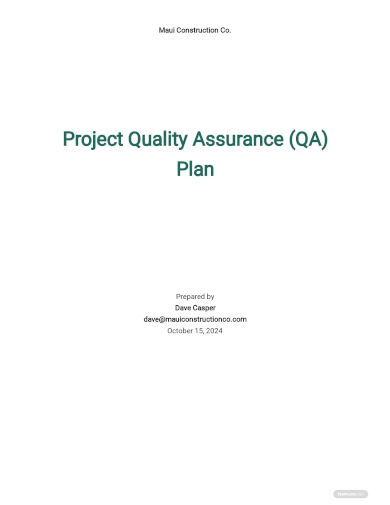 3. Quality Assurance Business Plan Template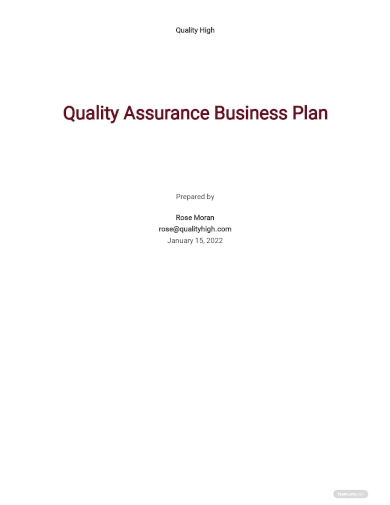 4. Quality Assurance Plan
5. Project Management Quality Assurance Plan
6. Construction Quality Control Assurance Plan
7. Quality Assurance Project Plan
8. Laboratory Quality Assurance Plan
9. Software Quality Assurance Plan
10. Quality Assurance Improvement Plan
11. Quality Assurance Surveillance Plan
What is a Quality Assurance Plan?
A quality assurance plan provides the essential information about the guidance, direction, and focus when it comes to monitoring, assessing, and reporting activities that are being associated into your business. Its main purpose is to give the management an insight about the processes and products that are being used and developed in time. Quality assurance process often includes a review and audit with regards to a project work and activities in order to provide verification about their compliance to the standards and procedures.
It is more focused on the quality goals, certain criteria, assessment, and the required validation methods. Its role is to be able to identify quality objectives for your project, identify requirements for skills and training, methods and equipment that can meet standards, structure and domains in the same subject matter and quality assessment, describe structure that facilitates checking of errors, describe tools and procedures, establish criteria and screening process, include quality metrics, establish a plan for quality assessment, contain processes for further corrections, and contain processes to dispute and correct the data.
So generally, a quality assurance plan is designed to help you identify and highlight key activities that can be used to perform and monitor to provide a specific comfort to the aspects to where a quality framework has to be addressed. It also provides an accountability by making sure that the quality assurance work is completed as planned. Aside from that, it facilitates coordination within the activities which includes internal audit, quality assurance review and external audit. Lastly, it ensures in making appropriate resources available that can be used to perform different monitoring functions.
FAQs
What are the steps in creating a quality assurance plan?
It includes defining the quality objectives, knowing your roles and responsibilities, implementing the quality assurance plan, examining the results, making adjustments, and keeping your team in the loop.
What are the elements of a quality framework?
It includes leadership responsibilities, ethical requirements, quality monitoring, audit mandate and selection, human resources, and engagement performance.
What is included in the quality assurance plan outline?
It includes the general information which speaks about the purpose, scope, project overview, project references, and points of contact, the schedule of tasks and responsibilities, the system documentation, review and audit, testing, problem reporting and corrective action that comprises the problem and the reporting metrics, the tools, and risk management.
Using a quality assurance plan template can be effective especially when you are trying to make every detail adaptable. However, it would usually depend on the needs of the company. It can be adapted in some circumstances specifically with regards to product quality assurance. The goal of the quality assurance plan is to be able to focus on the defined areas. If you want to see more samples and format, try to check some of the quality assurance plan samples and templates provided in the article for your reference.