Daily physical activity is crucial to a child's physical and mental well-being and development. While physical activity and fun play and exercises are important, it is also crucial to ensure that positive learning experiences and physical education should be fun, exciting, and enriching for students. That's why physical education is present in schools' curriculums. While PE might sound like a big chore for students, you as the teacher can take advantage of this situation to cater to your student's capabilities and pique their interest through various physical activities. To help you with this, you need a lesson plan to serve as your roadmap. This article will guide you on how to make a physical education lesson plan.
10+ Physical Education Lesson Plan Samples
1. Physical Education Lesson Plan Template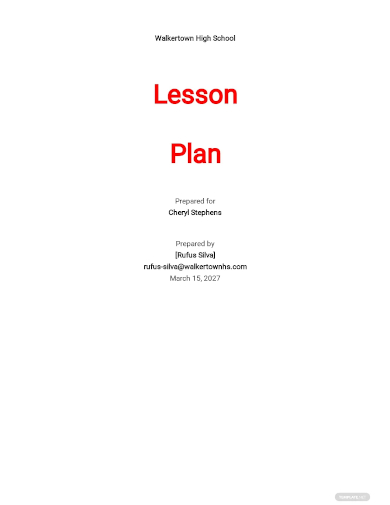 2. Physical Education Week Lesson Plan
3. Sample Physical Education Lesson Plan
4. Physical Education Lesson Plan Form
5. Basic Physical Education Lesson Plan
6. Elementary Physical Education Lesson Plan
7. Printable Physical Education Lesson Plan
8. Physical Education Online Skills Based Lesson Plan
9. Physical Education Workshop Lesson Plan
10. Physical Education Differentiated Lesson Plan
11. Editable Physical Education Lesson Plan
What is the Four-Part Lesson in Physical Education?
The four-part lesson structure in physical education serves several purposes.
It prepares children for physical activities and lets them start doing the activity right away
It ensures they get moderate to vigorous physical activities
It ensures that the teacher teaches skills
It establishes a structure where students know what to expect and for organized lessons
1. Introductory Activity
Start the lesson with an introductory activity. You can do some warm-ups or a crash course lesson for the main activity the students will be doing for the rest of the class to give them a heads up on what they're supposed to do and help them prepare for it. Make sure the activity you do in this session is easy so you can test the waters for lesson management and encourage the students through immediate and positive feedback.
2. Fitness Activity
The next part of the lesson is doing the fitness activity where you expose students to a variety of exercises and activities related to health and fitness. This activity will let students personalize their physical activity suited to their capabilities by making choices on how intense their physical activity could get.
3. Lesson Focus
This part is where you focus on teaching students skills and refining them. Those skills are necessary for them to function comfortably during an activity. This part of the lesson must have a goal to obtain outcomes such as skills development for the student.
4. Closing Activity
The last part is to apply your teachings through a series of fun activities such as games. This will help you reinforce skills learned by students and allow them to apply them in a game or any fun and exciting activities.
How to Make a Lesson Plan
Know your students: Understand the type of students you will be teaching since this will be a huge factor in how you will plan your lesson teaching. Customize your lesson plan to incorporate all learning styles by using individual and group exercises. Keep in mind that you can alter any activity depending on the amount of time and size of the class. Follow your gut on this one.
Create learning objectives: Learning objectives are statements that provide a detailed description of what students will be able to do when they complete a course. Make sure your learning objectives are simple and straight to the point.
Plan your lessons based on your learning objectives: Outline the main topics you want to cover during the lesson. Make sure they are realistic and achievable.
Plan your timeline: Since classes have a limited time to cover all the lessons you plan to teach, you can break the plan into sections according to the allotted timeline provided for you. This will let you adjust on how to progress on teaching the lessons depending on the amount of time remaining. To ensure your learning techniques are well-rounded, encourage your students to ask questions and share ideas during the class but be mindful of the time and the lesson plan.
FAQs
What are the activities to do in physical fitness?
Walking
Jogging
Hiking
Swimming
Yoga
Aerobics
Dancing
Weight Lifting
Tennis
What are the competencies students can learn in physical education?
The following mentioned below are important competencies for students to learn in their physical education classes:
Move: Students develop psychomotor skills, tactics, and strategies that will help them in a variety of physical activities in different environments.
Think: Students develop cognitive skills and strategies for activities that will help them in critical thinking, decision-making, and problem-solving. 
Feel: Students develop effective skills and strategies that will help them create healthy and safe relationships with themselves, with others, and with the environment.
Act: Students will practice behavior skills and strategies with more competence and confidence within themselves.
Writing a lesson plan for your students takes a lot of time, especially since you need to customize your physical education lessons and activities according to your students' capabilities and apply those to their development. At the same time, you need to make sure your lessons align with the school's curriculum. Don't forget that the essence of a lesson plan is for you to use as your guide to ensure the learning goals you've created for your students are met in the time allowed. To help you write the lesson plan, download our free sample templates provided above to use as your reference!