Exercise strengthens not just your muscles, but also your heart and bones, decreases blood pressure, and, of course, helps you lose weight. If they have access to a gym, many people are able to keep to their workout habits. When you go to the gym once in a while, you'll notice that you're much healthier and thinner than the others. A gym's ultimate objective is to assist its members in becoming healthy. Do you want to start a gym and make a profit? It may be difficult, which is why you need a well-thought-out strategy. You've come to the right place! In this article, we provide you with free and ready-to-use business plans for your future gym in PDF and DOC formats that you could use. Keep on reading to find out more!
9+ Gym Business Plan Samples
1. Gym Business Plan Template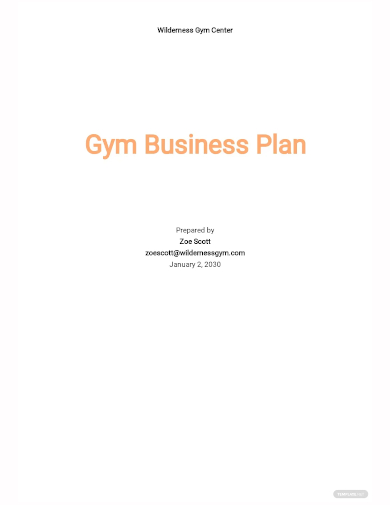 2. Gym Business Plan
3. Ultimate Gym Business Plan
4. Gym Business Operational Plan
5. Sample Gym Business Plan
6. Gym Equipment Business Plan
7. Gym Container Business Plan
8. Gym Annual Business Plan
9. Standard Gym Business Plan
10. Basic Gym Business Plan
What Is a Gym Business Plan?
More than simply the appropriate fitness equipment goes into a good gym. Running a profitable fitness facility necessitates the development of a gym business plan. A gym owner should know how to develop a business plan for a gym if he or she wants to attract outside investors or just grow their business. For up to many years, a strong company plan may act as a roadmap to development and sustainability. As we emerge from the one-of-a-kind financial crisis brought on by the coronavirus pandemic, now is a particularly good time to update your plan or create a new one that can adapt to changing circumstances.
How to Make a Gym Business Plan
You must consider the sort of clientele you will serve, membership and subscription prices, exercise programs, and fresh methods to set your fitness center apart from the competitors. Starting with a business plan is the greatest way to plan everything out and use your skills. A Gym Business Plan Template can help you provide with a framework you need in order to ensure that you have a thoroughly-written and well-structured business plan in hand. For that, you can choose one of our excellent templates listed above. If you're interested in writing it yourself, you can follow this structure below to guide you:
1. Executive Summary
Because this is a summary of everything else in the plan, save it for last and put it at the top of your finished business plan. It should include a summary of everything you want to achieve with your gym business in the following year. It should also include a concise explanation of your gym's product and service offerings, as well as your goal statement.
2. An analysis of the market and its competitors
To create this section, you'll need to research your local market as well as your gym's ability to effectively integrate into it. Include some factual facts and figures to demonstrate where the market has been and where it is anticipated to go. This part is critical since it necessitates a business owner's investigation of their competitors. You should make a list of direct and indirect rivals, as well as their strengths and shortcomings, as well as how your gym compares.
3. Your gym center's products and services
Include a thorough breakdown of what you offer your gym members in this area. This might include membership choices, group courses, fitness equipment available, and personal training alternatives. Child care alternatives, unique training chances for community teams or organizations, and guest options are all possibilities. Discuss how your products or services meet the demands of your target audience. Also, include any intentions to expand or alter goods and services in this area, as well as the estimated cost and payoff for such changes.
4. Financial predictions
Include your most recent year's financials, as well as your expected income for the next year or many years. Those forecasted sales should be based on your thorough market study. You'll be ready to accomplish your company goals, whether you're asking money or simply pushing forward to greater success, once you've spent some time writing a thorough gym business plan.
FAQs
What are the main functions of a gym?
Individual exercise possibilities include aerobic training, weight training, and swimming, as well as structured, group instructional programs such as spinning classes, yoga, and martial arts. Organized and spontaneous team sports are also available.
Why do so many gyms fail?
Apart from a lack of income, the most common cause we find for health club failure is a lack of business know-how and a failure to properly implement sales and marketing plans.
Is it profitable to run a gym?
Previously, going to the gym was considered a luxury. However, it is increasingly considered part of a healthy lifestyle. Millennials aren't the only ones who have become health-conscious; their parents and relatives have as well.
The physical advantages of local gyms are generally used to determine their worth. People who are healthier have lower blood pressure and stronger hearts. Local gyms are viewed as a symbol of development in the community. As a result, you'll need a business strategy to guarantee the success of your new gym. Download our easy-to-customize and comprehensive Gym Business Plan examples today to get started!