Businesses can be very complex entities to manage, especially when you want your venture to be a success in the longer run. It can definitely be  quite a chore to keep track of everything, making sure that all of the components of your business is covered and well taken into account. That is why to be able to create a proper layout is very important for business owners, for all businesses of all shape and size, startup or already well established ones. A layout keeps everybody, especially business managers or supervisors, on track with all of the things that the business may encounter in the middle of the duration of the business. Being able to plan out the scopes ahead of time is good business practice, as it helps that them prevent wasting valuable resources on projects and ventures that may just ultimately fail. A well established plan is set to be in place, as it just helps bring the concept all together really well. Making every business operation as smooth as butter.
The plan that we talked about just about now is also commonly called as a business plan. A business plan is essentially a document that any business must have in order to have a set of guidelines that they can follow in order to reach the milestones that they plan to achieve. Operating without a business plan is generally discouraged, especially if you're trying to establish a business in a largely underappreciated industry with the competition being highly concentrated.
Boutique businesses often rely on a already high demand or the absence of competition in a particular area. I stated that the business is highly underappreciated since not all people realize that a lot of their favorite shops or where they shop for their favorite brands are boutiques. I mean, it's not that highly emphasized but you sort of get the point. Boutiques are small financial firms or shops that cater to specialized services for a particular segment of the market. And because of focusing on specialized services for a particular market, competition can be quite concentrated. Like clothes and apparels for example, there are only so few brands that operate in countless shops and boutiques in the industry. That is why, to make sure that your own venture is and will be a success, you need to write a compelling boutique business plan.
A well written business plan can easily give you exactly what you need, when you need it, and how you need it. Acquaint yourself with what the document is, how it works and what it looks like, by checking out these boutique business plan samples that we have listed for you down below. Once you've familiarized yourself with the document, feel free to use these samples as guides or even as templates for when you write your own boutique business plan.
10+ Boutique Business Plan Samples
1. Boutique Business Plan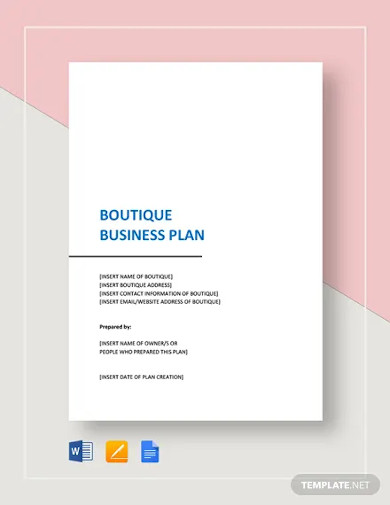 2. Online Boutique Business Plan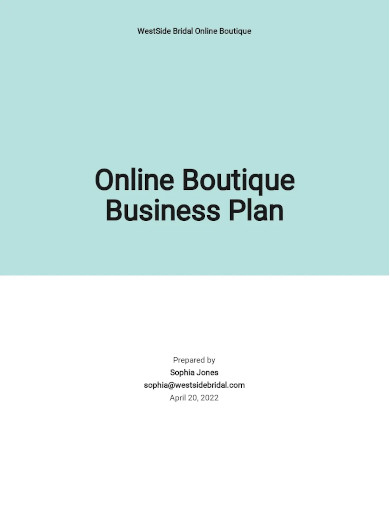 3. Women's Clothing Boutique Business Plan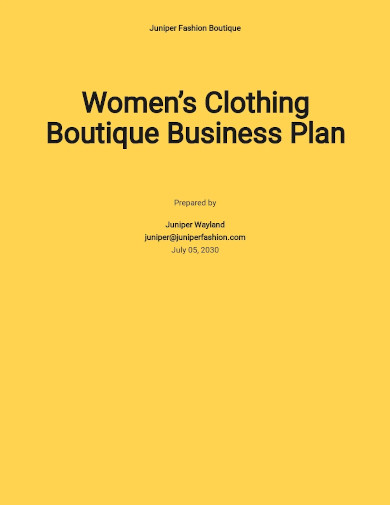 4. Business Plan for Fashion Boutique
5. Sample Women's Clothing Boutique Business Plan
6. Clothing Boutique Retail Business Plan
7. Sample Boutique Business Plan
8. Simple Boutique Business Plan
9. Boutique Business Plan Example
10. Hotel Boutique Business Plan
11. Printable Boutique Business Plan
What Is a Boutique Business Plan?
A boutique business plan, or just any business plan in particular, is a written document that describes how a business would choose to define its objectives and what steps the management would be willing to take in order to achieve the milestones that they have set. A business plan provides a roadmap that the whole company can follow, especially the different departments of the company such as marketing, financial, and operational. Business plans can be very beneficial since the document can also be used to attract a potential investment or partnership even before the business has even been established.
A good way to secure additional funds and resources fairly early on. And although the document can be more useful for new businesses and companies, every business or organization must be able to write their own comprehensive business plan. Doing so will enable them to review and update the goals periodically to see if the goals have been met, and how the circumstances that they have been previously working with has changed. A good business plan is one that is able to outline all the projected and estimated costs of a project, as well as identify the pitfalls of the decision that a company might make. Despite being widely prominent in businesses and in the industry overall, it is still very unlikely for businesses to have identical business plans, since most companies have their own unique way of dealing with their own unique issues.
Elements of a Boutique Business Plan
The length of your business plan greatly varies depending on the nature and the scope of your business that you document will focus on. Though it is pretty usual for all of the information in your document to fit into 15 to 20 pages. And even if no two business plans are alike, most of them do work with almost all of the same elements. These elements will be listed and discussed in detail below.
Executive summary
The introductory section of your document should be able to outline the company and all of the information that may be related to the company's mission-vision values, company leadership, employees, operations, and the location of your business operations. The executive summary should talk about what the company is and what it's for, the nature of business, and other necessary information that needs to be present.
Products and services
This section is where the company should present the products and the services that they are offering. It should also list the pricing, product lifespan, customer benefits, and other factors like the manufacturing and production processes, patents, as well as the proprietary technology.
Market analysis
A company has to have a perfectly clear idea of its target audience and their demographic. As a business owner, you should be able to get to know your market, outline who or what the competition is, and have an idea on how to stay on top of that competition. Market analysis will also give you the expected consumer demand for the business and how difficult it would be to take advantage of that.
Marketing strategy
Once you've analyzed your market, it's time to lay down the strategy that the business will take in order to attract the customer base and maintain them. Talk about how the business will reach the customers by outlining a clear distribution channel, including marketing and advertising campaigns, and through which mediums will those campaigns be disseminated.
Financial planning
The business plan should also contain the overall financial planning of the business to attract the audience of your document. Financial statements, balance sheets, other financial information that may be included, especially for businesses that have already been operating for quite a while.
Budget
Of course, every business needs to have a proper budget in place, so present that. Costs, staffing, manufacturing, development, marketing, and all other expensed that may be related to your businesss.
FAQs
How much does it cost to open a boutique?
Clothing boutique owners estimate the cost of starting a clothing boutique to be anywhere around $50,000 to $150,000.
What are the five elements of a business plan?
Situation analysis
Market definition
Product and services position
Objective setting
Strategies
What is inside a boutique?
Boutique are specialty shops that sell limited types of products. A retail boutique chain may sell clothing, makeup, hair products, and some may even offer food in the same place.
One last very important thing to remember when writing a business plan is that the document is not supposed to be static. It's a live document, meaning that it should be susceptible to change over time. The business plan has to be able to adapt to changes in circumstance and can be adjusted when updates need to be made.