An office  Lease Agreement is signed by the parties involving the lessor renting his office premises to the lessee for a fixed duration of time in exchange of monthly payments. The cost of utilities and maintenance of the office bears with the lessee.
The document must clearly state the amount and mode of payment and steps to be followed in case of a default in payment. All the terms and conditions are laid down to prevent any clash in rights of both the lessor as well as the lessee. Duration of these Lease Agreements is stated. You can now download the templates for Office Lease Agreement In word and pdf format right here.
Sample Office Lease Agreement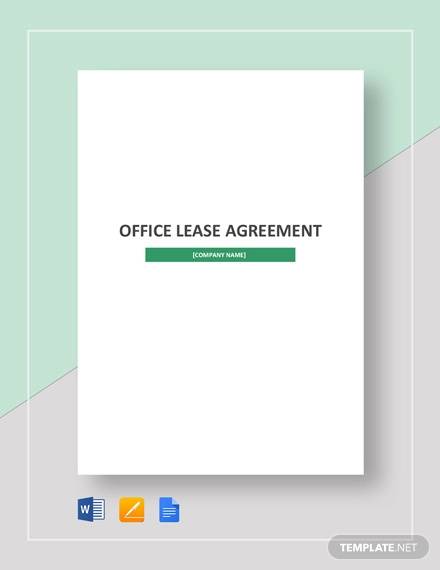 Washington Office Lease Agreement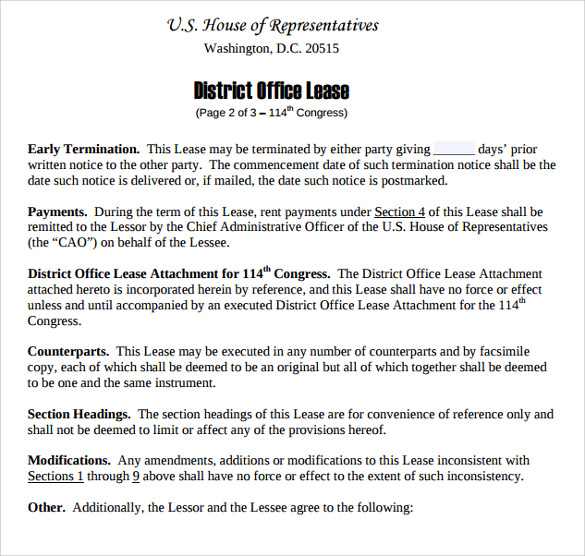 This is a district office lease agreement sample on the letterhead of US House of Representatives, Washington DC. It contains all the details of both parties, along with the terms and conditions of the lease. It is a 3 page lease agreement that you can modify and print as per your own individual requirements.
California Office Lease Agreement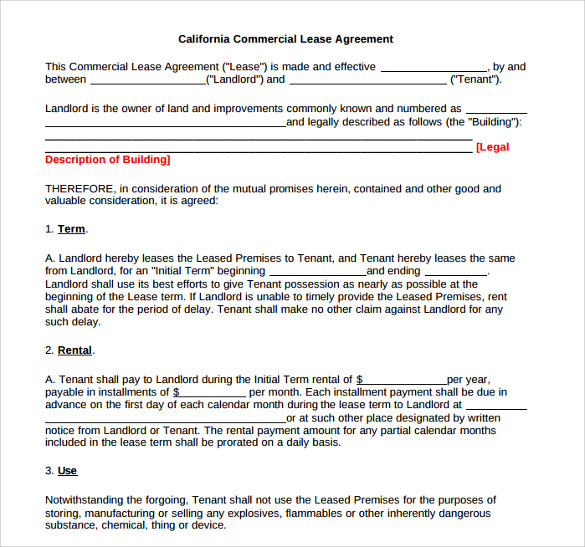 This is a California office lease agreement that is signed between a tenant and a landlord. It explains the party details, along with the term, rent and usage of the property, along with other rights and responsibilities of both the parties. You can make the necessary changes and print it out to see how an office lease agreement is designed.
Office Lease Agreement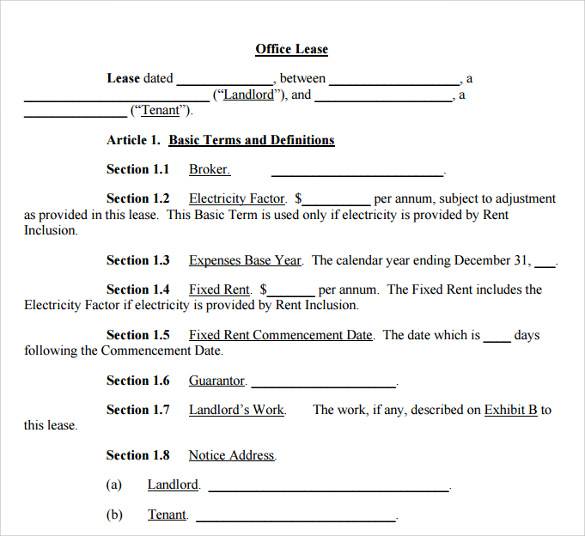 This is a basic office lease agreement that is designed to include each and every detail about the parties, along with the broker and the guarantor, the property, and the terms and conditions related to the lease. There are certain aspects that both parties have to agree upon before entering into the lease, including the electricity bills, base year expenses,
Standard Form Office Lease Agreement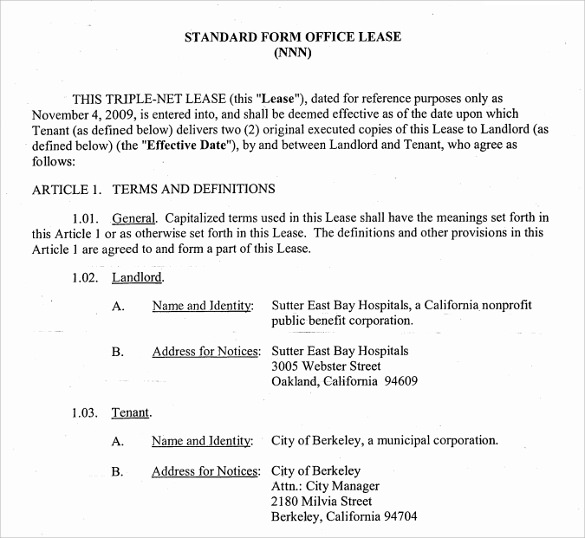 This is a triple net lease agreement that serves as a standard form office lease agreement. It contains details of the landlord and the tenant, the property to be leased, and the terms and conditions of usage. Any party may download and print this agreement to enter into an office lease in written form.
Cape Gate Office Lease Agreement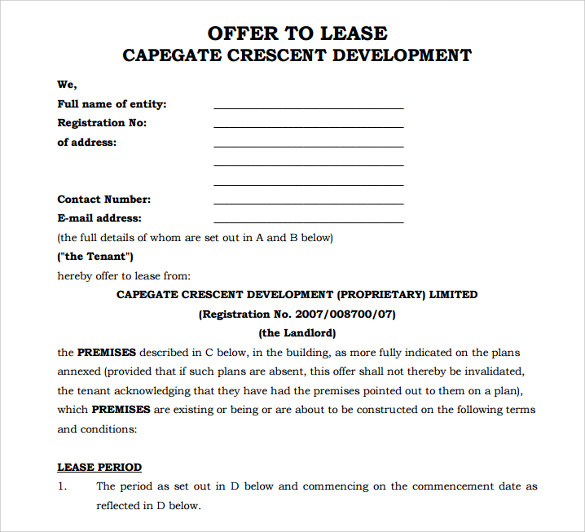 Cape Town Office Lease Agreement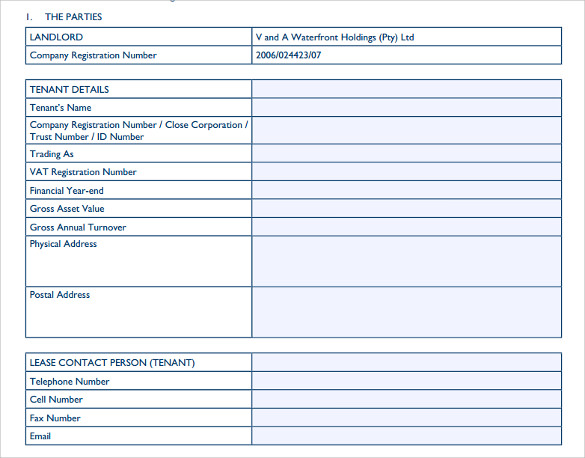 Iraqi Airways Office Lease Agreement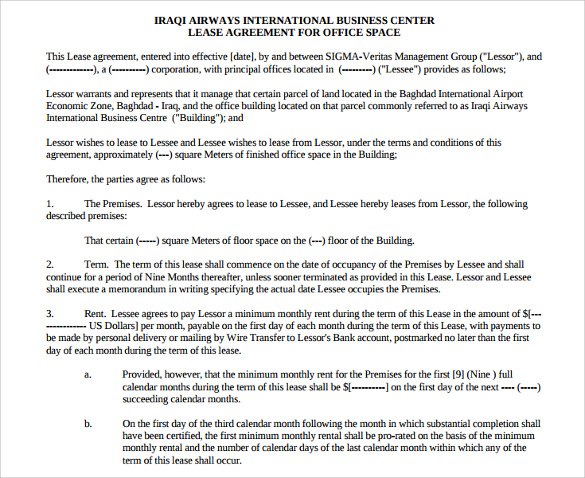 Why Do You Need an Office Lease Agreement Template?
Whether you are a landlord or a tenant, entering into a lease without getting it signed on paper is an open invitation to trouble. Even if you are renting your property to a relative or close friend, it is always recommended to get papers signed beforehand.
With an agreement, you get the legal rights to sue the other party, in case it does not abide by the agreed upon terms and conditions. So, if you are planning to enter into a property lease, you can use these office lease agreement templates to get things done on paper. You may like Commercial Lease Agreements.
When Do You Need an Office Lease Agreement Template?
You need an office lease agreement template if you are a landlord and giving your office property to a tenant on rent. You may also use these templates if you are a tenant taking an office space on rent from a landlord.
You can use these templates at the start of a lease, in the middle, or at the time of renewing it too. You can also see Apartment Lease Agreements.
Benefits of an Office Lease Agreement Template
An office lease agreement template is a highly beneficial document that saves you from entering into a lease without a professionally made lease agreement. As these templates are designed by professional experts, there is no scope of errors and loopholes. These are easy to download, use and customize as per your individual requirements and preferences.
A lease agreement is an ultimate necessity while entering into a lease. Whether it is a residential or a commercial lease, it is very important to get things signed. These office lease agreement templates help you to get everything done in a professional and safe manner.
If you have any DMCA issues on this post, please contact us!