Inventory plays a vital role in every business. It is the primary asset of the company and the main source of income. However, tracking and monitoring such inventories is not as easy as you think it is. Also, it is not simple to understand. That is why it is easy if you'll use an excel template to help you. If you're looking for an excel inventory template, you can download ours. They are easy to edit based on your needs and requirements. Read this whole article to explore more about this topic.
FREE 10+ Excel Inventory Samples
1. Business Inventory Calendar Template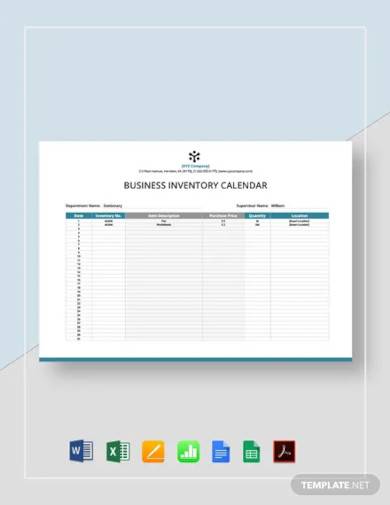 2. Inventory Sign Out Sheet Template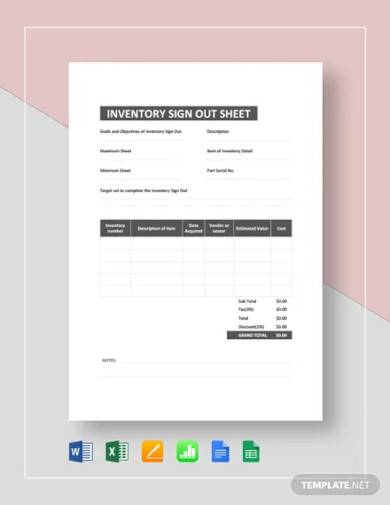 3. Inventory Worksheet Template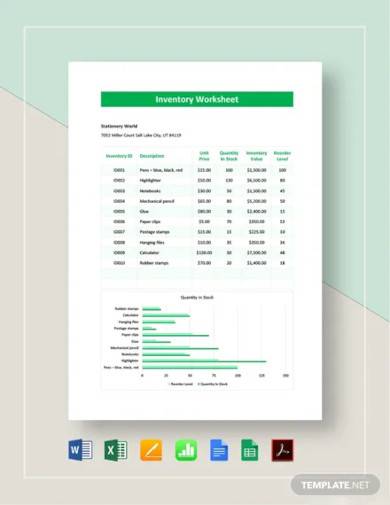 4. Inventory Spreadsheet Template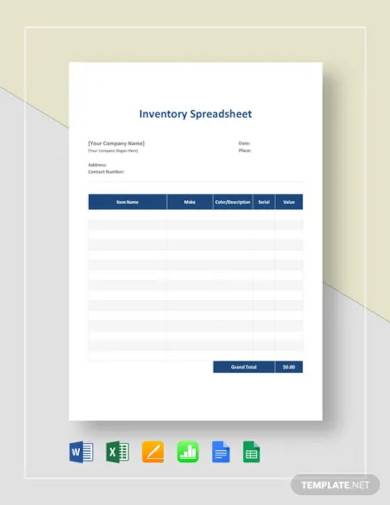 5. Inventory Count Sheet Template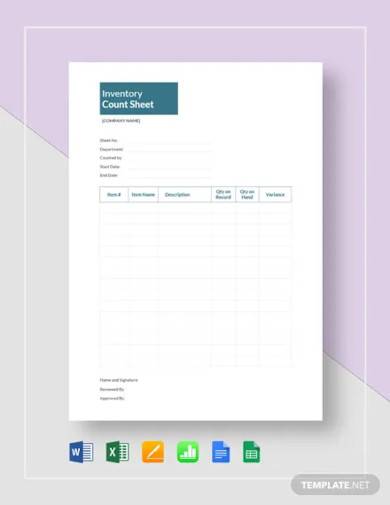 6. Inventory Sheet Template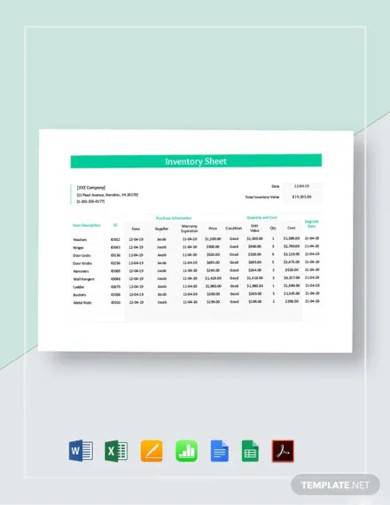 7. Free Storage Inventory Template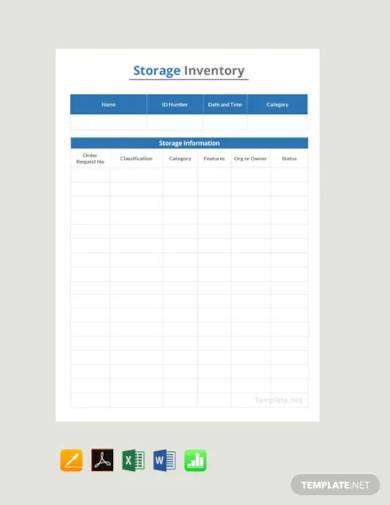 8. Free Landlord Inventory Template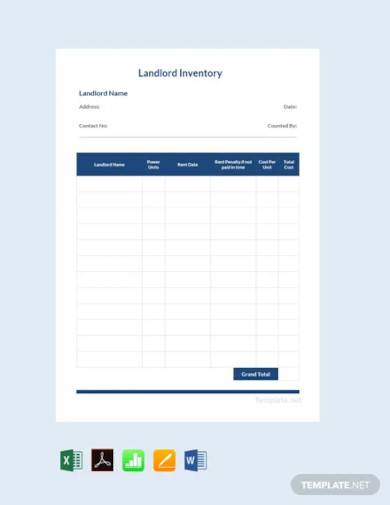 9. Stock Inventory Template
10. Restaurant Inventory Template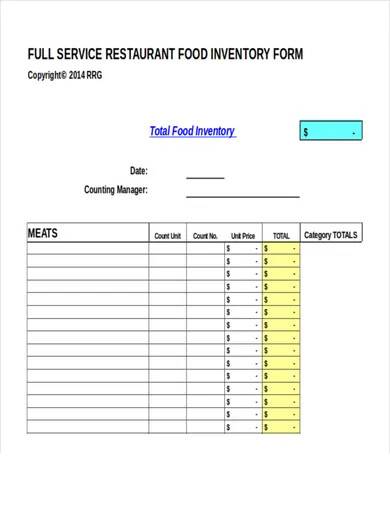 11. Sample Chemical Inventory Template
What Is an Inventory?
The term inventory refers to all the goods, stocks, merchandise, and other materials held by a company for selling to earn money and profit. It is one of the most crucial business assets. It's because the turnover of inventory is one of the primary sources of revenue generation and successive earnings for the stakeholders. It is the primary asset of the company. Also, it acts as a barrier between manufacturing and order processing. When an inventory stock is purchased, it will transfer into the cost of goods sold (COGS) on the financial statements.
How to Manage Your Excel Inventory Sheet?
Tracking your inventory might not be the easiest thing to do. Fortunately, there is a better way to track it without spending a penny. It is by using Excel software. Microsoft Excel is an excellent data management tool for all types of data. With Excel, you can create everything, including simple to complex spreadsheets that integrate automatic calculations, data validation, and even tables that display your data in an innovative, visual way. But the question is, how to manage an excel inventory sheet? Here are the tips and points that can help you:
1. Avoid Mistakes and Pitfalls
Humans are prone to commit errors and mistakes. That is why many professionals avoid using Excel for inventory management. Finding faults on the data sheets is also challenging unless you know what you're looking for. So, you better make sure to avoid such mistakes and pitfalls. The only way to prevent this is to develop the best practice of self-audit and daily review to reduce errors.
2. Update Immediately
Ensure that anyone managing orders update the Excel document immediately to prevent problems. Excel is not a real-time inventory management system, so you won't see the actual inventory value at that time. However, it is crucial to ensure that it is updated as often as possible to avoid issues like overselling a product that you cannot back up.
3. Use a Cloud
Offline Excel files are extremely limited since only one person could use the sheet at a time. Using Excel Spreadsheets in the Cloud or Google Drive, ensure that numerous people are invited to the sheet and edited at once to improve self-auditing, input data from various sources, and accelerate the processes. It also comes with the added benefit of automatic backups and synchronization across all your devices so that you can edit them on a laptop or your personal computer.
4. Take Time to Consolidate Data
Taking time to consolidate your data monthly can allow you to create charts that show how much you've sold in each period. Do this monthly or quarterly. Also, you have to pay special attention to holidays and occasions. Excel can't quickly analyze your past data, and it is one of the main problems of using Excel spreadsheets. However, taking the time to add your full month data to the easy-to-read table format will solve it. Although it is time-consuming, it allows you to track your sales during different seasons.
5. Review and Audit Your Data
Excel may be a valuable inventory tracking tool, but it's up to you to make sure you're tracking and calculating everything you need. Excel relies on people to input the data unless you have a barcode reader attached to your system, and not all of it is automated. It will result in human error, which can throw away the whole supply and demand when you reorder too much or not enough or underestimate or overestimate profits. That is why you have to review and audit it now and then. Making sure that you have the right data can save you from expensive and time-consuming mistakes.
FAQs
What are the types of inventory?
The basic types of inventory are the following:
Raw materials

Finished goods or stocks

Work in progress inventory

Maintenance, repair, and operation goods

Packing materials
What is the role or purpose of inventory?
The main role of inventory is to track your products, stocks, and supplies. An efficient system keeps track of when you purchased the stocks, when you sold them, and how much you have on hand. It informs you of the location of your inventory, too.
What are the stages of inventory?
The basic stages of inventory are the following:
Raw materials

Unfinished products

In-transit inventory

Cycle inventory
Managing and tracking your inventory would never be easy unless you have the right template for it. Also, it is not easy to understand. It requires so much effort and time to manage and monitor it. For easy tracking, you can use our downloadable excel inventory templates. Download it now and get started!