There may come a time wherein you have to move from your home or office to relocate to a different location. Although when you think about it, moving out of your home or office can be exciting, but it can most often become overwhelming and stressful especially if you do not have an organized process on how to do it.
Preparing your move a few months ahead is important to ensure that you will be able to do everything in an orderly manner. When moving out, it is also essential for you to have a moving checklist for you to be able to list down each of the tasks that you will need to do, including the materials that you need to prepare, and other important items that you need to remember.
Sample Moving Checklist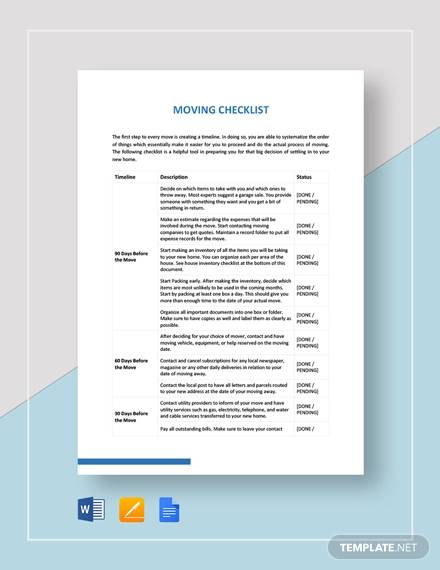 If you need to create a moving checklist, you can refer to the guide available below. Here, we will talk about the importance of having a moving checklist, some tips to help you move out in an efficient and organized manner, and other information that will be useful to you. We have also included various moving checklist samples that you can download to help you easily create one.
Moving Checklist Template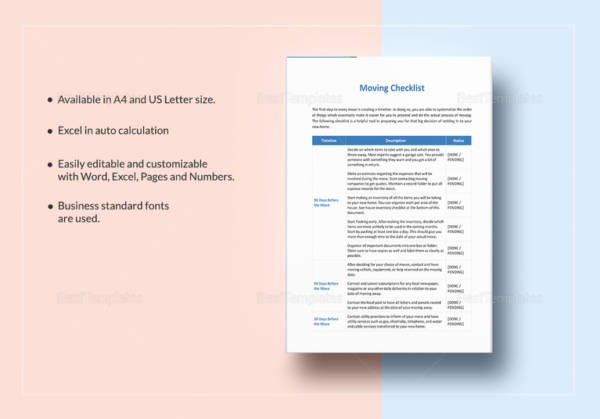 International Moving Checklist Sample
Sample Moving Checklist in PDF
Printable Moving Checklist Template
Why Is a Moving Checklist Important?
Whether you are a business owner or a homeowner, having a moving checklist is essential. Through a checklist, you can ensure that everything goes well, from the planning to the day you are moving out of the location. Listed below are some of the reasons why having a moving checklist is important. You may also like housekeeper checklist samples.
The reasons are as follows:
House Moving Checklist Template
Residential Moving Checklist Template
Ultimate Home Moving Checklist Template
Local Moving Checklist Template
Moving Checklist Sample Format
Steps for Developing a Moving Checklist
Creating a checklist does not involve a complicated process. Depending on how you want your moving checklist, you can create one using a piece of paper or a computer software. If you don't have the time to create one from scratch, you can also download the moving checklist templates that we have provided on this page. Furthermore, you can refer to the steps that we have included below so you will have a guide on how to effectively create your document.
The steps for creating a moving checklist are as follows:
Simple Moving Checklist Template
Sample Moving Checklist for Office
Complete Moving Checklist Template
Essential Tips to Remember for a Hassle-Free Move
As we have mentioned above, moving out can be a stressful task especially when it involves moving heavy furniture and office equipment checklist. Although this can be an overwhelming process, there are certain steps that you can take such as staying organized and prepared to make this process much easier for you. Below are some tips to help you have a hassle-free move, whether it is from your home or office.
A moving checklist is one of the most important documents that you can have when you plan on moving out of your apartment or home. Through the guides that we have provided above, you will be able to properly plan your move. By following the tips above, you can ensure that you will have a hassle-free and organized move.
Furthermore, should you need help in creating your moving checklist, the samples and the templates that we have carefully picked out for you above can be personalized to fit your needs. Other than the moving checklist templates, we also have other types of checklists available such as a wedding checklist, project checklist, and a cleaning checklist.