When it comes to businesses, there will come a point in your life where you will find that there is a need for you to loan some money for expansion purposes or to buy new equipment or inventory. You will usually find yourself filling out a loan request form at a bank or at an established lending company. During your loan application, you will find that there are a lot of documents that you need to accomplish and one of them is a security agreement.
Security Agreement and Promissory Note Template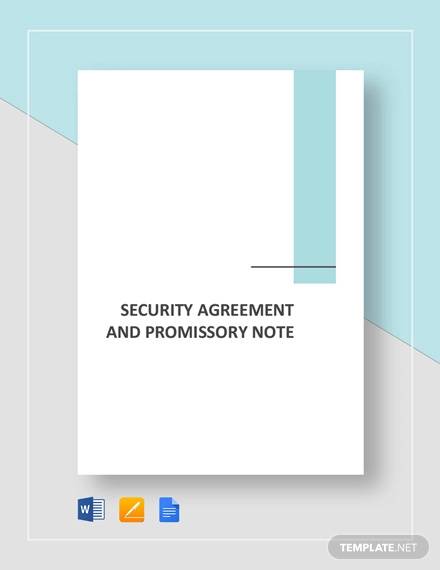 Security Agreement Covering Consumer Goods Template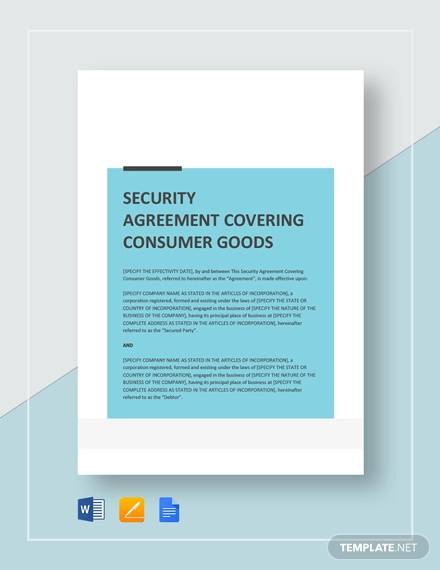 Security Agreement With Copyright As Collateral Template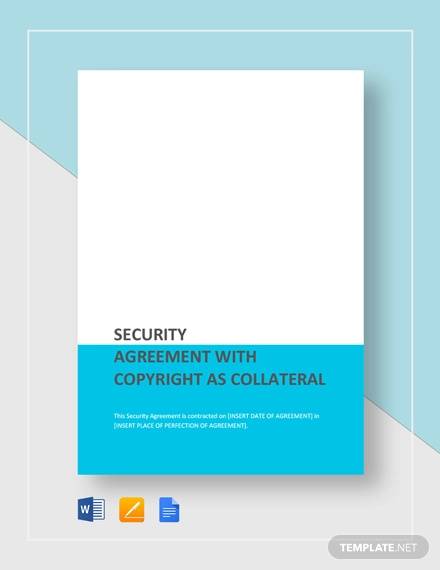 Sample Restaurant Security Agreement Template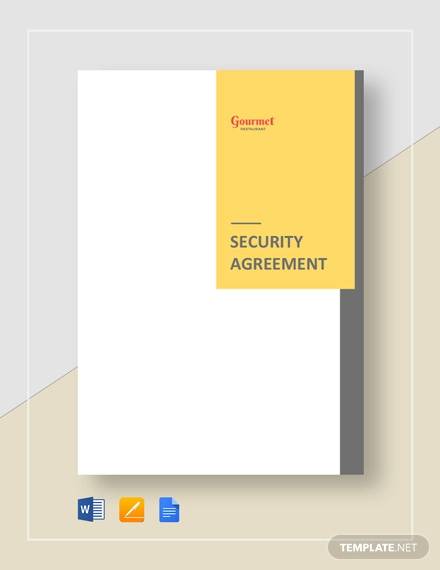 A security agreement is basically a document that gives the lender a good amount of security with regards to the collateral that has been pledged by the debtor. This agreement outlines provisions and clauses regarding the loan and that the lender is entitled to seize the collateral. This agreement also aims to remind the debtor what situations are considered to be a default and what are the possible events that could happen should a default occur.
Model Intellectual Property Security Agreement
If you are new to drafting security agreements, we have your back! We will give you a basic guideline about what you can do in order to start drafting your very own security agreement. To make things even more convenient for you, we have also included free security agreement templates that you can readily download from this very article.
Security Agreement Drafting Checklist
Transaction Security Agreement Form
Direct Loans Security Agreement
Coming Up with a Security Agreement
A security agreement is considered to be legally enforceable, so you have to make sure that you are able to write one that is comprehensive and easy to understand. We would like to share a couple of tips regarding writing one that would help you out.
How to Get Started
Secure the format of the agreement ahead. Format matters when it comes to security agreements as it adds to the legibility of the document. Set the font size between a 10pt–12pt and the font style to Times New Roman, Calibri, Arial, or Georgia. You can pick whatever font style you want to use as long as it looks professional. You can take a look at our Agreement Format article to help you properly format your service agreements.
Do not forget the title. The title helps to establish what the document is all about. It is typically center-aligned, in all caps, and can also be set to bold. It can also be bigger than the rest of the text to make sure that it stands out.
Know who is involved. Make sure that you identify who the parties involved are. Distinguish who the lender and the borrower/debtor is.
Security Interest Details
Security interest provisions. Make sure that you include a provision stating that the debtor is granting the lender a security interest in the property or the collateral.
Describe the obligation that is secured. Make sure that you tag a security interest with the loan by identifying the date the loan was made, the names of the parties involved with the loan, as well as the amount of the loan.
Give a description of the collateral. The more details you include about the collateral, the better. Include documentation such as titles. Any type of asset or property can be considered as collateral such as vehicles, bank accounts, investments, fixtures, equipment, etc.
Collateral restrictions. As long as the loan has not been fully paid yet, make sure that you state restriction in the agreement. The most obvious restriction would be not allowing the debtor to sell the property or transfer the ownership of the property considered as collateral.
Collateral maintenance. You want to make sure that you include a clause about keeping the collateral in good condition for the duration of the agreement. This helps to ensure that the collateral's value does not decline. Give a detailed description how to maintain the collateral.
Insurance for the collateral. Having insurance on the collateral helps to ensure that the collateral is well protected.
Explaining Failure to Pay Circumstances
Debtor warranties. Since warranties are considered to be legal promises, any warranty that proves to be wrong can be used by the lender against the debtor.
Default. Ensure that you include clauses about situations that will qualify as a default. Also, consider including a statement that will state that in case of default, the lender will take over the collateral of the debtor.
Collateral availability. Include a clause that will require the debtor to always make the collateral available in case of default.
Final Touches
Include a governing law provision. This will serve as a reminder for both parties about the laws that cover security agreements. Ensure that you review the laws in your state.
Severability clauses. Include a provision in case a court finds some of the provisions in your security agreement unenforceable. State that if the case is so, the rest of the provisions will remain in effect or enforceable.
Merger clause. A merger clause will state that the whole security agreement represents the whole.
Signature blocks. Make sure that you include a couple of signature blocks for the lender and the debtor to sign on. Label the signature blocks.
Have an attorney check your template. You want to make sure that you drafted your security agreement correctly. Having an attorney take a look at your drafted security agreement would be a great idea. To find a qualified attorney, contact the local bar association for a reference and ask for contact details. Once you get a hold of the lawyer, make sure that you ask how much he/she will charge for the service.
Are you going to draft a security agreement for commercial use? Make sure you take a look at Commercial Security Agreement Templates for more information on how you can do so.
Example Security Agreement to Download
General Commercial Security Agreement
Security Agreement Sample in PDF
What Is the Difference between Security Agreement and a Promissory Note?
A lot of times, people will get confused between what a security agreement is and what a promissory note is. Sometimes, they even get used interchangeably and that is a big no. While there might be some similarities, there are definitely a couple of differences that can help distinguish which is which. In this part of our article, we will briefly discuss what the differences between the two documents are.
Security Agreement
A security agreement is used in combination with a secured promissory note, which is one of the reasons why people probably use promissory note and security agreement interchangeably. Security agreements will often outline the business property as a collateral. This means that if the borrower fails to pay what has been borrowed, there is a specific action stated in the agreement that can be taken by the lender against the borrower such as demanding to have the collateral become his/her property.
Promissory Note
Promissory notes can either be secured or unsecured. The former means that there is no need to secure collateral for a loan whereas the latter means otherwise. When a default occurs with an unsecured promissory note, the lender's sole solution is to file a lawsuit in order to make the promissory not enforceable. With security agreements, on the other hand, there is no need to file a lawsuit.
Why Are Security Agreement Templates Needed?
To simply answer why there is a need to make use of security agreement templates is for convenience. Since security contracts are pre-formatted and will basically just ask you to fill in the gaps, it should be a fool-proof way of being able to easily come up with your very own security agreement. This makes coming up with the correct wordings a whole lot easier which can reduce the risk of confusion and any discourse.
Anyone can make use of the agreement templates that we have in this article any time that they want. Whenever you would need a surefire way of coming up with a good security agreement template, the free sample agreements will be your best friend.
As mentioned earlier, the templates are pre-formatted. What this means is that you do not need to do much as everything has already been provided for you. All you need to do is supply it with the information that you would need the lender and the debtor to know. It has already listed and has taken care of the most important facts and important points related to security agreements. It helps to ensure that the lender or debtor does not face any losses or any risks given that both parties will be doing their roles and responsibilities as stated in the agreement.
Need more references to business agreements? You should definitely check out our Sample Business Agreements.