Getting married can be a very exciting thing. Despite all the planning, wine and cake tasting, dinner rehearsals, wedding gowns, and bridesmaids, you want to make sure that when you enter a marriage, you are protected in terms of legal matters to ensure that you know what you have when push comes to shove—when we say push comes to shove, we actually mean divorce, separation, and maybe even death.
We know it is not very ideal to be thinking about separation and even death when you are planning your wedding day. However, it may not be such a bad thing to have a prenuptial agreement template and be prepared for the potential what-ifs that could occur.
Prenuptial Agreement Sample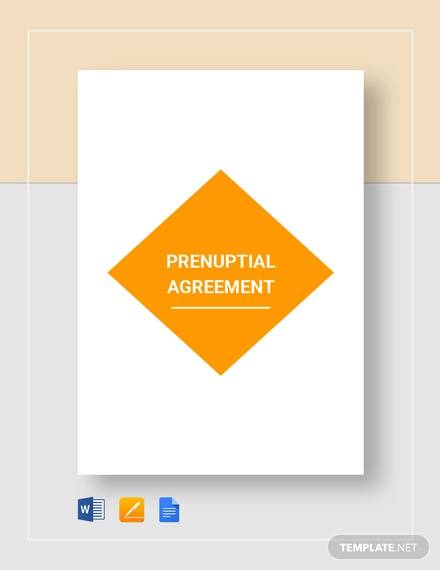 Prenuptial Agreement after Marriage Example
Sample Legal Separation Prenuptial Agreement in Word
Sample Prenuptial Agreement Template
If you are about to get married and considering to get a prenuptial agreement, we are here to give you a few useful information about these agreements in order to widen your perspective about it.
We have also a couple pros and cons that might help you decide whether a prenuptial agreement is for you and your partner. We also have a couple of free prenuptial agreement templates to download for your convenience and for you to use as reference when drafting your very own prenup. Make sure to keep reading this article to find out more.
Sample Prenuptial Agreement Intake Form in PDF
Couple Prenuptial Agreement
Sample Divorce Prenuptial Agreement to Download
What Is a Prenuptial Agreement?
A prenuptial agreement, or "prenup" as it is commonly called, is basically an agreement between two couples who will soon be married. In this agreement, couples will set the rights and responsibilities of the couple, and all properties and money that the couple has will also be disclosed in this agreement. Responsibilities and divisions should legal separation, divorce, or death occur will also be discussed in the agreement.
A prenuptial agreement is considered to be valid and enforceable if it is able to protect both you and your spouse. You should also make sure that the agreement was entered with a full and fair disclosure of the properties that you and your future husband have.
Issues Addressed in a Prenuptial Agreement
A prenuptial agreement form will usually address the following issues:
Separate Property. Separate property refers to the assets that you are bringing into a marriage. Your property continues to belong to you and you alone as long as it is stated in the prenuptial agreement that specific items are yours. It will always be separate from what belongs to your husband and the items that you obtain together when you are already married. Defining what belongs to you and what belongs to your husband will be useful should separation and divorce come your way.
Marital Property. This refers to the property that both of you consider being the property of you and your future husband.
Maintenance. This refers to the kind of support that you and your spouse will give during the marriage. This can include who would give up a job to raise kids. Discussions regarding the support that will be given during separation and divorce will also be discussed.
Child Support from a Prior Marriage. If you or your future spouse will be bringing a child or children into the marriage, and your spouse is not willing to adopt the child/children and vice versa, ensure that you discuss that the children will be well-provided for and discuss how this will be achieved.
Pre-marriage Debt. If you or your spouse will be bringing in debt into the marriage, discuss whether the debt will now be shared by the two of you or if it will be the responsibility of the person who incurred the debt.
Checklist for Drafting Prenuptial Agreement Format
Simple Prenuptial Agreement to Download in PDF
Prenuptial Agreement Free in PDF
Financial Disclosures Worksheet for Prenuptial Agreement Sample
Printable Premarital/Prenuptial Agreement
Free Sample Legal Prenuptial Agreement Form
Challenging the Prenuptial Agreement
You or your spouse may want to challenge the validity of the prenuptial agreement despite the fact that it is enforceable. Reasons for challenging the validity may include the following:
Separate Attorneys. If you and your spouse do not have separate attorneys, a court judge may look into your prenuptial agreement if it is unfair. Any unfair statement or provision in a prenuptial agreement may make it unenforceable and therefore, invalid.
Fraud. If you or your spouse fail to disclose your properties and assets, the agreement will be considered as unenforceable.
Coercion. You or your spouse should not be forced or pressured to sign the agreement. It should be signed on free will. Any sign of coercion or duress will make the prenuptial agreement invalid.
Unfair. If the provisions in the prenuptial agreement are seen to be in favor of you or in favor of your spouse, the agreement may not be enforced by the court.
What Are the Pros and Cons of a Prenuptial Agreement?
When you hear the word prenuptial agreement, you might think that it is not for you and that it is for pop stars and superstars only. But contrary to what you might be thinking, preparing prenuptial agreements can be used by any couple who want protection in case a marriage fails or dissolves.
If you are currently having doubts and second thoughts about getting a prenuptial agreement, we have listed a few pros and cons of getting one.
The Pros of Getting a Prenuptial Agreement
Settling worst case scenarios will be easier. Having a prenuptial agreement will help you take care of any crises that may come your way during a marriage as it will give you the steps that you would need to undergo during a particular crisis. It will give you what you should expect when divorce or separation comes your way.
Asset and financial protection. You want to protect what is rightfully yours. So in the event of a legal separation or divorce, you will be able to easily claim that certain assets, property, and finances are yours.
Determining and setting priorities. Prenuptial agreements involve a lot of decisions that you and your spouse should agree upon. It can help you reveal what your future plans are and what the future plans of your spouse is going to be in the next few years. Once revelations are set, you can start working on setting what the both of you should prioritize and what are your goals together. This way, you will be able to ensure that your relationship will end up being strong.
The Cons of Getting a Prenuptial Agreement
Only one partner wants the prenuptial agreement. If only one of you wants the prenup, better not have one at all. It is not all legal matters as it can greatly affect emotions as well. If you are on the edge about getting a prenup with your partner but also considering getting one at the same, make sure to hire a lawyer to help you iron out things should anything seems to be unclear to you.
It is awkward. Wedding planning involves a lot of preparation that leads up to one of the happiest days of your life as a couple. Let us face it: planning a prenuptial agreement actually asks you and your partner to think about divorce and separation whilst you are planning for your wedding. It can be considered as pretty bad timing. So make sure that the two of you are on board with the plan of getting the agreement and agree on the idea of being cautious.
Unnecessary to begin with. Check with your state laws and determine the whether it is necessary to have a prenuptial agreement or otherwise. You do not want to waste your time making one if the jurisdiction of the state you will be living in is not so favorable when it comes to prenuptial agreements.
Key Takeaway
A prenuptial agreement is basically a legal agreement contract that reflects the provisions you and your spouse-to-be have agreed upon. It also shows a complete list of the assets, property, and finances that both of you bring into the marriage.
Having one does not necessarily mean that either of you want your marriage to fail. Instead, having one prepared makes both of you prepared when separation or divorce comes into your lives. It ensures that you have everything covered from your personal assets to the duties and responsibilities that you have for each other and your kids when divorce or separation is encountered.
We hope we have cleared a few things up regarding prenuptial agreements. We wish you all the best on your upcoming wedding and for the future ahead of both of you.
Need more agreement samples? Read up on our Free Sample Agreements.