There are times when outsourcing is needed in order for an organization to focus more on their core objectives and long-term goals. One of the areas in an organization that may need some outsourcing is marketing. Marketing will include advertising, public relations, and promotions. Should this be the case, you want to make sure that you prepare a well-thought-of and well-written marketing agreement. It will also outline what the duties and responsibilities of everyone involved in the contract agreement.
Sales and Marketing Sample Agreement Template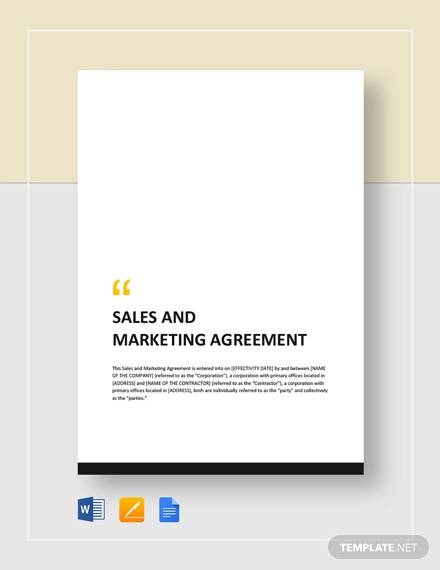 Restaurant Email Marketing Agreement Template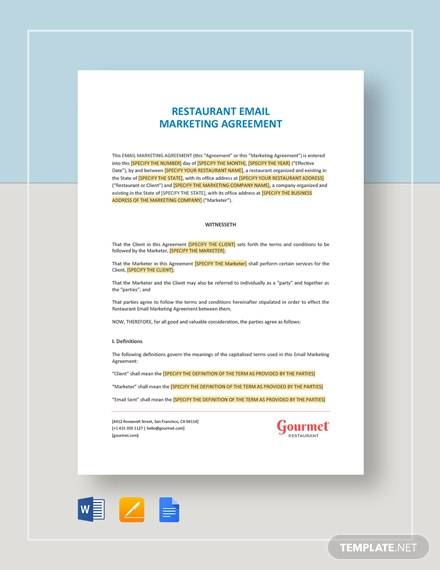 Sample Marketing Agreement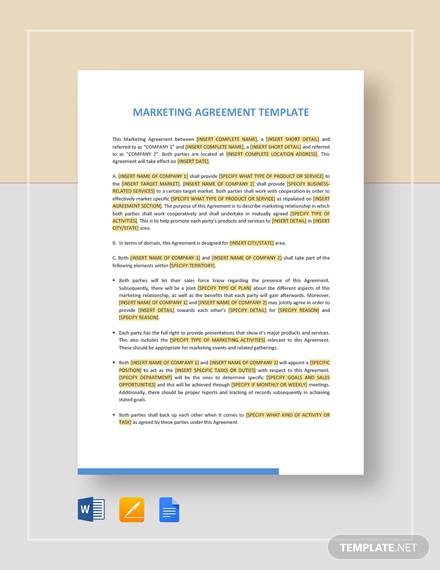 This agreement will list down the scope of the work that needs to be done with regard to the marketing of the organization, the deadline, as well as when the agreement will be considered as done.
Advertising and Marketing Agreement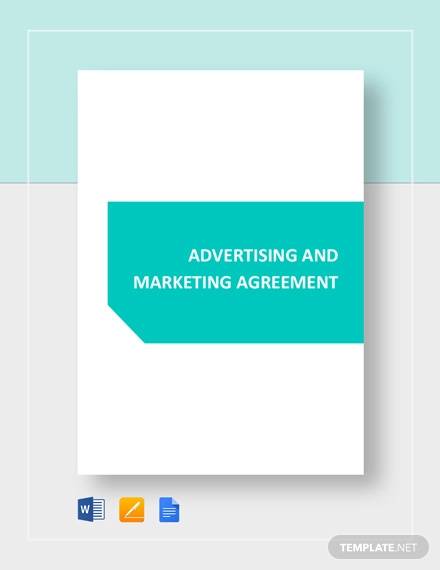 Sample Restaurant Marketing Agreement Template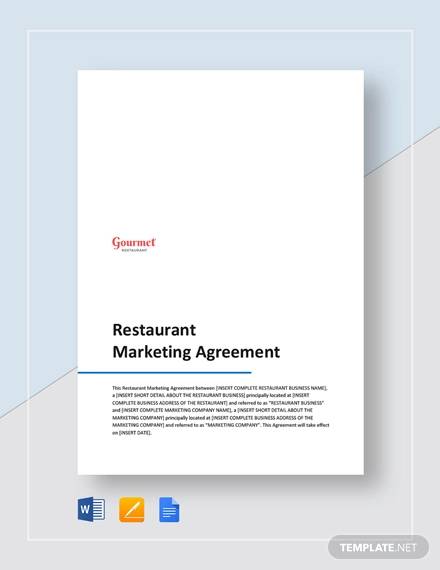 Joint Marketing Agreement Template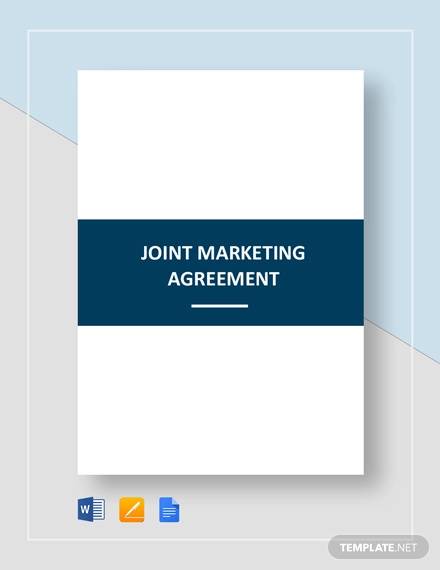 Marketing Consulting Agreement Template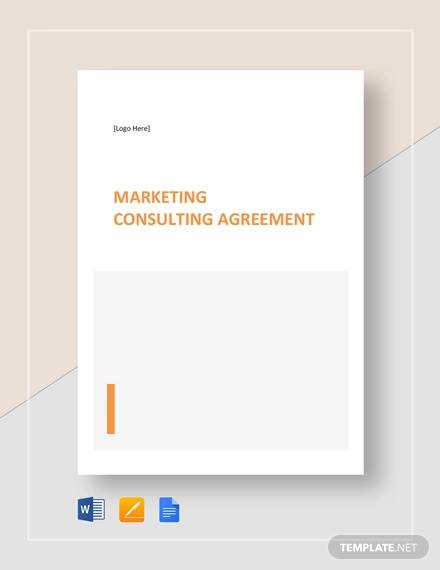 Marketing Personnel Agreement Template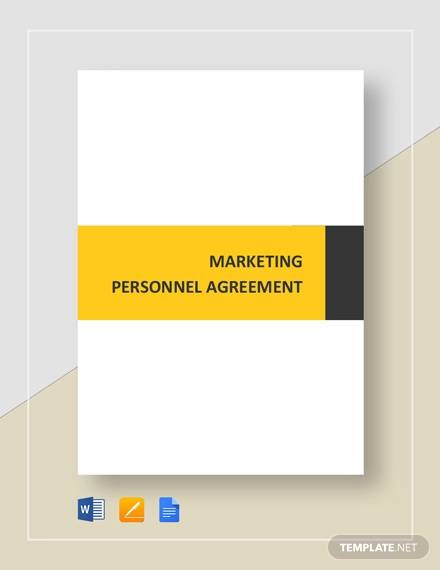 Marketing Services Agreement Template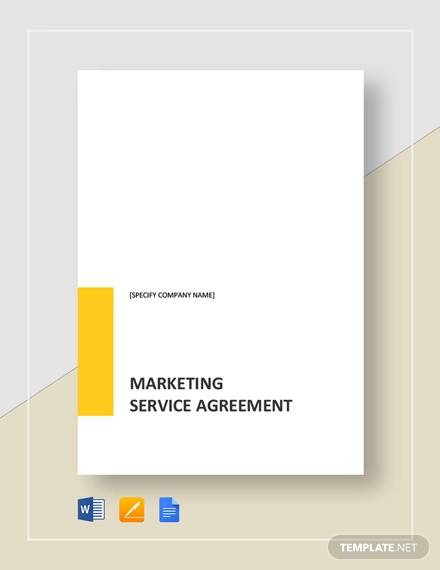 Merchandising and Marketing Agreement Template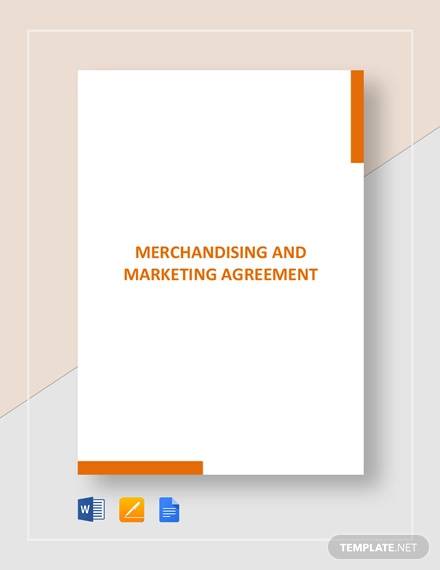 Non-Exclusive Marketing Agreement Template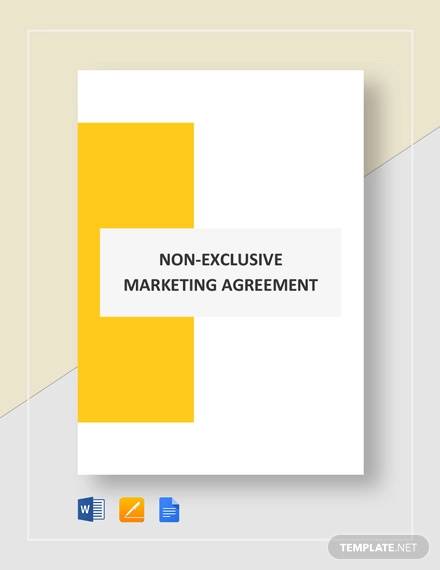 Telemarketing Agreement Template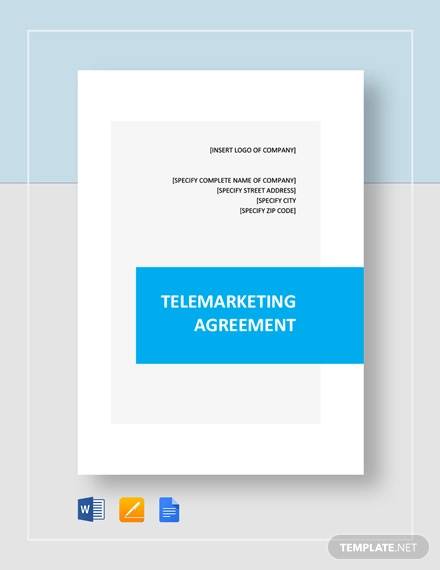 If you are looking for a guide on how you can come up with your very own marketing agreement, make sure that you continue to read this article. We will also be sharing some good quality free sample agreements that will make creating your own marketing agreement a whole lot easier and manageable.
Check out all the information we have to share about marketing agreements below. Read up!
Exclusive Lease Marketing Agreement
Simple Marketing Service Agreement
Independent Representative Marketing Agreement
Marketing Services Agreement
Sample Uniform Marketing Agreement
Aircraft Marketing Agreement
Sales and Marketing Service Agreement
When to Use a Marketing Agreement
Marketing agreements are typically used when
you are looking to hire a marketing agency or consultant to promote products and/or services that your company has, or
you are a marketing agency or consultant being asked to render the existing marketing services available to promote an organization's product or services.
Marketing agreements are great documents to use when it comes to properly communicating what you want the consultant or the agency to deliver during the duration of the agreement. This agreement will allow you to share all of the terms and conditions you have regarding the marketing services that will be rendered in an organized manner. With the help of the sample agreement templates, you will be able to freely customize the agreement according to the needs of your organization. However, you should make sure that you are cautious about coming up with your own marketing agreement to ensure that there will be zero to minimal loopholes that might lead to large consequences.
Take Note:
If you are the organization, you want to make sure that your brand will be represented in the way that you envisioned it. Through the marketing agreement, you can outline what the guidelines will be and what will be the tasks that the marketing agency deliver. Terms of payment and non-compete clauses should also be found in the marketing agreements.
If you are the marketing agency or consultant, you can make use of the marketing agreement as a means to outline the details of the professional relationship you want to establish with the organization. You can also use it to outline how you want to be paid, what should be paid in advance, and protect you in case of breach or disagreement.
Structuring Your Marketing Agreement
Structuring your very own marketing agreement can be quite overwhelming the first time you do it. To make things less overwhelming, we would like to give you some tips on how you can structure your marketing agreement.
Exclusivity
A marketing agreement grants the agency or consultant that will handle the marketing of the organization exclusivity. This means that they will be the sole agency or consultant that will handle the marketing of the organization for a specific period of time. You just have to make sure that the organization and the agency or consultant are clearly identified in the agreement. The services that will be rendered by the agency or consultant to the organization may include the following:
advertising,
press release,
media conferences,
social media management,
promotional events,
product launch, and
other formats of marketing platforms.
Basically, exclusivity will state that there will be no other marketing agency or consultant is allowed to render marketing services to the organization. You can also check out distribution agreement.
Complete Details
Marketing agreements have commencement dates and expiration dates. They can either be between one and two years with a clause that will give you an option whether or not you would like to have an extension for one more year or if you would like to terminate the relationship once the expiration date arrives.
Payments and other details regarding payments should also be outlined in the marketing agreement. Payments can either be on a monthly installment basis as well as the exact amount that should be paid every pay period. Lump sums may also be paid and are also not uncommon for marketing agreements that have payment terms on an annual basis. Make sure to also include clauses about late payments such as if there will be late fees and how much will it be. You might also be interested in payment agreements.
Variations
A marketing agreement should be structured manner where it is specific to the needs of the organization. Marketing agreements meant for specific projects should include the same basic elements that a general marketing agreement has. This will also include the price, timeline to complete the project, plus the other details related to the project.
You have to be prepared for negotiations with the price as well as the terms and conditions as this is pretty common when it comes to wanting your marketing agreement to be signed. You may also see terms of service agreements.
Guarantees
Measuring the success of a project can be a very difficult thing to do. This is because it is also very difficult to determine who actually engages in the marketing campaigns that you come up with and implement. This is why it is important for you to come up with a means to evaluate the success of your marketing consultant once the contract comes to an end.
You may also ask for periodic audits regarding the number of sales that came in after the marketing campaigns have been run. Decisions regarding the success of the marketing campaign can be based on figures from the past or from averages of the industry.
If throughout the course of the agreement sales go up compared to the past records or the industry average, you can come to the conclusion that the marketing campaigns are effective. Make sure that you are able to outline these baselines in the agreement to ensure that when auditing time comes around, you will be able to do all the analysis in an accurate manner.
You can also measure the success of the marketing campaign if there is a significant increase in customer satisfaction, customers become more loyal, as well as there is an increased participation with the employees while the agreement is still ongoing. Surveys and customer rating programs can be great tools that can be used to measure satisfaction and success.
Breach of Contract
You should also consider discussing what will happen should there be a breach of contract. Make sure that you write everything in a clear and detailed manner. Some results of breach of contract can be
immediate termination of the contract,
payment for damages, or
no financial refunds.
You can find out more about contract breach by reading up on our article about What is Breach of Contract for Business Lawsuits?
You can also find more ways to formatting agreement by checking out our article about Contract Agreement Format.
Co-Marketing Agreement Template
Sample Merchant Marketing Agreement in PDF
Lease Marketing Agreement Example
Marketing Consulting Agreement
Marketing Consulting Retainer Agreement
Social Media Marketing Agreement
So there you go! We have shared with you the basic things that you need to know about marketing agreements. Do not forget to check out the sample marketing agreement templates to download that we have included for your convenience. With the help of the samples that we have included, you are sure to end up making your own marketing agreements in an easier manner.
Should you be unsure of what you have included in your own marketing agreement, do not hesitate to seek legal advice from attorneys who are experienced with marketing agreements.
Always remember that when you have already found a good marketing service provider, make sure that you are prepared with your basic agreement to ensure that both you and the marketing agency are protected just in case anything goes bad.
You may also want to check out our article on Consulting Agreement Samples in Word to get more ideas about coming with marketing agreements or if you need to come up with a consulting agreement.