What is an agreement? An agreement is a negotiation between two individuals. There are several differences between an agreement vs. a contract. An agreement can either be a legally binding agreement or not depending on the terms agreed upon by the two parties. However, a contract is always a legally binding document.
Since an agreement between two parties is a legally binding document, one party can be liable to pay for damages if he or she fails to do what was agreed upon in the contract or agreement form samples. This is also applicable when a company hires an independent contractor. Read more about it below.
Contractor Confidentiality Agreement Template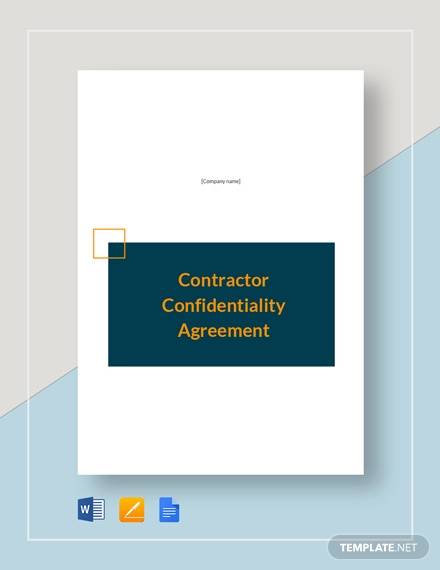 Contractor Acknowledgement and Confidentiality Agreement
Sample Contractor Confidentiality Agreement
Employee Contractor Agreement
Subcontractor Confidentiality Agreement
How to Create an Independent Contractor Confidentiality Agreement
When companies hire independent contractors, securing a confidentiality agreement is necessary. This is important before any work is done to ensure that both parties are protected. Follow the steps below when creating your own confidentiality agreement for independent contractors. Our sample confidentiality agreement forms and vendor confidentiality agreements are available should you need that type of confidentiality agreement.
Give your agreement a title. In order for it to be a legal document, it is important to indicate what type of document it is that you are creating.
Write the company's name and the contractor's name.
Indicate the consulting services provided by the independent contractor.
Specify the start date and the length of the agreement. A confidentiality agreement usually lasts indefinitely even after the contractor no longer works for the company. But both parties can agree on the terms.
Indicate which information is confidential. The independent contractor should also agree on keeping these information confidential.
Agree on the terms and warranties of the confidentiality agreement. State the consequences should a breach of agreement is done, specifically if the independent contractor exposes private information to a third party.
Both parties should sign the agreement.
Contractor Confidentiality Agreement Format
Confidentiality Agreement for Consultants in Doc
Basic Contractor Confidentiality Agreement
Contractor Confidentiality Agreement Form
Benefits of Hiring Independent Contractors
Many individuals have switched to doing freelance work or as independent contractors instead of being employed by companies. Independent contractors are individuals that offer specific services to businesses. Our employee confidentiality agreement and confidentiality agreement samples may be useful to you. Read about the benefits of hiring independent contractors below.
Flexibility – hiring independent contractors provide flexibility. Businesses hire contractors to do a specific project for a period of time allowing companies to hire them only when needed.
Specialized skill sets – independent contractors offer specialized skills that can benefit the company, especially if the company wants to focus on a certain aspect. Independent contractors are usually experienced in their field giving the company confidence that the job will be done well.
Reduction of lag time – typically, when businesses hire new employees, it requires a longer time for them to be trained before they can be fully productive with their work. This is not the case with independent contractors since they are already experienced allowing goals to be accomplished faster.
Cost savings – although independent contractors are paid more than regular employees, a company can still reduce costs. The company wouldn't need to pay for additional expenses such as training costs, insurance costs, retirement contribution costs, etc.