Business agreements are entered into after serious negotiations. Usually, official business agreements are finalized once the signatures of both parties have been affixed on the printed contract. However, verbal contracts are still as legally binding. Their downside is that they are difficult to prove in court and unless proven, they will not be upheld. This is why it is highly advisable for all business agreements to be in a form of written document that is signed and acknowledged by all parties involved.
There are specific elements and criteria a contract must meet before it could be considered enforceable and qualified to undergo litigation, should the situation call for it. Take a look at these Sample Agreements that could help you in drafting a solid business agreement contract.
Sample Business Agreement Contract Template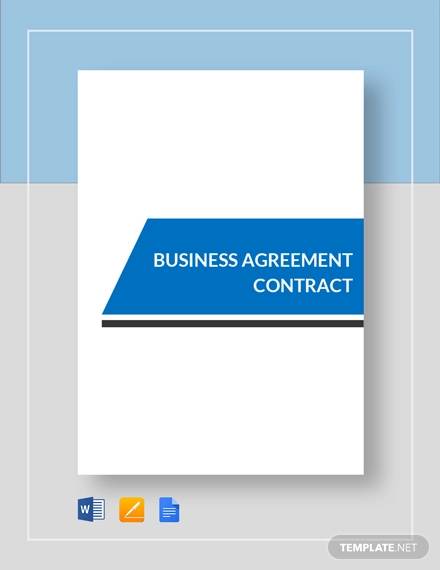 Agreement Relating to the Principal Place of Business Template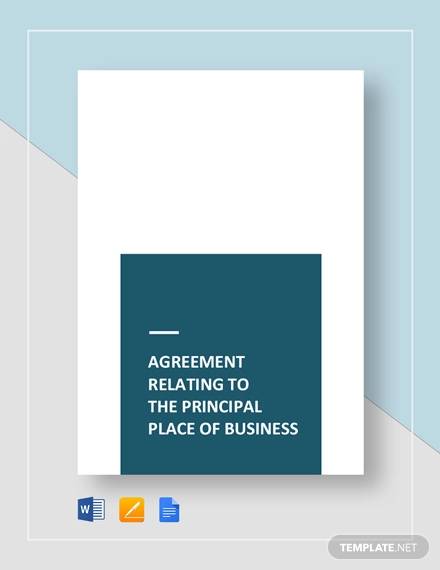 Partnership Business Agreement
Business Associate Agreement
Sale of Business Agreement Sample
Purchase and Sale of Business Agreement
Office Business Lease Agreement Example
When Should You Draft a Business Agreement Contract
In every move that a company makes, it is important that it is documented somehow. This is to ensure that the company will be protected in case something goes haywire. Companies should have business agreement contracts drafted up if
they are supplying or purchasing goods and services;
they are borrowing or letting another borrow money; and
they are entering a collaboration, business partnership, or joint venture.
Why Should You Draft a Business Agreement Contract
A business agreement contract is necessary simply because one's word does not hold much value in court. A business agreement is written down to keep and present as evidence because, in general,
people lie,
people cheat,
people disappear,
people misunderstand, and
people forget.
A business agreement is legal document that makes sure both parties that enter into it are protected from each other. Breaching a valid contract means that the offending party will be held liable by the courts of law and they will have to face the consequences of their actions or lack thereof.
See these Sample Business Investment Agreements and Sample Business Purchase Agreements for references in the different types of business agreements.
Transfer of Business Agreement
Business Operating Agreement
Business Consultant Agreement in PDF
Business Investment Agreement
Business Confidentiality Agreement
Business Consultant Agreement
Business Development Agreement
What Invalidates a Business Contract
The breach of a contract that is not deemed valid in the eyes of the law will not hold the offending parties liable. A contract is considered null and void if it meets the following criteria:
The contract is not legal to begin with. If any provisions in the contract is against the law or is criminal, it will not be recognized nor upheld by the courts of law.
The provisions of the contract is unfair.
One or both parties were coerced into the agreement.
One or both parties were minors at the time the contract was signed, even if the contract is contested when the party in question is already of legal age, it will still not be considered valid.
One or both parties were mentally incapacitated, in duress, or under the influence of mind-altering substances that could influence judgment such as alcohol or drugs at the time the contract was signed.
Before agreeing to a contract, always make sure that you read all the wordings carefully, even the fine print. If you should have any questions about any provision, make sure to consult with your attorney.
See these Sample Business Agreement Contracts for more.