Two weeks' notice template is a memo or letter given to their employers by the companies' employees indicating their to the company. It is personalized and indicating the reasons for their resignation, today it is used in many corporations to make the resignation formal and a clearance is given to the employee before leaving. You can also see Layoff Notice
This should be given to the employer or manager personally and then discusses the said resignation by both of them just too clear things out and solve any issues if there is one. Employees should consider thanking the company into their letter for gratitude and have a good record in leaving the said company.
Simple Two Weeks Notice Template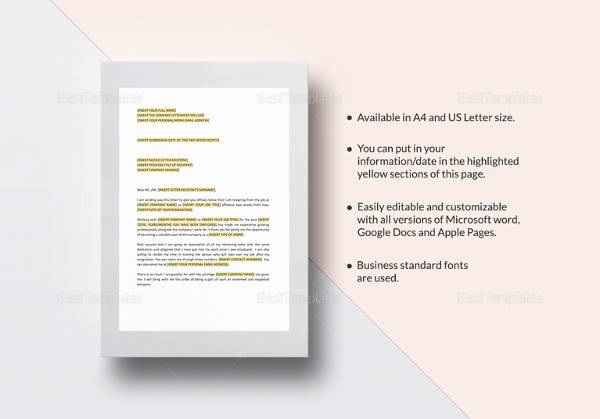 Sample Resignation Letter 2 Weeks Notice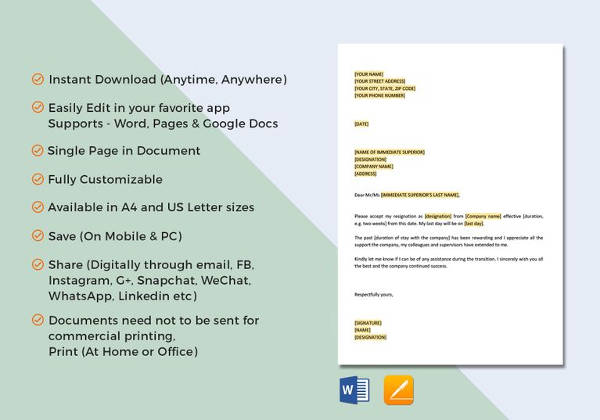 2 Weeks Notice Template Email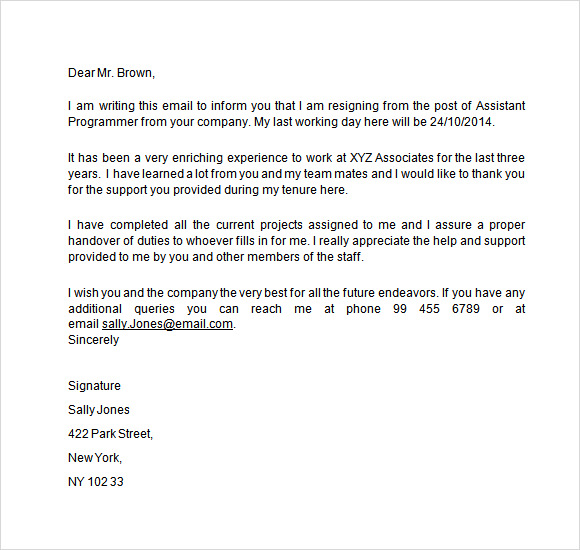 If you are just going to email your notice across to your boss, then this is a great option. You simply need to address it to the specific person, date it and give the information about your resignation and when you will be leaving.
Two Weeks Notice Letter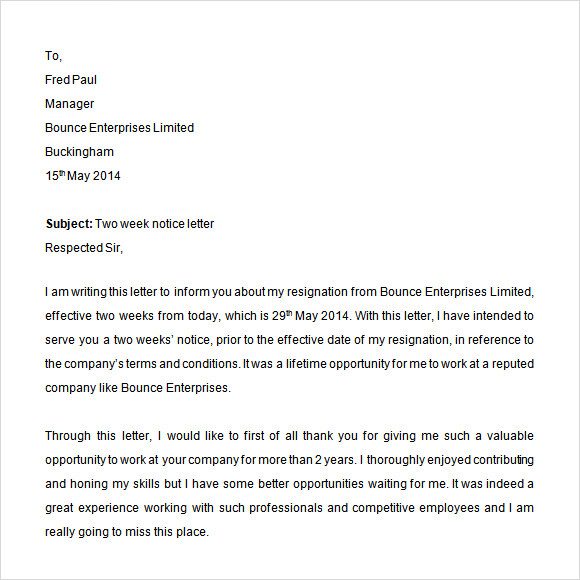 This is for those who have to give an actual letter to the company in order for it to qualify. You can easily write a simple letter that just gives the basic details, including what date you are starting the notification from, when the last date you are working and other important information.
Resignation Letter Template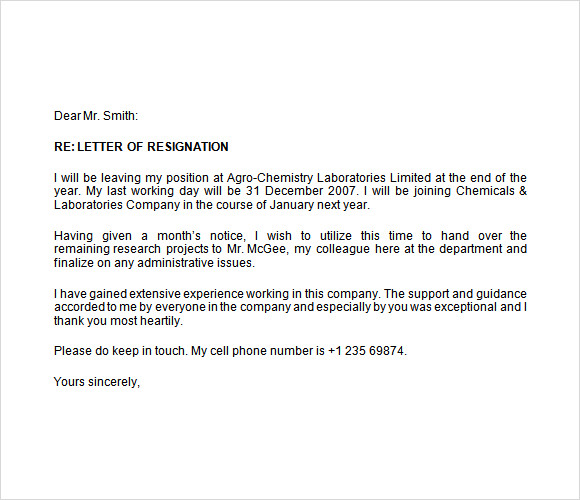 When you decide to quit your current position it is crucial to give your boss and the company notification. This letter will help you to give all of the information in a clear and concise manner that is directed to the required person.
Resignation Letter Sample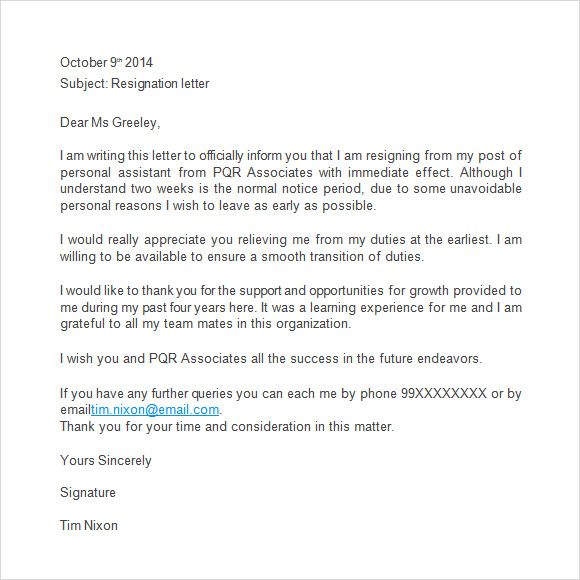 It is always important that you give a notice of resignation when you are going to quit your position, no matter how small it might seem. You should give all of the required information and address it to the appropriate contact in the company.
Resignation Letter Samples Short Notice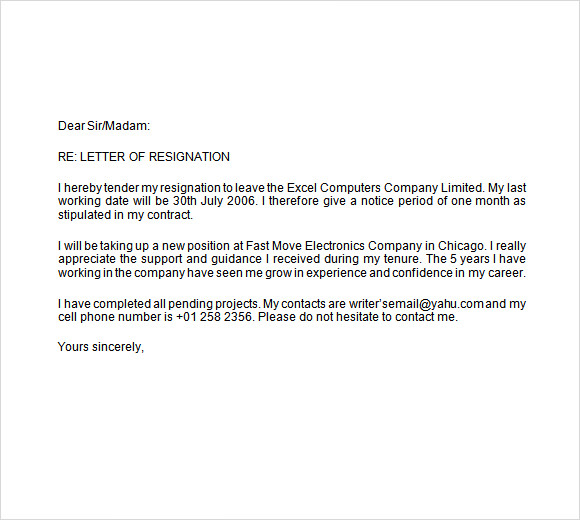 2 Weeks Notice Template PDF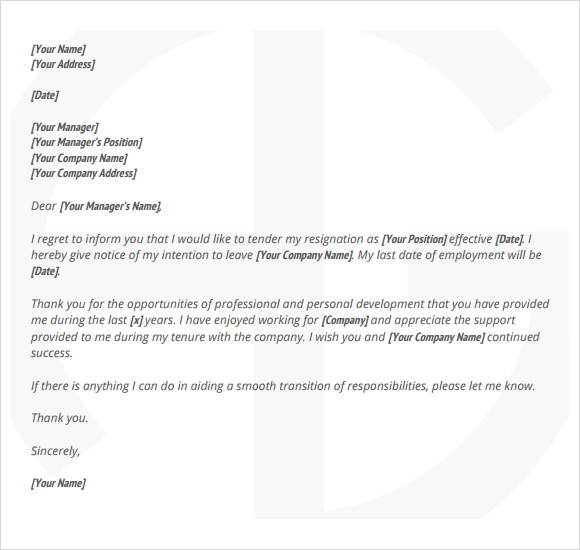 allemano.ca
Uses & Purpose of 2 Weeks Notice Template
There are many uses of a 2 week notice letter, which most people use to give a heads up to the company that they are quitting. There are many things that you need to be aware of when you are writing this letter, such as:
When Do I need a 2 Weeks Notice Template?
You might think that when you are going to quit your job that you don't need to give a letter, but you should. This allows your boss to remember which date you submitted your notice and to know exactly why you are quitting. You should make sure to give all information in the letter, including the end date and contact information for questions or your last pay check, if required. You can also see Final Notice
How Many Days Notice Can You Give With A 2 Weeks Notice Template?
Typically when you give notice at a job you are required to give 2 weeks advance notice to allow them to find a replacement. You can give a longer notice period, if you want, but the least is 14 days. You should make sure that the time starts from the day that you are submitting the letter.
How to Create/Write a 2 Weeks Notice Template?
These are easily created and all you need to do is figure out which template is right for you. When you have done this, then you can simply fill in the information that you need to give, including your position, last date and more. You can simply write them up on your computer and print them or even send them over email. You can also see Funeral Notice
When you are getting ready to leave your job, then you need to give ample notice to allow them to find someone to take over for you. In these letters you simply inform them of the reason that you are leaving, when you will be quitting and any other important information.
If you have any DMCA issues on this post, please contact us!